Morro Da Urca Hike and Lookout
A hike up the Morro Da Urca trail will reward you with spectacular views and more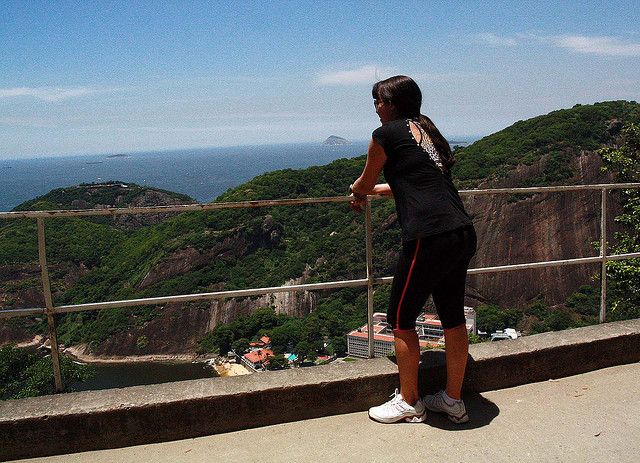 A visit to Rio de Janeiro does not have to be all about the beach, sunbathing or the Carnival. There are beautiful vistas and historical sites to see too! Morro Da Urca Hike and Lookout is one that you have to try.
The trail up Morro Da Urca starts about 300 meters down the Pista Cláudio Coutinho Walking Trail near Praia Vermelha. The start of the trail is rather discrete, so keep your eyes peeled or you may miss it! There is, however, a sign post to mark the spot. The trail does require some fitness and a little intuition to follow to the top of Morro Da Urca. In some places trees may obscure the trail and there are a few forks which lead nowhere. It is rather a steep climb through the forests, so be sure to bring plenty of water and wear comfortable walking shoes instead of sandals. Even the dead ends are worth exploring for the views of Rio de Janeiro that they present.
The trail deposits you right at the door of the lookout on top of Morro Da Urca. This is also the platform between the lower and upper cable cars that go to the top of Sugarloaf Mountain. If you wish you can purchase a one way ticket for the cable car ride down or you can even purchase a ticket to ride up to the top of Sugarloaf. There are giftshops to explore and places to take a break and get something to eat.
The view from the top of Morro Da Urca is certainly something to be remembered. You can see Christ the Redeemer on top of Corcovado and a beautiful section of Rio de Janeiro's Botafogo and Flamengo Beaches. Make sure that you spend some time taking in the view.
Aside from the lovely views and less expensive access to the top of Sugar Loaf, you can see some of the fauna and flora of Brazil up close and personal. Marmosets, birds and butterflies are plentiful and the antics of the little monkeys make for great climbing entertainment.
Facts For Your Visit
Fee:
No
Open Now
Regular Hours:

Monday: 8:00 am - 9:00 pm
Tuesday: 8:00 am - 9:00 pm
Wednesday: 8:00 am - 9:00 pm
Thursday: 8:00 am - 9:00 pm
Friday: 8:00 am - 9:00 pm
Saturday: 8:00 am - 9:00 pm
Sunday: 8:00 am - 9:00 pm
Category: Hiking Local Flavor
Address: Avenida Pasteur, 520
Urca
Rio de Janeiro - RJ 22290-240
Brazil

Phone: +55 21 2542-1641
Reviews
Handsdown the best views of the city will be from here; YOU NEED TO COME HERE - and a little early. I came here early afternoon on a cloudy day and was so... Read More
Ash C. Aug-09-2019
The views of this place spectacular. Two cable cars but be prepared to stand inside as well as being crowded. The views were breathtaking. So many spots to... Read More
Dee B. Apr-23-2019
This is a good beginner's hike, although it can get a little difficult at times. The views at the top are spectacular. Start at Praia Vermelha. The cable... Read More
Ryan A. Jun-15-2014
Accommodations near Morro Da Urca:
Directions
| Metro and Bus Line | Nearest Station | Walking Time |
| --- | --- | --- |
| Line 1 - Orange or Line 2 Green | Botafogo | 4 Minutes |
How to get to Morro Da Urca by Metro and Bus
Ride the Metro to Botafogo Station. Take the Rua Voluntarios da Patria exit and catch City Bus #513 at the stop northbound on Rua Nelson Mandela just south of the corner of Rua Voluntarios da Patria (right across the street from the Metro exit). This bus will require a separate cash fare. Ride the bus to the 3rd and last stop on Av. Pasteur. Exit the bus and continue east on Av. Pasteur and keep left through the parking lot on the north side of Prace Beneral Tiburcio. Continue walking through the parking lot straight towards Sugar Loaf Mountain until you see the sign for the Pista Cláudio Coutinho walking trail. The trail up to the top of Morro Da Urca branches off about 400 metres (5 minutes walk) past this sign. There is a sign post marking the start of the hiking trail up to the lookout.
Finding Your Route - Please Wait
Photo Gallery
Video
Visiting Rio de Janeiro?
Here's why we use
Booking.com
for our hotel bookings.
Best SelectionDaily Deals Price Matching Pay at the Hotel 24/7 Support