Riding London's Buses
A Visitor's guide to using London's buses to explore the city
Updated on December, 08 2019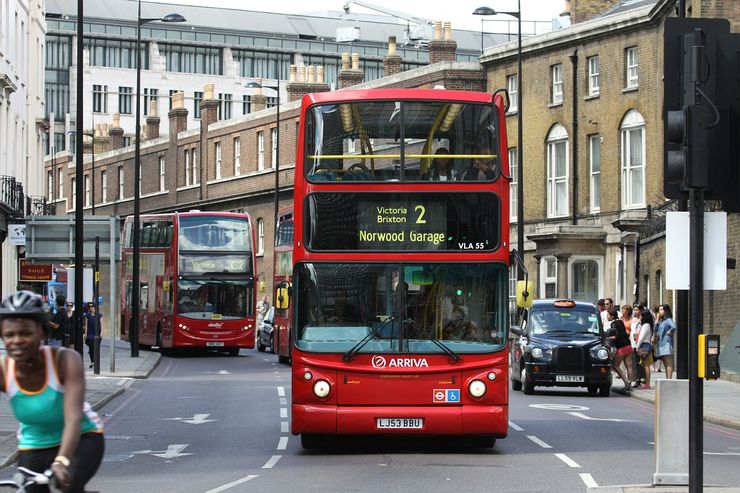 Although you can get to pretty much anywhere you will want to go in London by means of riding the Underground, you may want to enjoy a ride or two, especially on the upper deck, of one of London's 'trademark' double decker buses, even if for nothing more than to enjoy the view and explore some of the sights as it winds through the city. Riding the buses is actually an enjoyable way to get an overview of some of London, as you won't see much of anything while riding the Tube.
London buses get around central London efficiently with the help of bus only lanes and the congestion tax reducing the number of cars entering the city. Take a day or so during your vacation and explore some of the sights and sounds of London by bus. Try to get a double decker if you can so you can enjoy views that are unimpeded by the traffic.
Suggested Routes
There are 100's of bus routes criss-crossing London for you to explore. Of course getting a bit lost can actually be fun if you aren't on a schedule and just want to explore. To help you get started we have suggested the following three bus routes. These routes will take you through a variety of historic neighbourhoods, passing a number of historic sites and attractions along the way.
Route #9
This route still runs some of the famous old London Routemaster buses making it a good choice if you want to experience a little bit of London nostalgia. Starting on The Strand just North of Temple Station you will head wast past the London Transport Museusm, Saint Paul's Cathedral and Trafalgar Square, before heading up Regent's St. to Piccadilly Place near Piccadilly Circus. From there it heads west along the northern boundery of Green Park and the grounds of Buckingham Palace. It then continues around Hyde Park Corner and follows Kensington Road all along the southern edge of Hyde Park passing right in front of the Royal Albert Hall.
Route #11
The eastern end of this route originates at Liverpool Street Station and takes you right next to Saint Paul's Cathedral before heading down Fleet Street and along The Strand to Trafalgar Square. It then travels south along the famous Whitehall Street passing around Parliament Square near Big Ben then along Victoria Street by both Westminster Abbey and Westminster Cathedral. It then continues through Victoria Station to Sloane Square and along King's Road into the historic neighbourhoods of South Kensington and Chelsea.
Route #24
This scenic, north-south route starts by Hampstead Heath Station just south of the beautiful Hampstead Heath wilderness area, and takes you past the famous and bustling Camden Market. It then continues down Tottenham Court and Charing Cross Road to Leicester Square and, then Trafalgar Square. From there it goes south along famous Whitehall Street passing around Parliament Square near Big Ben then along Victoria Street by both Westminster Abbey and Westminster Cathedral, throught Victoria Station and then continues into Pimlico.
You may pay for you bus fare as you go with a contactless payment card or device (credit or debit card) or with an Oyster Card which you can purchase at the airport, Tube Stations and London Travel Information Centres. Both payment methods offer the benefit of daily and weekly fare caps. If using a contactless payment card, you will only be charged once per day for your day's travel. Whatever fare medium you use, simply touch it onto the yellow card reader as you enter the bus. Double decker buses must be boarded through the front doors, but the articulated buses can be entered through any door. Yellow card readers are located at each door. Cash fares are not accepted. For more information visit our London Transport Fares page.
You can download and print a helpful visitor's transportation map from Transport for London. which includes. This is a simplified and illustrated Bus Route Map covering central London. Download it from the link below and you can print it out at home or link to it on your home screen.
Download: London Visitors Route Map
London Bus Map
View or download a schematic London Bus map showing the main bus routes and popular attractions and landmarks throughout Central London.
Next Bus Departing Near Me
Click&Go Map and Route Finder. Enter your destination and click to find the next Train, Bus or Ferry departing near your location. Your complete route, all connections and total time are shown.
Enter Destination
Click Blue Button
Scroll down for route map and details including connections and times
Finding Your Route - Please Wait
More Info for Getting Around London on Public Transportation
Photos
One of London's newer double decker buses cc licensed photo by OpenEnglishWeb

On some routes you can still enjoy a ride on one of the old Routemaster double decker buses cc licensed photo by Matthew Black

Photo Credit: oatsy40 - cc license via Flickr

Photo Credit: Paul Robertson - cc license via Flickr

Photo Credit: almost witty - cc license via Flickr

Photo Credit: LoopZilla - cc license via Flickr