St. Paul's Cathedral
St. Paul's Cathedral and its spectacular dome are an iconic part of London's skyline - did you know you can also explore it on the inside?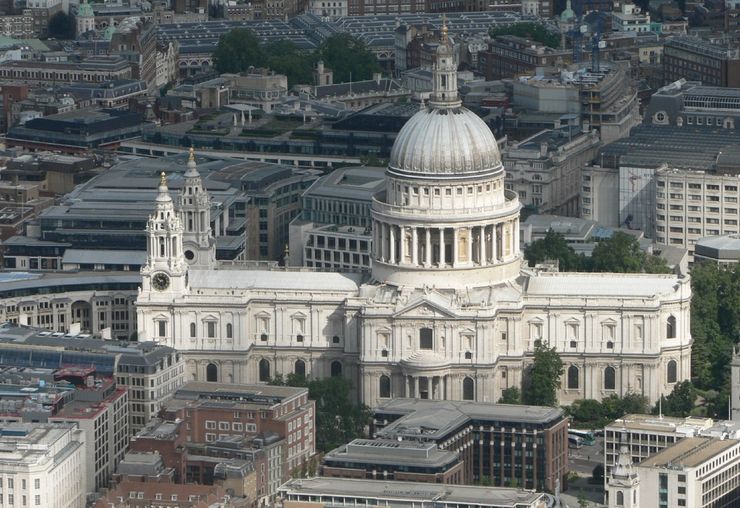 The present day St. Paul's Cathedral in London was first opened for worship in 1697. It is the last of four cathedrals dedicated to St. Paul built on this site, with the first going back to 604 AD.
The amazing architecture of this 300 year old structure was designed by Sir Christopher Wren. The architecture and lavish design of St. Paul's Cathedral reflects the influence of the monarchs who oversaw its construction and the importance they placed on this project. Rich in history and embellished with incredible artwork, this London landmark is both beautiful and imposing at the same time. The spectacular dome towers 365 feet above the city.
You can explore the outside of St. Paul's Cathedral without charge, but will need to pay an admission charge to tour the inside. Activities include ascending into the dome where you can enjoy spectacular views of London; exploring the underground crypt, a burial place for some of the nations most notable people; taking a touchscreen multimedia tour; and enjoying a film journey into the history and life of the Cathedral. There is also a cafe and restaurant where you can enjoy sandwiches, tea and other light fare.
Saint Paul's Cathedral is open daily from 8:30 am to 4:00 pm except on Sundays and during special events.
For more information about admission to the inside of the cathedral including current fees visit the official site linked to below.
Facts For Your Visit
Official Website: St. Paul's Cathedral
Fee:
Free to view the outside. Purchase a St. Paul's Cahtedral Entry Ticket to tour the inside.
Regular Hours:
May differ on holidays
Monday: 8:30 AM – 4:30 PM
Tuesday: 8:30 AM – 4:30 PM
Wednesday: 10:00 AM – 4:30 PM
Thursday: 8:30 AM – 4:30 PM
Friday: 8:30 AM – 4:30 PM
Saturday: 8:30 AM – 4:30 PM
Sunday: 8:00 AM – 6:00 PM
Address: St. Paul's Churchyard, London EC4M 8AD, UK
Phone: 020 7246 8350
Official Website: St. Paul's Cathedral
Reviews
Rated 4.6 out of 5

An absolutely fantastic way to spend a couple of hours in London. My son and i climbed the full 578 steps to the top dome. *NB, Be prepared for a fairly tough climb, lots of steps, tight corridors and metal spiral staircases. The view at the top is well worth the climb. An absolutely breathtaking, panoramic view of London. A must see!

kaitan kohli - 15 days ago
Fabulous experience at St Paul's Cathedral, climbing the 528 steps and enjoying the panoramic views from the very top. There are some very narrow areas of stairs, and lots of small, narrow spiral staircases up to the very top of the dome, so it is not for the faint-hearted! Tickets were good value and also include access into the crypts, with tombs belonging to Sir Christopher Wren, the Duke of Wellington, and Florence Nightingale, amongst others. Booking in advance is advised, though during our visit at 9:30am on a Saturday there were no queues.

Connie - 8 days ago
St. Paul's Cathedral: A Spiritual and Architectural Marvel St. Paul's Cathedral, located in the heart of London, is an iconic symbol of British history, spirituality, and architectural brilliance. This magnificent masterpiece, designed by Sir Christopher Wren, has been a centerpiece of the city's skyline for over 300 years, and it continues to captivate visitors from around the world. The cathedral's grandeur is evident as soon as you approach its majestic dome, rising high above the bustling streets. The exterior showcases a harmonious blend of Baroque and English Renaissance architecture, with its ornate facades and iconic dome that has become synonymous with London's skyline. The interior is equally awe-inspiring, featuring a breathtaking nave, intricate mosaics, and stunning stained glass windows that bathe the space in a kaleidoscope of colors when the sunlight streams in. One of the most appealing aspects of St. Paul's Cathedral is its accessibility to all. While entry prices apply, the ticket last for an year and include guided tours that provide invaluable insights into the history, architecture, and spiritual significance of the cathedral. Visitors have the chance to explore the crypt, ascend the Whispering Gallery, and venture even higher to the Golden Gallery, all while learning about the cathedral's storied past. A unique feature of St. Paul's is the opportunity to attend a free service on most nights. Whether you're seeking a moment of reflection, spiritual connection, or simply want to experience the soul-stirring beauty of a choral service within this grand space, it's an option that allows visitors to connect with the cathedral in a profoundly personal way. St. Paul's Cathedral isn't just a tourist attraction; it's a place of worship, a living testament to history, and a symbol of resilience. It survived the Great Fire of London and stood strong during World War II, becoming a symbol of hope and endurance for Londoners. In conclusion, a visit to St. Paul's Cathedral is a journey through time, art, and spirituality. Its architecture, history, and the inclusive offerings, including guided tours and free services, make it an unmissable experience for anyone visiting London. It's a place where the past and present intertwine, and where the human spirit soars along with the dome's heights.

Rose Vidovix-Unsworth - 19 days ago
The cathedral is magnificent. However, if you are brave to get upstairs you can get unobstructed view of London. I really enjoyed it. I feel it's better than London Eye. I used London pass and that was much cheaper and easier to get inside

Sergey Makushinsky - 12 days ago
St. Paul's Cathedral, located in the heart of London, is an iconic masterpiece designed by Sir Christopher Wren. Completed in 1710, this Anglican cathedral stands as a symbol of resilience, having survived the Great Fire of London in 1666. Noteworthy features include the magnificent dome, offering breathtaking views of the city from its Golden Gallery. The Whispering Gallery, known for its unique acoustics, allows whispers to be heard across the dome's circumference. Interesting fact: The cathedral's crypt houses tombs of prominent figures such as Admiral Nelson and the Duke of Wellington. St. Paul's has played a pivotal role in various state occasions, including the funerals of Sir Winston Churchill and the wedding of Prince Charles and Lady Diana.

Vinicius Polastri - 8 days ago
Read all Reviews

Accommodations near St. Paul's Cathedral:
Directions
| Tube Line | Nearest Station | Walking Time |
| --- | --- | --- |
| Central Line | St Pauls Station | 2 Minutes |
| Circle Line | Mansion House | 6 MInutes |
How to get to St. Paul's Cathedral by Tube
St. Paul's Cathedral is just brief walk to the southwest from St. Paul's Station. You won't miss it.
From Mansion House Station exit onto Cannon Street and walk west to the Cathedral.
Note: On weekdays only you can also access St. Paul's Cathedral from Cannon Street Station on the District Line.
Map & Instant Route Finder
Click&Go Map and Route Finder with public transit, walking, driving or cycling directions. Get up-to-the-minute transit times for your route.
Finding Your Route - Please Wait
Photo Gallery
Video