London Day Tours
London day trips - enjoy some great sightseeing and visit some of London's top attractions by public transit
If you have just one day, or several days to see London, you can follow one or more of the following day tours to experience many of London's favourite attractions.
The key to seeing more is to plan ahead and follow a logical path from one location to another. By doing this you can cover a lot of area in a day using the transit system.
You can follow these London day tours as is, modify them, or plan your own to suit your personal tastes by using the resources available throughout the site.
We recommend purchasing an Oyster Card or Travel Card prior starting your sightseeing. That way you'll receive the best fares available, including a daily cap on fares for riding the Underground and Buses.
Day Tour 1 - Westminster and Whitehall Walking Tour with optional finish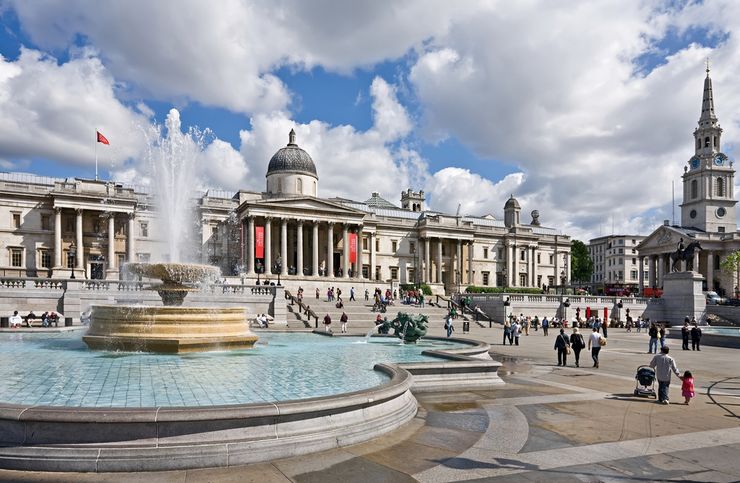 cc licensed photo by Shane Global Language Centres
If you had just one day to explore London this is the tour we would recommend. Our suggested tour begins with a walking tour of the Whitehall neighborhood and beyond where you will experience a surprising number of London's most famous landmarks and activities including Trafalgar Square, Westminster Palace and Big Ben, St. James's Park, Buckingham Palace, Westminster Cathedral and Westminster Abbey. We provide two options to complete this day tour. You can finish the day by spending some time exploring the paintings in the National Gallery or by taking the Tube over to Tower Hill and seeing Tower Bridge and possibly touring the Tower of London (time permitting).
It is important to start this tour by arriving at Trafalgar Square (Charing Cross Tube Station) by 10am. This will give you plenty of time to explore the sights of the square before heading to the Horse Guards Parade in time for the 11am Changing of the Guard. After watching the changing of the Guard continue to follow the itinerary of our Whitehall Walking Tour taking some time out for lunch along the way.
Upon returning to Trafalgar Square spend a couple of hours exploring some of the thousands of famous paintings in the National Gallery (Free Admission).
OR
Go directly from the Palace of Westminster to Westminster Tube Station and take the District or Circle Line east to Tower Hill Station. From there you can enjoy some views of the famous Tower Bridge and the Tower of London. Depending on your pace throughout the day you may have time to tour the inside of the Tower of London, however it does close by 4:30pm and there is an admission charge. Even so there is a large viewing area to the west of it with many interesting signs describing the interesting history of the Tower. All in all this tour helps you see a surprising amount of London in just one day, and you will definitely see everything in much more detail than you would just riding around on a tour bus.
Day Tour 2 - Museum Sampler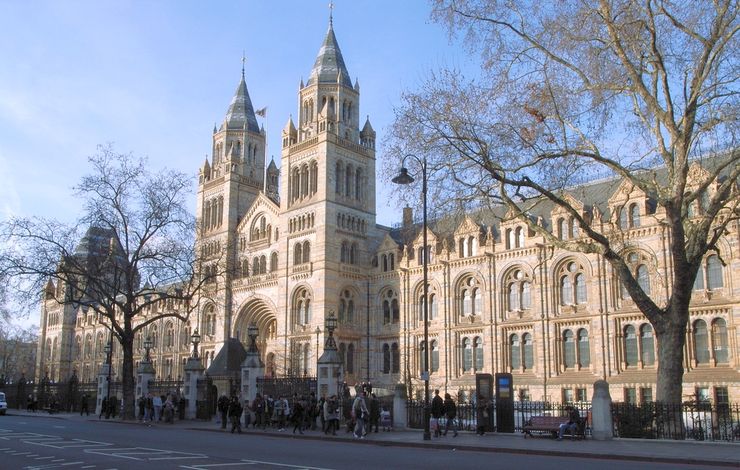 London has so many museums and galleries, that one could easily spend weeks or even longer exploring them. As a tourist, you probably don't have that luxury so for this day tour we are recommending three museums that are all within a short walk of each other. They are all national museums and therefore have free admission, making for a day that is not only fun and educational, but a great bargain as well.
You start this tour by making your way to South Kensington Tube Station which is on the District, Circle and Piccadilly Lines. Try to get there by 10am as that is when all three museums open. From there it is just a short walk to the north where you will find the three museums. They are the Natural History Museum, Science Museum and Victoria and Albert Museum. Just click on the links for more details about each museum. It doesn't much matter which order you see them in as they are all so close together.
The Science Museum will really appeal to kids with it's interesting and interactive displays. It also has a 3D IMAX theatre although there is a charge for that. The Natural History Museum will also appeal to all ages. In particular the world renowned collection of dinosaur skeletons is very captivating. Over at the Victoria and Albert Museum you will find a collection of decorative arts and designs that is unrivalled anywhere else in the world. So there you have it! You can spend more time in one and less in another depending on your interests, but you will definitely have no difficulty filling up your day here, and I'm sure if you have enough time that you will be back for more.
Day Tour 3 - Parks and Views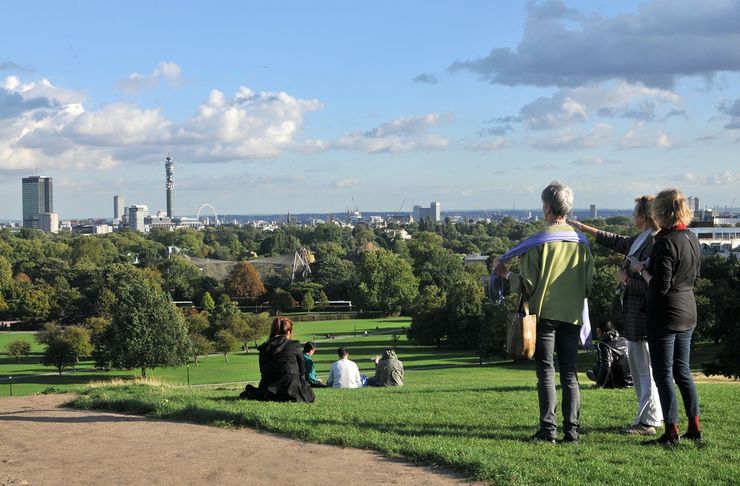 cc licensed photo by o_ise
This next tour is for a nice day when you really want to enjoy the great outdoors. London has some great parks and a couple of locations that offer some really nice views.
This tour is divided into two main parts. The first part begins with one of our recommended walking tours - Hampstead Walking Tour. This portion includes a pleasant walk through a historic residential neighborhood along with the opportunity to visit a couple of small museums and a short hike up to Parliament Hill in Hampstead Heath, a large wilderness preserve in London, where you can enjoy some wonderful views across the city. The tour begins at Hampstead Tube Station on the Northern Line. Just click on the link below to see the full itinerary for that portion.
For the second half we send you a few stops south along the Northern Line to Camden Town Station where you find yourself a short walk from beautiful Regent's Park and Primrose Hill. Being the largest of the Royal Parks, you will want to spend at least 2 or 3 hours exploring. For a fabulous view of London start out by crossing over to Primose Hill immediately north of Regent's Park and walk up the hill for a superb view. If time permits, you may also want to visit the fabulous London Zoo and Aquarium, also located at the northern end of the Regent's Park. Time wise, you will most likely have to choose between doing this or exploring the rest of the park. Decisions, decisions!
Day Tour 4 - Windsor Castle and/or Legoland Tour
This tour takes you a little ways out of London. You can easily enjoy a full day at either of these two very different attractions, however, they are close together and therefore make a good combination for a day trip.
Whether seeing one or both you begin this tour with a pleasant train ride out of Paddington Station on the District, Circle, Hammersmith & City or Bakerloo Line.
Legoland has a seasonal schedule and their hours vary throughout the year, so be certain to check their official website from the above link before planning your trip. From late July through August Legoland is open until 8 or 9pm, giving you more time to combine this with a visit to Windsor Castle.
Both attractions have admission charges, however Windsor Castle has the option of just exploring the outside and the exterior grounds where you can still take lots of great photos without charge. There are a number of different tour options available for exploring the inside of the castle.
Both attractions make for a great day trip, either individually or combined. Just click on the links above for more details on each attraction and information on getting to them by Tube and Train.
Day Tour 5 - Bekonscot Model Village and Railway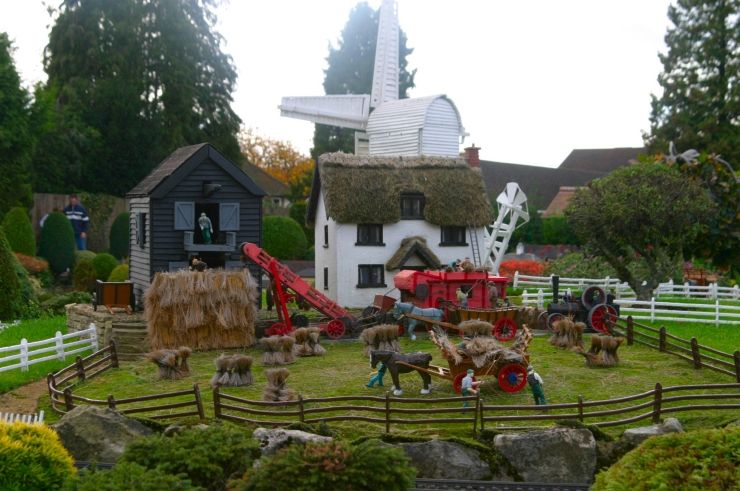 This delightful day trip, probably won't consume a full day, but certainly the better part of a day. You begin the journey with roughly a ½ hour train ride out of Marylebone Station. Other than that it is simply a case of following the instructions on our Bekonscot Model Village and Railway page. A real change of pace from busy London and enjoyable for all ages.
Day Tour 6 - Adventure Island Tour
cc licensed photo by futureshape
The last of our suggested day tours is a popular amusement theme park, located right on the sea, about a one hour train ride east of London.
This day trip begins with an enjoyable train ride through the suburbs and countryside of southern England, starting from West Ham Tube Station on the District, Jubilee and Hammersmith & City Line.
Adventure Island features over 30 rides ranging from exciting roller coasters to some gentler rides for the little ones. There is no entry fee. You just pay for a ride tickets or a ride pass if you want to go on the rides. This is ideal if you just want to let your kids go on the rides while you enjoy your tea or coffee or ?. Just click the link below for all the information you need in order to go on this fun day trip.