Walking Tours of London - Mayfair Historic Neighborhood Walk
Enjoy this step-by-step walking tour of the historic Mayfair District in London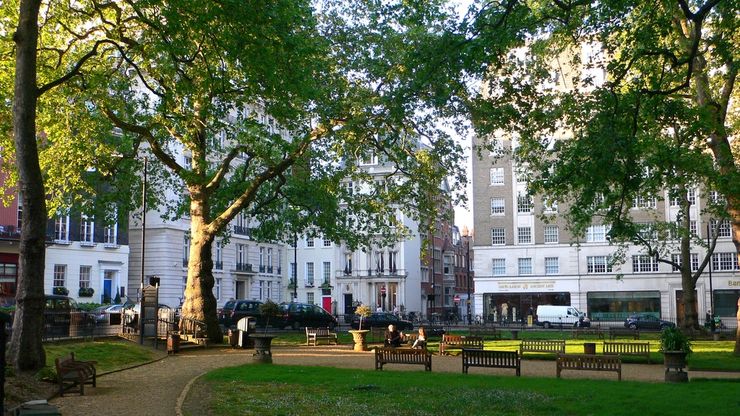 The historic neighbourhood of Mayfair is situated in Central London directly north of Buckingham Palace and Green Park and just east of Hyde Park.
The Mayfair district is named after the 2 week May Fair that took place every year from 1686 to 1764. This area boasts many of London's most exclusive shops and restaurants and a large concentration of luxury hotels. It is the location of some renowned landmarks including the Ritz Hotel and Piccadilly Circus.
Many of the old and fascinating mansions in Mayfair have unfortunately been destroyed and replaced over the years; happily there are still a good number of them left for you to see.
Mayfair Walking Tour Directions
If you are interested in shopping, some of Mayfair's major shopping streets include Oxford Street, Bond Street and Regent Street.
To explore Mayfair our recommended walking tour begins from Green Park Tube Station. This walk is 1.4 kms long and should only take about 20 minutes at a normal walking pace, not including stops and not including the optional leg starting at step 12 in the directions below. We suggest allowing at least 1 hr to enjoy this walking tour — considerably more if you are going to divert into the some of the shopping districts (see below).
If you are interested in shopping, some of Mayfair's major shopping streets include Oxford Street, Bond Street and Regent Street. You can explore the many shops along Bond Street and Regent Street from the last portion of this walk, but give yourself lots of extra time for this. Click the Map and Directions tab above or scroll down for the complete step-by-step directions.
Directions
| Tube Line | Nearest Station | Walking Time |
| --- | --- | --- |
| Piccadilly and Bakerloo Line | Piccadilly Circus | 0 Minutes |
| Piccadilly, Jubilee and Victoria Line | Green Park | 0 Minutes |
| Bakerloo, Victoria and Central Line | Oxford Circus | 0 Minutes |
How to get to Walking Tours of London - Mayfair Historic Neighborhood Walk by Tube
From and of the above stations you are already in Mayfair. From Green Park Station you can follow the steps below, otherwise you can refer to the map and plan your own route from either of the other stations.
Start at Green Park Station.
Exit onto Piccadilly Street - Nearby attraction: Ritz Hotel is on your right.
Left (north) on Berkeley to Berkeley Square.
Left (clockwise around the square - Nearby attraction: Winston Churchill lived in #48 when he was a boy.
Left on Hill Street
Left on Hay's Mews
Right on Hay's Mews where it splits at the next corner - Nearby attraction: The mews, common throughout London in earlier times, were garages for carriages and horses with living quarters above for the horse grooms and coachmen. Most mews have now been converted to townhouses.
Left on Chesterfield Hill - Nearby attraction: Victorian townhouses reflecting the once common character of this neighborhood.
Left on Charles
Right on Half Moon
Left on Piccidilly back to Green Park Station.
If desired you can continue past Green Park Station along Piccadilly for another 10 minutes to see famous Piccadilly Circus - Nearby attractions: check out the upscale shopping north of Piccadilly along Bond Street and north of Piccadilly Circus along Regent Street, and look for St.James's Piccadilly St. on the right.
Finding Your Route - Please Wait
Photo Gallery
Video