Best Shopping in London
London is a mecca for shoppers with many famous shopping districts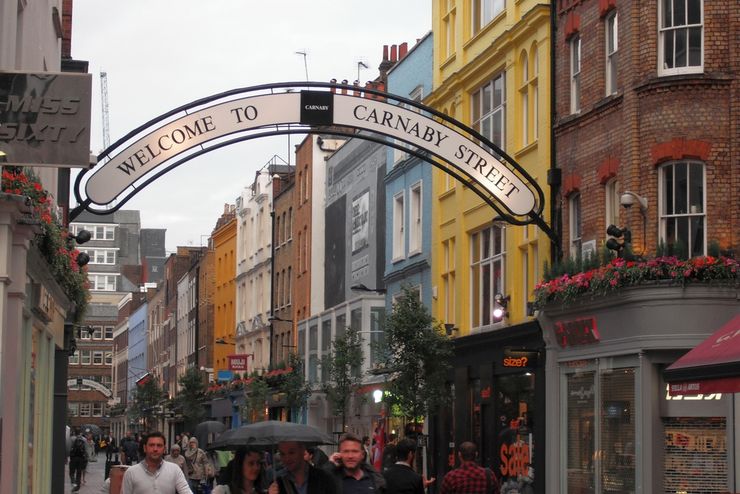 Unlike the shopping malls found throughout North American cities, shopping in London is mostly focused along miles of shop lined streets in various neighborhoods. Large malls exist, but are not as many in number as in North American cities. For information on London's newest mall see our page on Westfield Stratford City Shopping Centre which was part of the development for the 2012 Summer Olympics.
The residents of London are very fashion conscious, which has resulted in an abundance of clothing stores ranging from flagship shops for the major chains on Oxford Street to little luxury boutique shops on Bond Street. The best time of the year to pick up bargains is usually the months of January and August. Don't forget to check out some of the side streets, as you will often discover some hidden gems just off the beaten path.
The majority of popular shopping districts in London are located in the northwest sector of the city including South-Kensington/Chelsea, Mayfair, Covent Garden, and Camden Town. All of the shopping areas listed below are close to Tube stations along the London Underground.
Below you will find a list of the best shopping districts in London along with what they are well known for and the closest tube stations.
South-Kensington / Chelsea
Chelsea | Tube Station: Sloane Square King's Road west from Sloane Square in Chelsea is another popular shopping district with shops known for the latest in fashion and household goods. Many of the stores here offer extended hours on Wednesdays.
Beauchamp Place | Tube Stations: South Kensington and Knightsbridge Located off Brompton Road, a little west of Harrods is Beauchamp Place. This famous street is a preferred shopping destination of celebrities and royalty. It is home to many of the top names in London fashion along with elite jewellery and specialty shops. In the mix you will also find a number of trendy restaurants.
Mayfair
Oxford Street | Tube Stations: Marble Arch, Bond Street, Oxford Circus and Tottenham Court Road With over 300 shopping outlets Oxford Street is one of the most significant shopping streets in London. It has flagship stores for many higher end British retailers including Selfridges, John Lewis and others, not to mention the many boutiques.
Regent Street | Tube Stations: Oxford Circus and Piccadilly Circus From Oxford Circus to Piccadilly Circus, Regent Street offers a great selection of moderately priced fashion outlets. It also boasts Hamleys, one of Londons largest toy stores brimming with seven floors of fun as well as the London Apple Store.
Bond Street | Tube Stations: Bond Street, Oxford Circus and Green Park If you want to lighten your wallet it won't take long on Bond Street where you will find some of the most luxurious designer stores in the world, including big names like Cartier, D&G, Jimmy Choo, Louis Vuitton and Versace. Of course window shopping is fun too.
Carnaby Street | Tube Stations: Oxford Circus and Piccadilly Circus This narrow pedestrian street lined with shops and restaurants runs parallel to, and just east of Regent Street. You can access it from Regent Street by going east on either Maddox Street or Beak Street. This world famous street had it's first market in the 1820's. In the 'Swinging' 1960s, Carnaby Street became a major centre for designers and their boutiques. Today this street and the surrounding area are a major shopping destination with an abundance of boutiques featuring designer fashions and accessories, home and lifestyles shops, and numerous cafes, bars and restaurants.
Covent Garden
Covent Garden | Tube Station: Covent Garden In the area surrounding Covent Garden Station you will discover many quaint boutiques. Around Seven Dials, an intersection of seven streets just a couple of blocks northwest of Covent Garden Station, you will find Adidas Originals, All Saints, Carhartt, Fred Perry, G Star Raw and Stussy. For shoes stores check out Neal Street just north of the station. The London Transport Museum has an interesting gift shop for souvenir shoppers.
Charing Cross Road | Tube Station: Leicester Square Just north of Leicester Square on Charing Cross road is a paradise for book lovers. There are several book stores in this block including Smiths. Independent stores offer specialty, new, used and antique books.
Camden Town
Camden Town | Tube Stations: Camden Town and Chalk Farm North of Camden Town Station along Camden High Street is an area featuring a large selection of alternative fashion and accessory shops and other stores that are a real hit with the younger crowd. Continuing farther north on Camden High Street to Camden Lock Place you will find Camden Markets, a group of very popular vibrant canal side markets filled with colourful shops and stalls peddling an ever changing variety of goods mixed in with a number of trendy eating spots. The Camden Markets are now the 4th most popular attraction in London.
Major London department stores and shopping malls