The Palace of Westminster and Big Ben
No trip to London is complete without a visit to the Palace of Westminster and Big Ben - home to the Houses of Parliament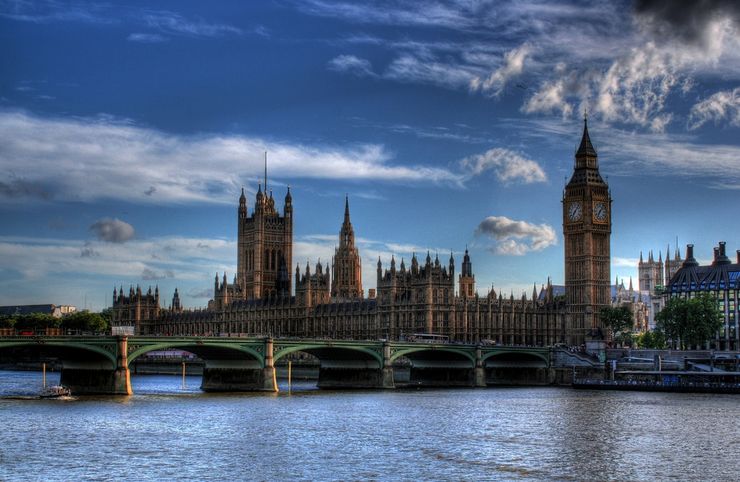 The Houses of Parliament and their famous the Clock Tower, properly called the Palace of Westminster, are probably the single most recognized landmark in all of London. In fact the 316 foot high Clock Tower, which is commonly refered to as Big Ben after the nickname of it's heaviest bell, is famous throughout the world. The giant bell chimes each hour while four smaller bells chime every 15 minutes.
The site of the Palace of Westminster has a rich history going back nearly 1000 years to the 11th century. While it originally served as a royal residence it has been the location for meetings of the Parliament of England since 1295. In 1834 a huge fire broke out and destroyed the majority of the complex. Two Chambers where quickly repaired in order to be used by the Houses of Lords and Commons by February of the following year. After debating different designs for rebuilding the palace it was finally decided to stay with a convservative Gothic style. Rebuilding was completed in stages between 1840 and 1870. Palace of Westminster and the famous Clock Tower were again damaged heavily by a total of 14 different bomb strikes during the course of World War II, however everything was again rebuilt and repaired after the war.
During your visit to Houses of Parliament (Palace of Westminster) you can enjoy viewing and photographing the impressive architectural details and you can enjoy the Tower Gardens, a park that runs along the Thames River next to the Palace.
Public tours are available on Saturdays and during the Summer Opening. Tickets are required. For more information see Parliamentary Tours for overseas visitors
There are many other attractions within easy walking distance of Houses of Parliament (Palace of Westminster). Some of these include Saint James's Park, Buckingham Palace, Hyde Park, Westminster Abbey, Westminster Cathedral and the Westminster Cathedral. These attractions can be nicely combined into a memorable one or two day walking tour.
Facts For Your Visit
Official Website: Palace of Westminster
Fee:
No
Address: London SW1A 0AA, UK
Phone: 020 7219 3000
Official Website: Palace of Westminster
Reviews
Rated 4.6 out of 5

My husband and I recently had the opportunity to explore the UK House of Parliament on a guided tour, and we found it to be a thoroughly enjoyable experience. Lasting about 1.5 hours, our guide, David, was knowledgeable and engaging without overwhelming us with political details. What stood out to us was how accessible the tour was to people with varying levels of political interest. David skillfully brought the history and significance of each area to life, from the impressive Westminster Hall to the distinguished House of Lords and the lively House of Commons. Even as non-political enthusiasts, we found it fascinating to learn about these spaces and their role in shaping the nation. David's commentary seamlessly blended with the grandeur of the building, creating an immersive atmosphere. He encouraged questions and provided detailed answers, allowing us to delve deeper into the tour's highlights. Overall, the UK House of Parliament tour offers valuable insights into British history and governance. It's a recommended experience for both locals and tourists looking to gain a deeper understanding of the country's political heritage.

Wayne Dunn - 3 days ago
An amazing experience, it was second time there and I never get tired of it. The multimedia tour is really well done, you can go at your own pace and you get the choice to dive dipper into more knowledge if you wish to do so. I spent an hour and a half doing the tour but I probably could have stayed a lot longer. From the hall, to House of Lords and the House of Commons, everything you look at, brings you to our amazing heritage and is a constant reminder that even in the darkest times of our lives we can raise back from the aches and be even greater than we were in the first place.

Ricky Laurens - 1 month ago
Very old and very well maintained. We did not go inside, but what history. They were digging up a lot of the grounds when we visited in fall of 2023. Hopefully, that is over for your visit. Such a magnificent monument to the government of the country. Glad I was able to visit

John L. - 25 days ago
Amazing place to visit! We did the self guided multimedia tour on a weekend and spent nearly 2 hours here. We got a great overview of the history of the palace and the UK governmental system. The architecture inside is just stunning. Be advised photography is only allowed in certain areas; sadly the actual parliamentary chambers are some of the rooms where no photography is permitted. Also you get to see more rooms and actually stand in the chambers amongst the benches if you come on a Saturday when Parliament is not in session, though naturally you won't see the lawmakers at work.

Christopher Roman - 1 month ago
The most fantastic building in London. The three most important points for tourists in London should be: the British Museum, the National History Museum and the Houses of Parliament. Guided tours are available.

Avukat KEZBAN ALAN - 10 days ago
Read all Reviews

Accommodations near Palace of Westminster:
Directions
| Tube Line | Nearest Station | Walking Time |
| --- | --- | --- |
| Circle, District and Jubilee Line | Westminster | 2 Minutes |
| Northern and Bakerloo Line | Charing Cross | 14 Minutes |
| Victoria Line | Victoria | 19 Minutes |
How to get to Palace of Westminster by Tube
From Westminster Station you will exit onto Bridge St. right across from Big Ben.
From Charing Cross Station walk west on Strand then bear right at Trafalger Square and head south along Whitehall St.
From Victoria Station walk east along Victoria Street.
Map & Instant Route Finder
Click&Go Map and Route Finder with public transit, walking, driving or cycling directions. Get up-to-the-minute transit times for your route.
Finding Your Route - Please Wait
Photo Gallery
Intricate Details of the Palace of Westminster Clock Tower often called Big Ben cc licensed photo by Mark Ramsay

Photo Credit: Croydon Clicker - cc license via Flickr

Photo Credit: Doolallyally - cc license via Flickr

Photo Credit: D-Stanley - cc license via Flickr

Photo Credit: TerryDOtt - cc license via Flickr

Photo Credit: Jorge Lascar - cc license via Flickr

Photo Credit: alisdare1 - cc license via Flickr

Photo Credit: alisdare1 - cc license via Flickr

Photo Credit: Giåm - cc license via Flickr
Video