Best restaurants located within a 5 minute walk of 104th Street Station | Ratings, Reviews & Maps
The following New York City restaurants are all conveniently located within a 5 minute walk of the 104th Street Subway Station. They are sorted according to their overall rating on Yelp. When you are looking for a great place to eat near 104th Street Station in NYC, any of the following restaurants should prove to be a good choice.
Tajadas Bakery & Restaurant
Price: $
Category: Bakeries Colombian
Address:
97-05 Jamaica Ave
Woodhaven, NY 11421
Phone: (718) 846-0101
Good and reliable restaurant. Dishes come in large portions and always made with fresh ingredients. Deliveries can take a while so order ahead of time. Read More
Juan P. Oct-02-2020
Customer service and well seasoned food are needed. There is one waitress that is courteous always go when she is there. Food is fair but needs seasoning.... Read More
Treesia H. Mar-17-2019
I was hoping for something similar to what was in the area 20+ years ago, and this place is just as amazing. Bistec empanizado, and the amazing side salad... Read More
Michael B. Jun-15-2019
Tlaxcalita La Bella Mexican Restaurant
Category: Mexican
Address:
10422 Jamaica Ave
Richmond Hill, NY 11418
Phone: (347) 960-7089
Amazing food, super authentic & fresh! This is my new favorite place! 100 percent! Open late which is really convenient and smooth friendly delivery. Wish I... Read More
Marisa S. Jul-11-2020
Looking pretty good so far. Favorite Mexican restaurant yet in Jamaica Queens. I've only had the tacos as of yet. The customer service is excellent. Read More
jay r. Nov-13-2020
The picaditas are awesome. Tamales could use a lil bit more salsa and salt and they are not cheap with the meat inside, But overall girl who answered the... Read More
Jorge R. Dec-17-2020
La Negra Restaurant
Price: $$
Category: Dominican Spanish Bars
Address:
10203 Jamaica Ave
Richmond hill, NY 11418
Phone: (718) 849-7509
Haven't dined in, only got take out. Food is great for the most part and very reasonably priced. $8 for a platter consisting on rice, beans and roasted... Read More
David C. Oct-21-2016
The Lunch Special advertised in the lunch menu shows $5.00, $6.00 & $7.00 smack dab in the middle of the brochure. My ox tail meal did cost more, if by... Read More
Glenn V. Jul-16-2015
i urgely suggest customers to stay away from this restaurant. i had the worst experience here out of any place ive been to ao far. the bold headed manager... Read More
Ariel C. Sep-24-2017
Nutty Sports Bar & Grill
Category: Sports Bars American (Traditional)
Address:
105-06 Jamaica Ave
Richmond Hill, NY 11418
This place has delicious frozen drinks & the food is amazing. There's Great music and great service. Read More
Natalie S. Jan-11-2021
Cool sports bar spot in Woodhaven. Chill vibe and good tasting drinks. I had a guest bartender that I came here for really and she made me a drink called... Read More
Jay L. Jun-11-2019
This spot is a hidden Gem! The drinks here are beyond delicious. I tried the frozen Passion fruit yesterday and just thinking about it makes my mouth water.... Read More
Alex M. Feb-19-2020
Hong Kong Restaurant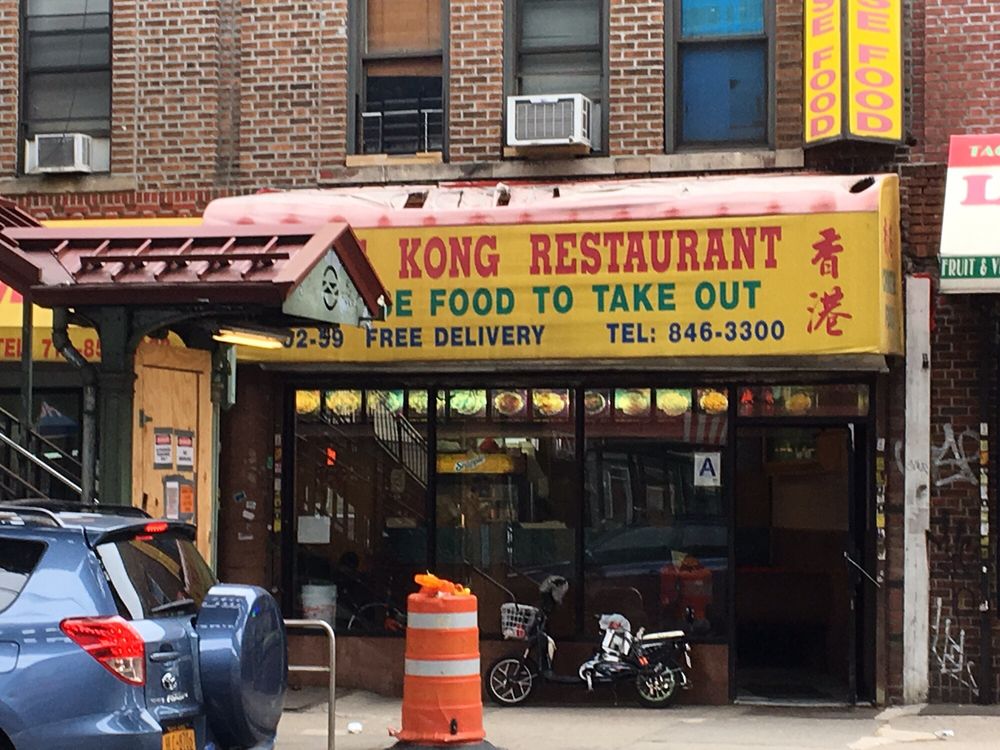 Category: Chinese
Address:
10259 Jamaica Ave
Richmond Hill, NY 11418
Phone: (718) 846-3300
Best Chinese food near me !! The only Chinese restaurant near me that actually has taste to there food Delivery comes on time Crispy fries not soggy... Read More
Anita N. Jan-10-2019
The food here is awful and the service isn't the greatest. I ordered fried rice and chicken wings, and they gave me french fries and chicken wings. When I... Read More
Sohail S. Dec-09-2017
This place sucks.. It's always dirty always smells like garbage i only go to get French fries because you can't fuck that.. They always seem like they have... Read More
Jaisito L. Apr-09-2018
Elixir Lounge & Restaurant
Price: $$
Category: Lounges Hookah Bars American (Traditional)
Address:
105-06 Jamaica Ave
Richmond Hill, NY 11418
Phone: (718) 487-3179
This lounge is really cool and fun. Awesome bartenders and great hookah. Appetizers are pretty ok also. Mature mixed crowd. I'm thinking of doing my bday... Read More
Sandy B. Sep-28-2015
Place is not what the ratings say it is. Horrible hookah. Pretty good music. Awful service. Read More
Rony C. Jul-23-2016
New York City Culinary Tours
Rating

From: $86.32 CAD...May vary slightly due to currency fluctuations
This is a fun-filled interactive walking tour of Greenwich Village's Italian neighborhood. See St. Anthony's Church, Raffetto's Pasta Store and then stroll MacDougal Street's Caffe Reggio. This 2-hour tour is led by a local, licensed NYC tour guide with Italian family roots in the neighborhood for over 125 years. Your food tour guide gives you an insider's perspective into local history with music, serenades and family tales.   Greg Walks NYC employees, are released/discharged, from and against any/all liability from participation in Greg Walks NYC Tours, and is legally binding on participant, heirs, successors assigns and legal reps. Tour participants assume all travel risks. Gregory Marro and Greg Walks NYC are released from all/any liabilities and penalties to the legal maximum permitted by law. Tourists MUST inform tour guide of any/all food allergies. Greg Walks NYC tour pics/videos may be used on social media.Samples and sights subject to change.
Rating

From: $79.96 CAD...May vary slightly due to currency fluctuations
Get off the beaten path in Chelsea and the West Village while tastings some of the best desserts and sweets in the area. You'll learn about the city's culinary past, all while trying fresh hot doughnuts, half pound cookies, artisan chocolates from the city's oldest chocolate house, create a mini cupcake, try unique ice cream flavors in the summer months or enjoy a toasty hot chocolate in the winter, and you'll even take home a bag of your favorite candies. Mosey through the quaint Chelsea neighborhood, into Chelsea Market, down the High Line, and into the Meatpacking District and end your culinary adventure in the West Village.
Rating

From: $48.00 CAD...May vary slightly due to currency fluctuations
A fascinating tour of the historic pubs and haunts of the the greatest literary minds of the United States, in one of the most influential and progressive neighborhoods in the world.
Rating

From: $53.49 CAD...May vary slightly due to currency fluctuations
Our tour is led by a native New Yorker to some of the best Craft Beer Bars in the historic and beautiful district of the Greenwich Village. Travelers gain insights about the neighborhood and the city, as well as the culture of drinking in NY and America.
Rating

From: $49.24 CAD...May vary slightly due to currency fluctuations
Our activity takes customer on a unique experience of Craft Beer Culture in New York City. We take guests to the Craft Beer bars that Local New Yorker's go to in the historic district of the East Village where many episodes in American and New York history have played out. This rich experience brings together the fun of going a bar with your friends and the excitement about this history of drinking culture in New York City and America.
Rating

From: $27.43 CAD...May vary slightly due to currency fluctuations
Experience the best of New York City's wildly famous Greenwich Village in one night. Visit 4 of the Village's hottest drinking establishments, featuring beer pong, karaoke, live bands, and DJ's & dancing. You will receive free shots and admission fees at all locations.