Empire State Building
An Icon of New York City, the Empire State Building is a must see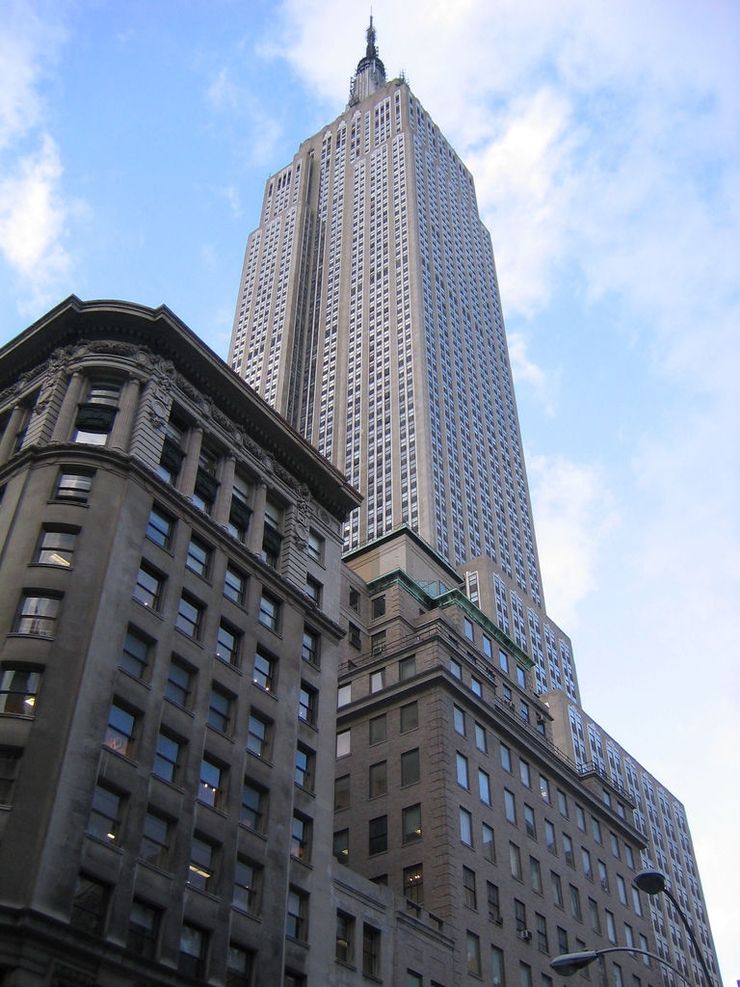 Completed in 1930, the Empire State Building is a world-famous Big Apple icon and is a must-see on any visitor's itinerary. Standing 1,250 feet tall, the 102-storey Art Deco skyscraper is once again the tallest building of the New York City skyline, following the destruction of the World Trade Center during the September 11th terrorist attacks in 2001.
One of the "Seven Wonders of the Modern World", the Empire State Building is not only a New York landmark, it symbolises twentieth century man's attempts to break down barriers and achieve the unachievable.
You can visit the Empire State Building's Observatory on the 86th floor for a 360 degree panoramic view of the city from the spacious outdoor promenade and climate controlled glass-enclosed area. The 102nd floor offers a second, fully enclosed observation deck opened in 2005; any higher and you would be swinging like King Kong from the building's enormous spire, originally designed as a mooring mast that would enable airships, but deemed impractical after the Hindenberg disaster. Remember to take the weather into account when planning your visit; clear, dry days offer optimal viewing when you can see the Earth's arc on the horizon.
With ticket lines almost as legendary as the building, save time by buying your ticket online and consider splurging on an Express Pass to proceed directly to the high-speed elevators where you will be whisked 1,050 feet upwards in under a minute. Be prepared for a security check and to carry any items you bring into the building as there is no coat or luggage check. Cameras and camcorders are permitted, but tripods are not.
Once on the observation deck you'll want to take lots of photos and enjoy the breathtaking views. There is a false urban legend circulating that if one drops a penny from the top of the Empire State Building, it could kill someone below. Thankfully, that has been proven false by the Discovery Channel's Mythbusters, however, it is illegal and can incur a hefty fine for anyone silly enough to do so.
Nearby attractions: Madison Square Garden, Macy's and the New York Public Library
Facts For Your Visit
Official Website: Empire State Building
Fee:
Yes.
Regular Hours:
May differ on holidays
Monday: 10:00 AM – 10:00 PM
Tuesday: 10:00 AM – 10:00 PM
Wednesday: 10:00 AM – 10:00 PM
Thursday: 10:00 AM – 10:00 PM
Friday: 10:00 AM – 10:00 PM
Saturday: 10:00 AM – 10:00 PM
Sunday: 10:00 AM – 10:00 PM
Address: 20 W 34th St., New York, NY 10001, USA
Phone: (212) 736-3100
Official Website: Empire State Building
Reviews
Rated 4.7 out of 5

We visited at night and we loved it! You were able to see all of the city nights from Manhattan, New Jersey, and Brooklyn. You were able to buy your tickets ahead of time which helped us with our no wait time. One the way up there were a bunch of different stops that explained how and when the building was build. Once you get to the observation deck you can spend as much time as you'd like so definitely take your time and take all of the pictures you'd like. It was super cool and I'd definitely do it again.
Dominic Lopez - 7 days ago
The Empire State Building is an absolute masterpiece of architectural marvel. Stepping onto its observation deck, you're greeted with a panoramic view that takes your breath away. The cityscape stretches as far as the eye can see, creating a mesmerizing tapestry of lights and skyscrapers. The experience of being on top of one of the world's most iconic landmarks is truly unforgettable. The attention to detail, from the informative exhibits to the seamless flow of visitors, makes the visit both enjoyable and educational. It's a must-see for anyone visiting New York City, offering a perspective that captures the essence of this vibrant metropolis. Don't forget to buy the city pass. That will be useful to reduce your expenses.
Waruna Thotamune - 19 days ago
Most see building. Stunning from inside and outside. Incredible view of the greatest city, the city of New York. The lights from above are always in trend with the holidays. The food court delivers a great variety of food and beverages. It is always a good time to visit,but I truly recommend visiting before sunset. The colors are amazing , it droves you into a magic land.
Levi Cook - 1 month ago
I enjoyed visiting the Empire State building. Inside the building is an educational section that explains how the building was built and why. After visiting I feel like I know a lot more than I didn't know before I came. When you get up to the top there are additional areas that are higher up. They will give you the option to pay extra. We did not do the option to go up further because we felt like we were able to see quite a bit from where we were. There's a walkway outside the building that allows you to view the city from many different angles and also take lots of great photos. We were there at night. Because it was dark, It was kind of hard trying to determine what we were looking at unless it was water or a building with distinct features. Still a very beautiful view . I feel we need to come back in the daytime to see that fantastic view. #TTip: get your tickets ahead of time and make sure to pick the time you actually want to go. They have night time openings but they will not let you go inside the building before your exact appointment time. Because they implemented his policy about 15 minutes prior to your lot of time you will see many many people get in line at the very same time to go in. Make sure you get there early or you will be at the back of a very long line.
Toni S (ToniTheTourist) - 1 month ago
The Empire State Building offers a truly breathtaking experience that words can hardly do justice to. It stands as one of the tallest and most iconic skyscrapers in the world, and ascending to its observation deck delivers an awe-inspiring view of the city that is nothing short of magical. The moment you step onto the observation deck of the Empire State Building, you're greeted with a panoramic view that stretches as far as the eye can see. The city sprawls out beneath you like a living, breathing entity, with its streets, buildings, and landmarks weaving a tapestry of life and activity. What sets this experience apart is not just the magnificent view, but the sensation of standing atop a structure that seems to touch the sky. As you gaze out, the sheer height and grandeur of the Empire State Building become palpable. It's a liberating experience that fills you with a sense of awe and wonder. Feeling the fresh breeze atop this towering marvel is not just refreshing, it's invigorating. It's a breath of freedom amidst the hustle and bustle of the city below. The peaceful serenity up there, high above the chaos, creates a unique contrast that's both liberating and contemplative. The Empire State Building also has a rich history, and it's impossible not to be moved by the knowledge that you're standing on a piece of architectural and cultural history. The observatory offers insight into the construction of the building and its role in shaping the skyline of New York City. In conclusion, the Empire State Building provides a one-of-a-kind experience that transcends mere sightseeing. It's a breathtaking journey to the top of one of the world's most iconic structures, where you'll feel on top of the world, both figuratively and literally. If you're in New York City, this is a must-visit destination that promises a memorable and truly liberating experience.
Mbofholowo Freedom Munukha - 1 month ago
Read all Reviews

Accommodations near Empire State Building:
Directions
| Subway Line | Nearest Station | Walking Time |
| --- | --- | --- |
| 1, 2, 3, A, C or E | 34th Street / Penn Station | 5 minutes |
| B, D, F, N, Q or R | 34th Street / Avenue of the Americas | 2 minutes |
How to get to Empire State Building by Subway
Take the 1, 2, 3, A, C or E train to 34th Street / Penn Station, walk 2 blocks east to 5th Avenue or take B, D, F, M, N, Q or R train to 34th Street / Harald Square, walk 1 block east to 5th Avenue.
Map & Instant Route Finder
Click&Go Map and Route Finder with public transit, walking, driving or cycling directions. Get up-to-the-minute transit times for your route.
Finding Your Route - Please Wait
Photo Gallery
View of Manhattan from the Empire State Building cc licensed photo by Harshil Shah

Photo Credit: susanjanegolding - cc license via Flickr

Photo Credit: pom'. - cc license via Flickr

Photo Credit: pom'. - cc license via Flickr

Photo Credit: pom'. - cc license via Flickr

Photo Credit: pom'. - cc license via Flickr

Photo Credit: pom'. - cc license via Flickr

Photo Credit: pom'. - cc license via Flickr

Photo Credit: pom'. - cc license via Flickr

Photo Credit: pom'. - cc license via Flickr
Video