911 Memorial and Museum
You can help honor and remember those who were lost or affected by the terrible events of September 11, 2011 with a visit to the 911 Memorial and Museum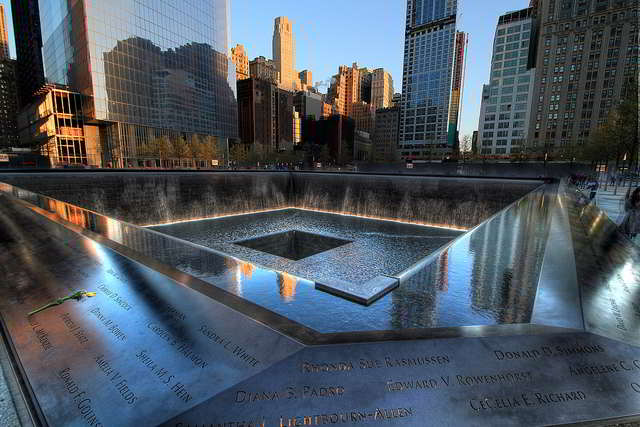 When something as tragic occurs as the events of September 11, 2011 there is a need to remember those who lost their lives directly or by helping others. It is only fitting that the grounds of the World Trade Center became a permanent memorial and museum to this tragic day.
The Memorial itself consists of 2 square memorial fountains situated in the exact footprints of the Twin Towers of the World Trade Center surrounded by a plaza landscaped with trees and, in particular, a special tree called the Survivor Tree. Each of the two fountains is surrounded by a 1/2 inch thick solid brass plate in which the names of the nearly 3000 people who lost their lives in the attacks have been not just engraved, but cut right through the thick brass so that light can pass through the letters from behind. The Survivor Tree was a callery pear tree that was rescued from the rubble, barely alive, and nursed back to health. It now stands as a symbol of hope and renewal.
Visiting the Memorial is free, however there is an admission charge to visit the museum except on Tuesday evenings when admission is free to a limited number of visitors. Please refer to the official website for more information on this before visiting the Memorial.
Visitors to the museum will enter through a pavilion that is design to resemble a partially collapsed building and then make their way down a ramp to the exhibits which are 70 feet underground. The museum will include remnants of the foundation and support columns of the World Trade Center itself along with equipment that was used in the recovery effort. It will also have a number of other artifacts related to the tragic events of that day. There are exhibits and displays to help tell the world about the many little stories that make up the larger story about this tragic event and also about the previous attack back in February of 1993.
Guided tours of the museum are available daily, but they must be pre-booked on the official website and there is an additional charge. A less expensive option is to download the free 9/11 Museum Audio Guide App for your smartphone from the AppStore or Google play.
Associated with the 9/11 Museum is the 9/11 Tribute Center located on the south side of Liberty Street just west of Greenwich Street. This is adjacent to the southeast corner of the Memorial. The 9/11 Tribute centre features a gallery and also offers guided tours of the Memorial by volunteers who where directly affected by the events of 9/11 — survivors, family members, rescue workers, recovery workers and volunteers. They share their personal insights into the horrible events and the healing process in which the Memorial serves an ongoing role. There is a modest charge for these tours which you can book below. You can get all the details from their website: 9/11 Tribute Center.
Facts For Your Visit
Official Website: 911 Memorial and Museum
Fee:
The 9/11 Memorial is free to visit. The 9/11 Memorial Museum has an admission fee, but is free to visit on Tuesday evenings from 5pm until closing. The free tickets are limited and are available starting at 4pm on a first-come first-serve basis.
From:
$36.71 CAD
...May vary slightly due to currency fluctuations
The 9/11 Memorial Museum in Lower Manhattan preserves the history of the attacks on the World Trade Center, and documents the significance of those events through building remnants, personal artifacts, first-person accounts and multimedia displays. With this admission ticket, take a self-guided tour of the museum's memorial exhibition and 3-part historical exhibition, which commemorates the 2,983 people who were killed, honors those who risked their lives to save others, and reflects on the courage and compassion shown in the aftermath.
Category: Museums
Address: 180 Greenwich St
New York, NY 10007

Reviews
The plaza where the two memorials are is very nice. Most people were respectful of where they were and honoring all those who lost their lives on that... Read More
Beth E. Jun-23-2022
When I visited they had closed down the memorial early due to COVID but I was escorted by a local officer to view it at night. I'm a daughter of a 9/11... Read More
Jen M. Mar-20-2022
I wanted to take a moment to recognize Our tour guide Daniel, he was truly outstanding and made our experience so personal. He was stoic and courageous when... Read More
Rosie B. Jan-22-2022
Accommodations near 911 Memorial and Museum:
Directions
| Subway Line | Nearest Station | Walking Time |
| --- | --- | --- |
| A, C, J, Z, 2, 3, 4, or 5 | Fulton Street | 7 minutes |
| 2 or 3 | Park Place | 6 Minutes |
| E | World Trade Center | 4 minutes |
| R | Rector Street | 6 minutes |
| R | Cortlandt Street | 3 minutes |
| 1 | Rector Street | 7 minutes |
How to get to 911 Memorial and Museum by Subway
Take a A, C, J, Z, 2, 3, 4, or 5 train to Fulton Street: exit onto Fulton Street, go right on Church Street, and left on Vesey Street.
Take a 2 or 3 train to Park Place: exit and walk south on Church Street and turn right (west) onto Vesey Street.
Take an E train to World Trade Center: exit onto Church Street Walk south and turn right on Vesey Street.
Take a R train to Rector Street: exit and walk west 1 block on Rector Street and go right (north on Greenwich Street to the Memorial.
Take a R train to Cortlandt Street: walk west on Cortlandt street to the Memorial.
Take a 1 train to Rector Street: exit onto Greenwich Street and walk north.
Map & Instant Route Finder
Click&Go Map and Route Finder with public transit, walking, driving or cycling directions. Get up-to-the-minute transit times for your route.
Finding Your Route - Please Wait
Photo Gallery
View of the 911 Memorial from above By Cadiomals (Own work) CC-BY-SA-3.0 licensed via Wikimedia Commons

Photo Credit: Yelp

Photo Credit: Yelp

Photo Credit: Yelp

Photo Credit: pom'. - cc license via Flickr

Photo Credit: pom'. - cc license via Flickr

Photo Credit: pom'. - cc license via Flickr

Photo Credit: pom'. - cc license via Flickr

Photo Credit: pom'. - cc license via Flickr

Photo Credit: pom'. - cc license via Flickr

Photo Credit: pom'. - cc license via Flickr
Video