Central Park
Central Park: A beautiful 874 acre haven from the hustle and bustle of New York City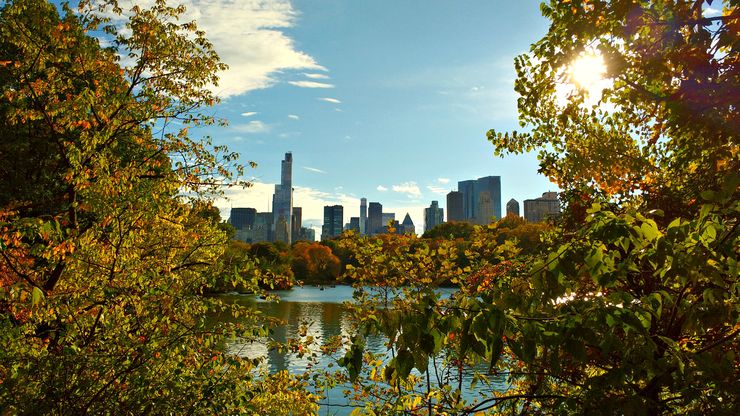 Located in the center of Manhattan, Central Park provides a pastoral refuge from the chaos and noise of New York City. Recognised as a National Historic Landmark in 1963, Central Park is the most visited park in the country. Covering over 874 acres, Central Park offers a near endless array of activities for natives and newcomers alike.
While an extensive network of trails perfect for running or hiking, Central Park also offers numerous recreational opportunities, including tennis courts, skating rinks, swimming pools, baseball fields, horseback riding, fishing and boat rentals. Birdwatchers will want to explore "The Ramble", a wooded section of the park where many species of woodland birds can be spotted in the spring and fall. Nature lovers will enjoy exploring the Conservatory Gardens, the Park's first formal garden and Turtle Pond which attracts migratory birds and several species of turtle.
Central Park also hosts a number of cultural festivals and a summer concert series on the Great Lawn featuring popular and classical music. A beloved summer tradition, The Public Theater holds its critically acclaimed Shakespeare in the Park series at the Delacorte Theatre with eight weeks of free performances.
Young children will enjoy a visit to Central Park every bit as much as adults, especially the Central Park Carousel, which is one of the largest merry-go-rounds in the United States, the petting zoo at the Tisch Children's Zoo at the Central Park Wildlife Center and the Marionette Theatre at the Swedish Cottage. For a less structured approach, visit the Alice in Wonderland and Ugly Ducking statues, sail model boats at Conservatory Waters or simply enjoy the 21 playgrounds scattered throughout the Park.
The Central Park Conservatory also offers a variety of free guided interpretive walking tours, if exploring the park on your own seems overwhelming. These free tours run throughout the year except in extreme weather. You can check out the calendar on the official site to see what tours are happening on any given day. Bicycle rentals, horse-drawn carriages and pedi-cabs offer good alternatives to walking to explore sites throughout the park. iPhone users can download the Central Park Conservatory app for suggested itineraries and photography sites.
Nearby attractions: Central Park Wildlife Center, American Museum of Natural History, The Met and the Cloisters, Whitney Museum of American Art, Metropolitan Opera, The Frick Collection and Carnegie Hall
Facts For Your Visit
Official Website: Central Park
Fee:
no
Regular Hours:
May differ on holidays
Monday: 6:00 AM – 1:00 AM
Tuesday: 6:00 AM – 1:00 AM
Wednesday: 6:00 AM – 1:00 AM
Thursday: 6:00 AM – 1:00 AM
Friday: 6:00 AM – 1:00 AM
Saturday: 6:00 AM – 1:00 AM
Sunday: 6:00 AM – 1:00 AM
Address: New York, NY, USA
Phone: (212) 310-6600
Official Website: Central Park
Reviews
Rated 4.8 out of 5

During my visit to New York City, I had the opportunity to explore Central Park multiple times. I was fortunate to stay nearby, making it easily accessible. Despite my repeated visits, I couldn't cover the entire park. Let me emphasize, it's vast! The park welcomes visitors from 6AM until around 1AM, and every time I was there, it was bustling with people. I witnessed runners, walkers, cyclists, and those enjoying horse-drawn carriage rides. People relished the scenery, practiced yoga, observed birds, engaged in art activities like drawing and painting, and, of course, there were plenty of tourists. In addition to its trees and open spaces, Central Park boasts numerous statues to admire and places to grab refreshments, such as Tavern on the Green. The park offers an abundance of opportunities to relax and enjoy its beauty, with numerous benches and even rocky outcrops for those who prefer them. A visit here is absolutely essential. Despite exploring a considerable distance within the park, again I couldn't cover it all. The views of the towering skyscrapers are a unique NYC experience, and the best part is, there's no entrance fee to enjoy Central Park. It's a beautiful place to unwind and simply watch the world go by. Depending on the season, you can find a plethora of activities to partake in. Central Park is also home to a variety of wildlife, including birds, squirrels, and much more to discover.

Nixon Caparas - 14 days ago
Central Park, a verdant oasis amidst the bustling urban landscape of New York City, offers an extraordinary escape into nature. As I strolled through its lush greenery, I marveled at the juxtaposition of a sprawling jungle in the heart of the metropolis. The park's expansive beauty instantly captivated me, providing a serene backdrop for my jog. The experience was nothing short of amazing, as I navigated the winding paths surrounded by towering trees and vibrant flora. The fresh air was a welcome respite, a stark contrast to the city's usual hustle and bustle. The sight of people engaging in various forms of exercise created a motivating atmosphere, encouraging me to push my own limits. Jogging along the park's well-maintained trails became a rejuvenating journey, both for the body and the mind. The diverse scenery, from the iconic Bethesda Terrace to the peaceful Jacqueline Kennedy Onassis Reservoir, added a layer of visual splendor to my workout. It's not just a park; it's a dynamic haven where nature, fitness, and urban life seamlessly converge. Central Park is a testament to the city's commitment to preserving green spaces and fostering a sense of well-being. Whether you're a jogger, nature enthusiast, or someone seeking a tranquil retreat, this iconic park delivers an unforgettable experience, making it an essential gem in the heart of New York City.

Mahesh Pillai - 8 days ago
Lovely place right now especially in fall. Some of the popular spots are crowded but if you take a walk along some of the many trails they are deserted and quiet and super pretty. There's also live music around the Bethesda terrace region.

Titir Adhikary - 3 days ago
Such an amazing oasis in the middle of a bustling city… the walks around the park are varied and the landscape beautiful.. the zoo is fantastic and there are so many natural features such as rockscapes and meadows that you could forget you were in the city at all. Lots of benches to sit and watch dog walkers and families enjoying this beautiful park.

Wendy Kelly - 13 days ago
Central Park is an absolute gem, and I love this place. If I ever return to New York, it's a spot I'd revisit, no matter how many times I've been. It's a destination that's always worth the visit. One of the best plans is to explore it from one end to the other. I once walked from the north to the south, taking around three to four hours, with breaks for photos. I highly recommend trying out the new app they have, which provides a fascinating way to enhance your experience. It offers insights into the history and significance of specific points within Central Park, enriching your visit. What I appreciate about Central Park is that it's a sanctuary of calm amidst the bustling city. When I visited, it was relatively uncrowded, with people jogging and families strolling. It's a refreshing escape from the usual city chaos. There are so many fantastic spots to discover; I couldn't even see them all on my last visit. You can explore on foot, or even rent a Citibank bike to cover more ground. Regardless of how you choose to explore, Central Park is a must-visit. It's a fantastic, free activity that's an integral part of any New York trip.

Adriana Larotta - 21 days ago
Read all Reviews

Accommodations near Central Park:
Directions
| Subway Line | Nearest Station | Walking Time |
| --- | --- | --- |
| N, Q or R (South End) | 59th Street | 5 minutes |
| 1 or 2 (South End) | Columbus Circle | 5 minutes |
| A, B or C (Mid Park) | American Museum of Natural History station or 86th Street | 2 minutes |
| A, B, or C (North End) | 96th Street, 103rd Street or 110th Street | 2 minutes |
| 2 or 3 (North End) | 110th Street | 5 minutes |
How to get to Central Park by Subway
For the southern end of the Park, take the N, Q or R train to 59th Street or the 1 or 2 train to Columbus Circle and enter the Park from 59th Street. For the middle of the park, take the A, B or C train to the American Museum of Natural History or 86th Street and enter the park from Central Park West. For the northern end of the park, take the A, B, or C train to 96th Street, 103rd Street or 110th Street and enter the park from Central Park West or take the 2 or 3 train to 110th Street, head southwest on Lenox Ave (Malcolm X Blvd) into the park.
Map & Instant Route Finder
Click&Go Map and Route Finder with public transit, walking, driving or cycling directions. Get up-to-the-minute transit times for your route.
Finding Your Route - Please Wait
Photo Gallery
A tree frames one of the many unique bridges in Central Park cc licensed photo by Trodel

Central Park provides a wonderful oasis within Manhattan cc licensed photo by Evelyn Proimos

Photo Credit: pom'. - cc license via Flickr

Photo Credit: Maria Eklind - cc license via Flickr

Photo Credit: pom'. - cc license via Flickr

Photo Credit: joiseyshowaa - cc license via Flickr

Photo Credit: Doolallyally - cc license via Flickr

Photo Credit: Fabio Bruna - cc license via Flickr

Photo Credit: 35mmMan - cc license via Flickr

Photo Credit: JFGryphon - cc license via Flickr

Photo Credit: Marcela McGreal - cc license via Flickr
Video