Best shopping areas in New York City
New York City is a shopper's mecca with a diversity of shopping areas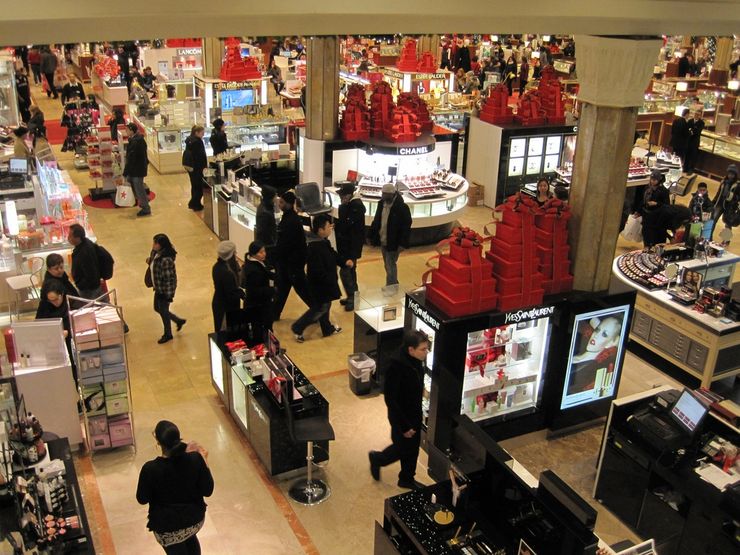 New York City is one of the best shopping destinations in the world. Your options are limitless from high-end retailers and department stores to farmers markets and specialty shops, whatever your heart desires, you will be able to find it in the Big Apple. Read on as we introduce you to some of the best NYC shopping areas.
Fifth Avenue is synonymous with extravagant shopping around the world. Most luxury brands, including Armani, Cartier, Gucci, Harry Winston, Louis Vuitton, Prada and Tiffany and Co have storefronts on Fifth Avenue between 49th Street and 60th Street. Fifth Avenue is also home to upscale department and specialty stores like Saks, FAO Schwartz and The Apple Store. Any fashioned-focused tourist worth their Manolo's, knows no sophisticated shopping spree in New York City is complete without visiting the "4 B's Designer Shopping": Bloomingdale's, Bergdorf's, Bendel's and Barneys. For those with cashmere taste on a small budget, seek out Sample Sales and Trunk Shows which offer deeply discounted designer items.
Technophiles will want to test out their haggling skills at the JandR Electronics flagship store with a city block full of the latest gadgets. If shutterbugs can't find what they are looking for, you can usually negotiate good deals at 17th Street Photo Supply or find refurbished items at BandH Photo SuperStore in Midtown.
For those who love brand name bargains, head downtown to the Financial District to Century 21 and Daffy's and search through department store designer leftovers to find that perfect fit. The selection ranges from Hanes to Hermes for men, women and the home at more than 40% retail prices. Across the street, Syms offers a fantastic selection of designer men and women's suits, wool and leather jackets, shoes and accessories from Anne Klein, Cole Haan, DKNY and Liz Claiborne for under $200. Be sure to check the websites for printable online coupons for further discounts. While downtown, the South Street Seaport is a premier shopping destination, but expect to pay full retail prices.
For those who cannot resist a bargain you could head down to Chinatown. Canal Street between Lafayette and Bowery is lined with small stalls peddling replica's of designer handbags, wallets, sunglasses, watches, jewellery, Asian arts and crafts, souvenirs and more. You can find some good deals here, but we would caution you that many of the so-called designer goods here are replicas, not the real thing, so use common sense when making transactions. Don't be afraid to thoroughly inspect the goods and to haggle on the price.
If you get bit by the bargain hunting bug, take a day trip to Paramus Park Mall, Garden State Mall or Jersey Gardens Factory Outlets in New Jersey, which are easily accessible by public transport. Where purchases made in New York City attract an 8.8% sales tax, New Jersey does not charge sales tax on clothing and prices are generally lower outside of New York City.
Manhattan offers many alternatives to mass market retailers and designer boutiques. Chelsea Markets, Antique Garage in Chelsea and the Green Flea Markets on the Upper West Side are great for handicrafts, antiques and vintage collectibles. If it's bohemian chic that you're after, browse the shops of St. Mark's Place in the East Village or along Bleeker Street and Christopher Street in Greenwich Village. The streets of Soho are filled with not only brand name retailers, but also tons of street vendors offering that unique New York souvenir.
If you love to shop you will also want to check out our pages on the following famous flagship New York stores. No matter what your tastes or style, New York City will satisfy.
Some Famous New York City department stores
From flagship department stores to streets lined with specialty shops, New York City is a shopaholics dream cc licensed photo by Phillie Casablanca