Statue of Liberty
The Statue of Liberty, a longtime symbol of freedom and democracy, is one of New York's most recognized landmarks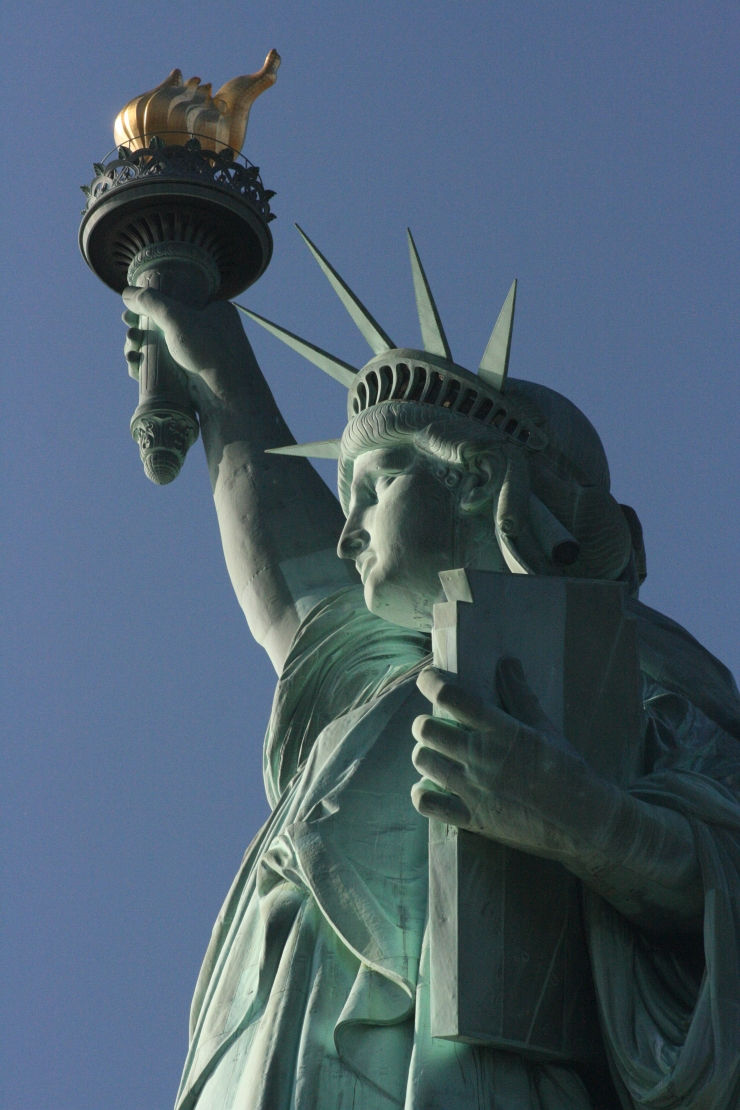 Located in the New York Harbour, the Statue of Liberty was an international gift of friendship from the people of France and has become an icon of freedom, democracy and the United States.
Designed by Frédéric Barthold, Lady Liberty's robe is representative of the Roman goddess of freedom, Libertas, bears a torch symbolising America's pursuit of enlightenment and clutches a tablet bearing the date of America's independence in Roman numerals. Standing 152 feet tall and raised on a 150 foot pedestal, the hand-hammered copper skin and steel support skeleton were shipped from France in 350 pieces, the Statue of Liberty took four months to assemble and was dedicated on October 28, 1886.
Access to the Statue of Liberty is limited to ferries through Statue Cruises departing from Battery Park in Lower Manhattan. While many other operations offer sightseeing tours that include the Statue of Liberty, Statue Cruises is the only service offering access to Liberty Island. Free tours are lead by rangers around Liberty Island with no reservations required. Access to any level of the Statue of Liberty requires advance reservation made through Statue Cruises.
The Statue of Liberty's 11 point star-shaped platform is a granite fortification known Fort Wood was a little used military installation until it was taken over by the National Park Service in 1944. The Statue of Liberty's pedestal designed by Richard Morris Hunt faces the southeast to greet ships entering New York Harbor. Inside the lobby, an exhibit of the original torch, observation decks and an interpretive historic exhibit, including life sized replicas of the monument's face and foot. Reservations for access to this area should be made at least a fortnight in advance to avoid disappointment.
Access to the Crown was made available on July 4, 2009, following a closure in response to the September 11th terrorist attacks. Visitors can climb the 354 stairs to the Statue of Liberty's crown of seven spikes, representing the seven continents and oceans in the world. Reservations should be made months in advance to avoid disappointment.
Facts For Your Visit
Official Website: Statue of Liberty
Fee:
Yes
Regular Hours:
May differ on holidays
Monday: 9:00 AM – 5:00 PM
Tuesday: 9:00 AM – 5:00 PM
Wednesday: 9:00 AM – 5:00 PM
Thursday: 9:00 AM – 5:00 PM
Friday: 9:00 AM – 5:00 PM
Saturday: 9:00 AM – 5:00 PM
Sunday: 9:00 AM – 5:00 PM
Address: New York, NY 10004, USA
Phone: (212) 363-3200
Official Website: Statue of Liberty
Reviews
Rated 4.7 out of 5

The Statue of Liberty is one of the most iconic landmarks in the world, and it is a must-see for any visitor to New York City. The ferry ride to Liberty Island is a great way to see the statue up close, and the views from the crown are simply breathtaking. I was particularly impressed by the museum on Liberty Island, which tells the story of the statue and its construction. It was fascinating to learn about the history of this iconic symbol of freedom. If you are visiting New York City, I highly recommend taking a ferry to Liberty Island to see the Statue of Liberty. It is an experience that you will never forget. Tips for visitors: Purchase your ferry tickets in advance, especially if you are visiting during peak season. Arrive at the ferry terminal early to avoid long lines. Wear comfortable shoes, as you will be doing a lot of walking. Bring sunscreen and a hat, as there is not much shade on Liberty Island. If you are visiting the crown, be prepared for a narrow, spiral staircase. THINGS TO REMEMBER: 1) but ferry tickets in advance ( would recommend statue city cruise site) 2) if you wish to go up the crown then please book tickets few months in advance but if you wish to just make it to the pedestal then week or two in advance is sufficient 3) be ready to walk a lot
krutartha shah - 1 month ago
Visiting the Statue of Liberty was on my must-see bucket list. Glad I visited this one time (I even climbed all 539 steps from ground level up to the cramped crown.) TIP 1: Access to the Crown is limited to 300 visitors per day on a timed ticket. So reserve your ticket far in advance (I reserved 2 months out). TIP 2: Bring a quarter to use a storage locker for your bag, purse, backpack. (None allowed inside the Statue of Liberty). TIP 3: The Crown is very small, allowing only a handful of guests at a time, after climbing a steep, winding staircase. The views are not that impressive. Honestly, the views from the open-air Pedestal are MUCH better. Next time, I would just visit the Pedestal observation deck. // Liberty Island, upon which the Statue is located, is immaculate, nicely landscaped, and run by the U.S. National Park Service. Take a peek inside the museum on Liberty Island, it's worth a look!
Glenn Leong - 1 month ago
Almost in everyone's bucket list! We too were astounded by the statue.. We had taken a guided tour so it really enhanced the overall experience since the place has a lot of history.. Unfortunately, we couldn't go up since the bookings were full for the entire year due to the recent opening up after Covid.. That was a miss ☹️ Having said that you still can have a wonderful experience by just being there. The museum, theatre, viewing platform can keep you busy for hours. Recommended on your trip for East coast.
Husain K. - 23 days ago
One well-known representation of liberty and democracy is the Statue of Liberty. It is a must-see monument because of its imposing appearance and extensive history. An amazing experience is created by the statue's exquisite design, which stands boldly in New York Harbor, and the stunning views from Liberty Island. The pedestal's educational displays give the visit more depth and make it both amazing and educational. This national treasure is well-deserving of its five-star rating.
Vijay Unniparambath - 4 days ago
It was a wonderful experience. The monument which I wanted to visit eagerly for a long long time. The boat ride was booked months in advance. There are lots of boats operating but the official one which really lands the island has to be selected. We could get tickets for boat as well as entry upto the base of statue also. But tickets for entry to top of statue crown was to be booked at least three months in advance. You have to reach the boat landing at least 20 prior to given time since security check similar to airports are there. The ride takes around 15 minutes. Then you can spend time in the island as per your convenience and return by any boat. There is an elevator upto P5 that's the base of the statue or you can climb around 200 steps. From there to the crown only steps are available. The view from top is fantastic. In the island there are some food courts, shops selling replicas, key chains, magnets etc. In the boats also snacks and beverages are available. It's better to book tickets in advance since most of tickets are sold out in advance. The climate factor is to be taken into account. In winter there's cool breeze in the island and the boat.
Vasu Dev - 11 days ago
Read all Reviews

Accommodations near Statue of Liberty:
Directions
| Subway Line | Nearest Station | Walking Time |
| --- | --- | --- |
| 1 | South Ferry | 4 minutes |
| N or R | Whitehall Street | 5 minutes |
| 4 or 5 | Bowling Green | 5 minutes |
How to get to Statue of Liberty by Subway
Take the 1 train to South Ferry, turn left into Battery Park or take the N or R train to Whitehall Street, head north toward Pearl Street, turn left on Bridge Street, follow path into park or take the 4 or 5 train to Bowling Green, head south on Broadway, turn right on Battery Place, turn left on Greenwich Street and continue into park.
Look for the Statue Cruise Ticket Office is located inside the Castle Clinton National Monument in Battery Park purchase the Liberty Island ticket.
Map & Instant Route Finder
Click&Go Map and Route Finder with public transit, walking, driving or cycling directions. Get up-to-the-minute transit times for your route.
Finding Your Route - Please Wait
Photo Gallery
Video