Freedom Tower Observatory
The new One World Observatory is much more that just another stunning vantage point from which to view the city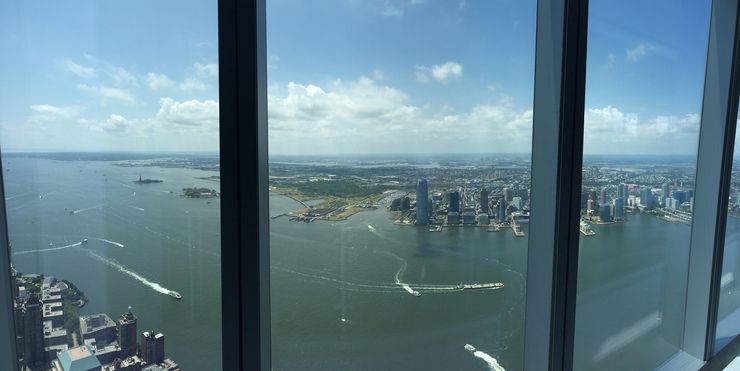 This is a memorable attraction in so many ways. The Freedom Tower observation deck opened its doors to the public on May 29th 2015 on the 100, 101 and 102 floors of the beautiful new One World Trade Center Tower also known as The New Freedom Tower. It stands directly on the site of the WTC 6 building which was severally damaged from fallen debris when the original WTC Tower 1 fell on it during the terrorist attack of September 11th 2001.
The new tower shares the same numerical number one with the Twin Tower on the north side of the 16 acre site which was hit and destroyed during 9/11. Now there are memorial twin reflecting pools sitting on the spot where the twin towers once stood. These pools are close to an acre in size displaying waterfalls that are the largest man made waterfalls in the North America. The names of the victims who died in this senseless attack are inscribed in a Bronze panel that surrounds them.
The outside of the New Freedom tower draws your eyes to the way its beautiful glass exterior glistens and sparkles on a sunny day. This uniquely designed building gives an illusion of glass twisting and turning as it reaches for the heavens. The building's height was specifically planned including the antenna to reach 1,776 feet high. This number symbolically represents the year of 1776 when the Declaration of Independence was signed. This makes it the tallest highrise in the western hemisphere and fourth highest in the whole world.
As you enter the lobby of the building you are welcomed at the Global Welcome center by a giant video board with greetings in a wide variety of languages and a real time world map where visitors can see their hometown. Next you will get acquainted with the men and women who built the 1 WTC by a program called Voices which tells you about their personal stories. This is followed by Foundations where you'll experience an up close look at the very bedrock that the building stands on.
The One World Observatory is on the 100th, 101 and 102 floors of this beautiful Skyscraper. Travelling up at 23 miles per hour in one of five speedy elevators labelled Sky Pods is an exciting and wonderful experience. In only 47 seconds you are taken up to the 102 floor, where you'll experience the SEE FOREVER Theater — a 2 minute video that amalgamates time-lapse pictures with a balance of abstract texture and designs to present a 3D effect of the rhythm and feel of this lively city. During your ride up the elevator you will be awed with the illusion you are looking out the windows and witnessing emerging from the bedrock over 515 years ago straight into undeveloped marshlands from the 1500s. As the elevator rises time unfolds before your eyes from the 1500s to the current date with a detailed reconstruction of New York City's developing skyline. A quick but amazing journey.
On the 100th floor is the main observatory commonly named the discovery level. A feeling of wonderment hits you as you step out of the elevator and onto this deck taking in the panorama of breathtaking views from all directions. Here you will receive an amazing 360-degree vista of landmarks, and iconic sites such as the Statue of Liberty, The Brooklyn Bridge, Central Park, the beautiful waters that surround the city and more. On a clear day, your field of vision can stretch out as far as 50 miles making this arguably the best view point in the city. Also featured on this deck is the Sky Portal where you are invited to step onto a circular disc 14 feet in width that displays memorable clear views of real time footage of the streets below in high definition. This is not for those with a fear of heights.
There is so much more than just views to appreciate on this deck. City Pulse is another interesting and informative exhibit. This is a 14 foot high ring of 10 high-definition video monitors that responds to gestures made by the entertaining and enlightening global ambassador, a tour guide who stands in the center of the ring explaining and giving visitors information about the city with real time views on a wide variety of topics about New York. There is a souvenir gift shop with some items exclusively produced for One World Observatory. All exhibits are suited to all ages.
On the 101st floor there is a fine restaurant which requires advance reservations. If you don't have reservations there are two sit down cafes that need no reservations. There is also a shop where you can get a souvenir photo with a backdrop of your choice. All three levels boast new and advanced technologies making for an interesting, fun and informative day that's great for your whole family. When you are ready to go home, exiting in the SkyPod elevator is an experience in itself as you will feel the virtual effects of being outside of the building as you descend to the ground.
For an addition charge you can add the One World Explorer iPad to your visit. This iPad is loaded with an app that will give you a virtual up-close look at the views and iconic landmarks of the city as seen from a helicopter. You scan the skyline and choose from over 40 important and intriguing sites and then you can zoom in on them for a close-up look and more information.
Facts For Your Visit
Official Website: Freedom Tower Observatory
Fee:
Yes. There is a discount in the ticket price for seniors and children ages 6 to 12. Children 5 and under are free.
Website: One World Observatory
Regular Hours:
May differ on holidays
Monday: 10:00 AM – 7:00 PM
Tuesday: 10:00 AM – 7:00 PM
Wednesday: 10:00 AM – 7:00 PM
Thursday: 10:00 AM – 7:00 PM
Friday: 10:00 AM – 7:00 PM
Saturday: 10:00 AM – 7:00 PM
Sunday: 10:00 AM – 7:00 PM
Address: 117 West St, New York, NY 10007, USA
Phone: (844) 696-1776
Official Website: Freedom Tower Observatory
Reviews
Rated 4.7 out of 5

It was an amazing place to visit whilst in New York. The history you get whilst in the elevator is incredible, seeing New York develop over the years. The view from the top is amazing, as you can see. We were lucky enough to get a clear day, and we could see for miles. We ate at the cafe at the top. It's not as expensive as I thought it would be. A nice place to spend an hour, after visiting the 9/11 museum.

Ryan Berrisford - 4 days ago
Definitely an awesome tourist attraction in NYC. The staff are helpful and are great at directing people where to to get tickets and then go through security. I got the all-access pass and it was worth it. The animation in the elevator was awesome and was really cool. Then when I got up to the top, it was clearly marked on where to go and it was not too busy. There are incredible views from all windows. It is definitely worth getting photos from all different angles and sides of the building. One Dine is also a great restaurant and the $15 off coupon can be put towards anything on the menu. Overall, this is a great tourist attraction and a must-do if you come to New York.

Matt McLean - 15 days ago
The One World Observatory offers a truly magnificent experience, perched atop the tallest building in the Western Hemisphere, the One World Trade Center. With a seamless blend of technological wonder and somber remembrance, this destination commands a full 5-star review. As you ascend to the Observatory, the Sky Pod elevators envelop you in a virtual time-lapse that reveals the transformation of New York City's skyline from the 1600s to the present day. Upon reaching the top, the Observatory provides an unparalleled 360-degree view of the iconic cityscape — a breathtaking panorama that stretches for miles in every direction. The beauty of the observatory is not just in what you see, but in what you feel. There's an underlying narrative of resilience and rebirth, a tribute to both the city's unbreakable spirit and the memory of the Twin Towers that once stood as beacons of hope and prosperity. The One World Observatory doesn't just offer a view; it offers a moving experience that honors the past while looking to the future. With interactive exhibits, fine dining, and the See Forever Theater, the Observatory is not merely an attraction but a poignant reminder of what was lost and the hope that has risen, quite literally, from the ashes. It's a testament to the enduring strength of New York City and an essential visit for both residents and tourists alike.

Danny Veiga - 12 days ago
The one world observatory is an incredible way to see the city of New York and beyond, with a 360 degree view, 102 stories up. The lift up, starts the experience of watching New York grow and the reveal show is clever. We visited at 5pm and the sun was setting, which showed the city in its true lit up glory.

Christopher Lewis - 6 days ago
Nice views, i visited empire state 4.5 years ago and is open with just mesh. There is no glass on empire state building top floor. I personally liked it more. Overall view was very nice from one world observatory. I personally enjoyed open area of empire state and you can feel breeze of air. Overall both are great with their own pros and cons and becomes matter of personal choice.

atulh jindall - 20 days ago
Read all Reviews

Accommodations near Freedom Tower Observatory:
Directions
| Subway Line | Nearest Station | Walking Time |
| --- | --- | --- |
| A, C, J, Z, 2, 3, 4, or 5 | Fulton Street | 7 minutes |
| 2 or 3 | Park Place | 6 Minutes |
| E | World Trade Center | 4 minutes |
| R | Cortlandt Street | 3 minutes |
How to get to Freedom Tower Observatory by Subway
The Entrance to One World Observatory is located on the corner of Vesey Street and West Street which is on the north west corner of the One World Trade Center.
Take a A, C, J, Z, 2, 3, 4, or 5 train to Fulton Street: exit onto Fulton Street, go right on Church Street, left on Vesey Street, continue to West Street.
Take a 2 or 3 train to Park Place: exit and walk south on Church Street and turn right (west) onto Vesey Street, continue to West Street.
Take an E train to World Trade Center: exit onto Church Street Walk south and turn right on Vesey Street, continue to West Street.
Take a R train to Cortlandt Street: walk west on Cortlandt street to the Memorial and go right on West Street to Vesey.
Map & Instant Route Finder
Click&Go Map and Route Finder with public transit, walking, driving or cycling directions. Get up-to-the-minute transit times for your route.
Finding Your Route - Please Wait
Photo Gallery
Video