Queens Museum of Art
Queens Museum is worth visiting just to see the incredible scale model of all five boroughs of New York City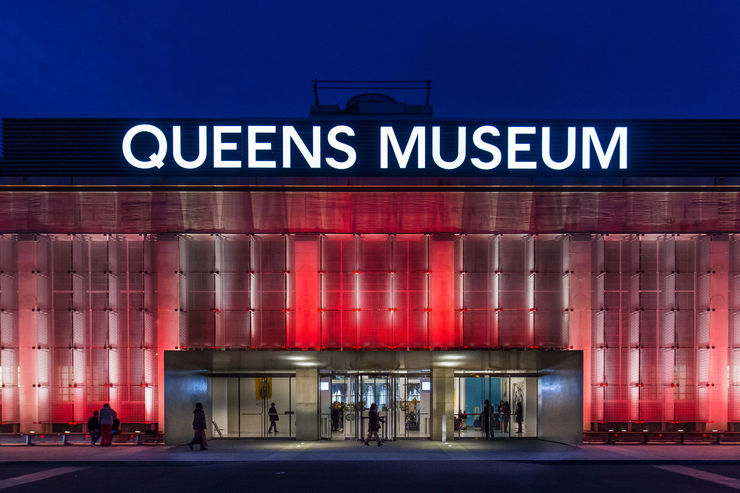 Founded in 1972, the Queens Museum, formerly called the Queens Museum of Art, is best known for the Panorama of New York City, an amazing scale model covering all five boroughs of New York modelling every single building as of 1992. More new models and updates continue to be added to the map on a regular basis.
The museum is housed in the former New York City Building which was originally built for the 1939 World's Fair. The building was home to the United Nations General Assembly between the year 1946 and 1950. Today the museum has a permanent collection of about 10,000 exhibits, the majority of which pertain to the two World Fairs held in 1939 and in 1964. The museum also houses a large collection of Tiffany Glass including lamps and windows. Tiffany Studios and Furnaces were once located in the same area as the museum.
The crown jewel of the museum is the massive architectural scale map and model of all of New York City known as the Panorama of New York City. This amazing model was commissioned and built for the 1964 World's Fair. It took a team of about 250 modellers a total of three years to complete the 9335 square foot map. From 1970 to 1992 there were no updates, but in 1992 the map was updated with 85,000 new building models. The scale model now represents every building, as of 1992, in all five boroughs for an incredible total of 895,000 buildings. In 2009 a program was started to continue updating the map with more new models. You will never get to see the entire city of New York in person during your vacation, so be sure to see it here at the museum.
In addition to the giant map of New York and the permanent collections, the Queens Museum hosts a wide variety of temporary exhibits and educational programs with a focus on quality and that reflect the diverse and contemporary urban life of New Yorker's and especially residents of Queens.
It is well worth it to take the subway to Queens to visit this enjoyable museum and to also see the world's largest globe, the Unisphere, located right in front of the museum.
Facts For Your Visit
Official Website: Queens Museum of Art
Fee:
Yes. Visit the official website for details.
Regular Hours:
May differ on holidays
Monday: Closed
Tuesday: Closed
Wednesday: 12:00 – 5:00 PM
Thursday: 12:00 – 5:00 PM
Friday: 12:00 – 5:00 PM
Saturday: 11:00 AM – 5:00 PM
Sunday: 11:00 AM – 5:00 PM
Address: Flushing Meadows Corona Park, Building, Queens, NY 11368, USA
Phone: (718) 592-9700
Official Website: Queens Museum of Art
Reviews
Rated 4.5 out of 5

This was a wonderfully emotional experience for me as I attended the 1964 World's Fair as a one-year-old child (at least my parents tell me I did and I've seen photos of me in a stroller at the fair!). The NYC diorama was especially dear to me since I vividly recall riding the tram that circled the original site during a school trip to Flushing Meadows Park when I was about six or seven years old. I particularly remember the airplanes that would appear to land and take off at LaGuardia Airport and was so thrilled that this functioning feature has actually been preserved m in the current diorama. The museum though not extensive, has many souvenirs and other artifacts from the 1964 World's Fair on the second floor as we as a topographical model of the NYC watershed that's also from the original Fair. Admission is free but I put a few dollars in the donation box on the way out. It was well worth all of the nostalgia and warm emotions that this visit evoked in me!

Steve Levy - 3 days ago
The art collection here was pretty cool. The best part however of this museum is the giant NYC map room which is a 3D map of the city in a gigantic room with a walkway above around the edge of the room. You look down and can see familiar landmarks such as Central Park, Bronx Zoo, Prospect Park, Coney Island, and it even has the twin towers there since this 3D map is from the 90s I believe. Very intricately detailed and such a cool experience walking around there. It's also very cool and admission is free so you are free to enter and have a look around as much as you want. There is free parking around there too, multiple lots. There was one exhibit of weird naked stuff that I don't understand how they can think of it as art. Not so fun trying to get my 5 year old to stop looking at it!! It's not even artistic nakedness. It's like weird adult images. That exhibit wasn't there last time I visited so I'm assuming it's temporary but visitors can feel free to not visit that exhibit although it's a little difficult as it's in the middle of a huge room that you must walk through to access other exhibits.

Robert Reynolds - 2 months ago
What a fun museum. Free parking & admission. The Panorama is so detailed & a ton of fun for all ages. I spent an hour inside. The lights go from bright to dark to mimic day & night over the city. I highly recommend coming here. It's fun & educational. Cute giftshop too.

zo maq - 1 month ago
The Queen's Museum is located in a beautiful park which is lovely to visit especially during Spring when flowers are blooming. The admission is free which I appreciate, and I also appreciate the land acknowledgment to the indigenous communities. The museum has a significant history as this was where a number of decisions were made by UN members such as partition of Palestine and Israel, the creation of UNICEF and the division of North and South Korea. You can see a miniature version of New York at the Panorama City of NY exhibition which was created in the 90s. It's interesting to see that the World Trade Center is still there, a historical reminder of what the city was. There is also contemporary arts exhibition featuring recent artists as well as Tiffany Lamps. They have a gift shop and a quaint café overlooking the park if you want to have a quiet day people watching after.

Amalina Ariffin - 4 months ago
I went there on Sunday afternoon. The structure of the museum is quite big but it has only few artworks inside. The thing that I really didn't like was the selection of artists inside. I would recommend to get a stronger curator and think wisely what to show. Some of the shows are not even art . I wouldn't go back.. but maybe for a first visit can be nice

Marta Galmozzi - 3 months ago
Read all Reviews

Accommodations near Queens Museum of Art:
Directions
| Subway Line | Nearest Station | Walking Time |
| --- | --- | --- |
| 7 | Mets-Willets Point | 12 Minutes |
How to get to Queens Museum of Art by Subway
Take the 7 Train to Mets-Willets Point. Follow the signs, walking through the park to the museum which is located just west of the giant stainless steel globe (Unisphere).
Map & Instant Route Finder
Click&Go Map and Route Finder with public transit, walking, driving or cycling directions. Get up-to-the-minute transit times for your route.
Finding Your Route - Please Wait
Photo Gallery
Video