New York City Travel Tips
Our TOP TIPS and FREE things to do in New York City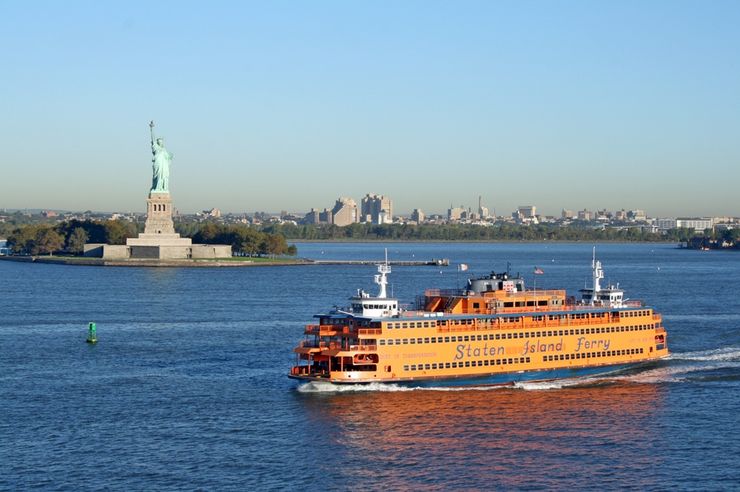 Be sure to read all of our top New York City travel tips. Theres plenty of advice to make your trip more enjoyable and save you money.
Below you'll find our best tips for planning your trip to New York City — Tips for getting around, dining, things to do, hidden gems and free alternatives to some of the more expensive activities.
The subway and walking are all you'll need for exploring New York. The city buses can be handy too.
A 7 Day Unlimited Pass is inexpensive and probably your best option even if you are only visiting for 4-6 days. If your stay is shorter than that you may be better off purchasing individual fares.
Kids under 44 inches tall ride free, so keep em short!
Do not be afraid to use the NYC Subway. It is the quickest and least expensive way to get around and locals are quite willing to answer questions, often more so than MTA employees.
One caveat when riding the subway is try to avoid the morning (8am to 10am) and evening (5pm to 7pm) rush on weekdays. This will result in a more comfortable trip.
Manhattan is easy to navigate with its grid-like system of streets and avenues. Avenues run north/south and are numbered with the East or West suffix as appropriate. Streets cross the island from west to east and from Greenwich Village and East Village their numbers get higher as you go north. In Lower Manhattan the streets are named.
Plan your itinerary to explore the sights and attractions in one district before moving on to another. Many attractions are within easy walking distance from each another which can save you the time spent entering and exiting subway stations and waiting for trains.
Wear comfortable walking shoes. You'll be glad you did.
New York City is very safe, but begging and panhandling has become somewhat of a profession as it has in many large cities. Best advice is to ignore it and keep moving even when they are aggressive. Be mindful of pickpockets and don't wear flashy or expensive jewellery when riding the subway.
When you are out exploring the city, be considerate of those around you. Move to the side when taking in the sights or studying a map so you don't obstruct the locals, usually in a hurry to get somewhere. If you are walking in a group, leave room on the sidewalk for others to pass.
Eating out is not cheap in NYC. Count on paying upwards of $15 for lunch and $25-30 for dinner. Restaurants located near places frequented by tourists tend to be more expensive, so try to get off the beaten path when you're ready to eat. Another tip is to have your biggest meal of the day at lunchtime when many restaurants have a lunch special on. You can sometimes get the same meal as they serve at dinner for much less.
You can use our dining guide to find good restaurants within walking distance of most Manhattan subway stations.
If you are dining with young children, save money by asking for an extra table setting and sharing your meal (portions in New York are usually generous).
You should tip servers 20% to 25% if the service was good. Their hourly wage is low and they rely heavily on tips for their income.
Take advantage of the many free things to do. Many are listed below.
Visit the Brooklyn Botanic Garden for free on Tuesdays and between 10am and noon on most Saturdays.
Go for a round trip on the Staten Island Ferry. It's always free and offers great views of the Manhattan Skyline, Ellis Island and the Statue of Liberty.
During the winter months enjoy outdoor ice skating in the beautiful setting of Central Park. It's not free, however, the fee reasonable — less than half the rate for skating in the famous outdoor rink at Rockefeller Centre.
During the summer take advantage of the many free events put on by NYC Parks including free outdoor movie nights.
You can go kayaking for free including the equipment from 2 locations along Hudson River Park — Pier 40 at Houston St. and Pier 96 at West 56th St. This activity is available from May until October.
A walk along the HIgh Line is another fun way to explore the city. A victim of its own success, it is a very busy park so try to go fairly early in the morning to avoid the throngs of people.
A walk across the Brooklyn Bridge should be high on every visitor's bucket-list. If you only want to walk it in one direction, take the subway across to Brooklyn and walk back to Manhattan. That way you don't have to keep craning your neck around to see the views of the New York skyline.
Visit the famous Coney Island Beach and Boardwalk and enjoy a famous Nathans hotdog.
See the fountains at the 911 Memorial and also checkout the beautiful architecture and interior of the New York Public Library.
For a free (if you have a transit pass) sightseeing tour by city bus, ride the M4 bus north from the Empire State Building. It will take you past many beautiful buildings and neighbourhoods, Museum Mile, Broadway and finally up to the the Met and the Cloisters and Fort Tryon Park.
Purchase a same-day ticket from the TKTS booth in Times Square and save up to 50% on a live Broadway theatre performance. If you're visiting around Christmas, you can get discounted tickets for the Rockette's Christmas Spectacular at the famous Radio City Music Hall.
If you plan to visit multiple popular attractions, looking into the New York Explorer Pass. It gives you free entry to over 80 tours and attractions. The list includes all the 'big name' attractions and numerous guided tours. Obviously you would not have time for anywhere near all 80, but it's still great to have that many to choose from. Unlike other city attraction passes, the New York Explorer Pass allows you to choose how many attractions you want to see ranging from 3 to 10 attractions. This makes it ideal for those on a shorter stay. You decide which attractions you want to use for as you go, no need to decide ahead of time. A big benefit of the New York Explorer Pass is you don't have to line up to buy tickets so you'll get faster entry into many attractions.
Reserve your accommodations in New York City well in advance. You'll get a better deal and have plenty of time to do your research. When you get closer to your arrival date, the best hotels and deals are already booked and the remaining hotels start raising their prices! Last minute deals are often unavailable because the best places are fully booked, especially in a city as popular as New York.
Do check out the many other things to see and do in NYC on our site. There's just so much to see in this amazing city.