Lower East Side Tenement Museum
The untouched rooms of the Tenement Museum tell an interesting story about the lives and living conditions of 1000s of NYC immigrants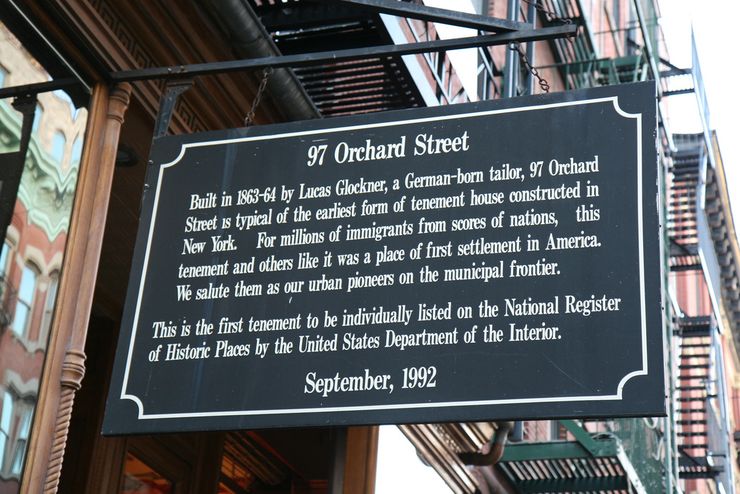 This museum has quite an interesting story to tell. What makes it unique is the way the untouched rooms seem to speak to today's visitors from the immigrant families that lived there many years ago telling tales about their lives and the living and working conditions they had to face every day.
The building housed approximately 7,000 people from over 20 different nations world wide between 1863-1935. It had 22 apartments about 325 square feet each and a staircase on the outside of the building that lead down to a saloon in the basement.
The Tenement Museums co-founders, Ruth Abram and Anita Jacobson, were friends with similar interests in what they wanted to experience when visiting a museum. They were more interested in the social aspect of society and what one can learn from the experiences and traditions brought over from the immigrants that first came to New York City. Finding out how as a society we are affected today and what we can learn from one another in the future by understanding, tolerating and embracing differences from many backgrounds without fear and prejudice.
They set out to look for a old building that was left untouched to house their museum in. Shortly, they discovered this was an almost impossible task as in 1934 a law was put in place in New York City that all public buildings had to pass updates such as fireproofing them. This was very expensive to the landlords. Either they put the money into the renovations and rented the building out to make up for the loss of the updates or they closed them up for good. Those that updated them changed the character of the building, making it very hard to find one that wasn't updated and changed. It was very unusual that the landlord of this apartment building decided to evict his tenants and board up the windows and close off the apartments only keeping the storefront open for business.
It was by pure accident that the two woman came across this unique building. After two years of searching for the right building to house their museum, they nearly gave up and decided to tell about the lives of the immigrants on the Lower East Side by giving walking tours and plays needing only a storefront. Anita Jacobson spotted the storefront at 97 Orchard Street and knocked on the door. The young woman that answered it told Anita that her family had owned the 5 storey brick building since 1905 and it really had minimal changes.
The storefront had nothing in it. However when asking to use the washroom and being directed down the hall, Anita soon realized what a gem she had discovered. She knew enough about the decor of old buildings from that era as she had studied them while looking for old unique structures to house their museum. Realizing she had stumbled on something great she called Ruth right away and told her they had to purchase this building. It took Ruth Abram and Anita Jacobson 5 years to convince the owner to sell the place to them. In 1988 the Tenement Museum was founded. On April 19th 1994 it was designated a National Historic Landmark.
There are educational tours to choose from where you can learn so much about the residence and get a real inside look at the way the immigrants to America lived, worked and survived in the early days of old. Over 200,000 people enjoy these tours every year.
Most tours are about an hour and a half to two hours long. Reservations are recommended for all tours.
Note: If you are taking a child along it is best to phone and find out if the tour you are interested in is suitable for his or her age.
Facts For Your Visit
Fee:
Yes
Many tourist attractions are temporarily closed due to the ongoing COVID-19 pandemic. Please verify any opening hours below with the attraction before visiting.
Open Now
Regular Hours:

Monday: 10:00 am - 6:30 pm
Tuesday: 10:00 am - 6:30 pm
Wednesday: 10:00 am - 6:30 pm
Thursday: 10:00 am - 8:30 pm
Friday: 10:00 am - 8:30 pm
Saturday: 10:00 am - 6:30 pm
Sunday: 10:00 am - 6:30 pm
Category: Museums Walking Tours Food Tours
Address: 103 Orchard St
New York, NY 10002

Phone: (877) 975-3786
Reviews
We managed to fit a tour in here between visiting Sagamore Hill (Teddy Roosevelt's home in Oyster Bay) and a dinner we had planned with family in Upper... Read More
William E. Mar-04-2020
This is a hard review to write. Had I left immediately after the tours, I would have unreservedly left five stars. The staff and interpreters at the museum... Read More
Catherine S. Mar-08-2020
If you are visiting New York or a local interested in the immigrant history of the city, I recommend you stop by the Tenement Museum and take a tour the... Read More
Adrienne D. Feb-17-2020
Accommodations near Lower East Side Tenement Museum:
Directions
| Subway Line | Nearest Station | Walking Time |
| --- | --- | --- |
| B or D | Grand Street | 6 Minutes |
| F | Delancey Street | 3 Minutes |
| J, M or Z | Essex Street | 4 Minutes |
How to get to Lower East Side Tenement Museum by Subway
From Grand Street on the B or D line exit onto Grand and Chrystie and go east on Grand Street for four blocks, then go left (north) on Orchard Street two blocks to the Museum Shop at 103 Orchard Street.
From Delancey Street on the F line or from Essex Street on the J, M or Z line, exit and walk west (away from the bridge) on Delancy Street, then left (south) on Orchard to the Museum Shop.
Map & Instant Route Finder
Click&Go Map and Route Finder with public transit, walking, driving or cycling directions. Get up-to-the-minute transit times for your route.
Finding Your Route - Please Wait
Photo Gallery
Video