New York Subway Map and Guide
Using the Subway to get around during your visit to New York City
Updated on December, 08 2019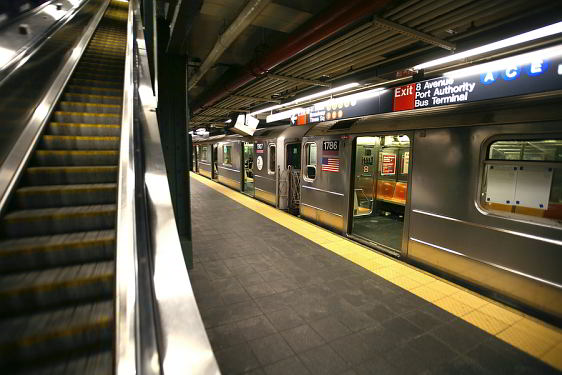 New York City has an excellent and comprehensive subway system that will easily get you to where you want to go. It has the world's most extensive system of tracks within a major urban center and, unlike most systems, it also operates 24/7.
The system is mostly underground, especially in Manhattan, however, outside of Manhattan much of the system operates above ground. Stations and trains do show there age as this system has been around for many years and has extensive local ridership. For the most relaxing trips try to ride during off peak hours.
Trains and Lines
The different subway trains are designated on subway maps and at the stations with a simple system of colors, numbers and letters. You will find lines designated with the number 1 through 7 or letter A - Z. The following list shows the breakdown of the routes. If you pick up an official MTA subway map in New York keep in mind that the stations represented by a black dot are only served by local trains while stations with white dots are served by both express and local trains.
1

7 Avenue Local

2

7 Avenue Express

3

7 Avenue Express

4

Lexington Avenue Express

5

7 Avenue Express

6

7 Avenue Local

7

42 Street-Flushing Local

A

8 Avenue Express

C

8 Avenue Local

E

8 Avenue Local

B

6 Avenue Express

D

6 Avenue Express

F

6 Avenue Local

M

6 Avenue Local

G

Crosstown Local

J

Nassau Street Local

Z

Nassau Street Express

L

14 Street-Canarsie Local Local

N

Broadway Local

O

Broadway Express

R

Broadway Local
General Tips and Advice
The Streets in New York run East/West and the Avenues run North/South. If you download and spend some time studying the larger pdf New York City subway map below, you will soon get a good overview of the system and how it is organized. Large maps are also posted at all stations and you can obtain a free map from the conductor window at any station.
For the most part the Subway and a short walk are all that you will need to get to New York's popular attractions, with the exception of those near the outer fringes of New York or some of the day trips we suggest in our Things to Do section. The majority of attractions featured on TourbyTransit are within easy walking distance of a Subway Station.
The entrances to most subway stations in NYC are just an unobtrusive stairwell from the sidewalk marked by colored globes on a pole. If the globe is green the station is generally open 24 hours. If the globe is red the station is closed at night or the entrance is for exiting only. Most entrances are for trains travelling in one direction only, so be sure you are on the appropriate platform for your desired direction of travel before proceeding through the turnstile. All Subway routes are color coded and indicated accordingly on the New York Subway Map.
You may have to transfer to complete some trips. Transfer points are indicated on the above map by thinner grey lines joining the subway lines between small white circles. If you are catching an express train make sure it stops at your desired destination. If needed, there are uniformed attendants working at the stations who can assist you. The two videos above provide good information about riding the subway and explaining the significance of the numbers and letters used to designate the trains.
See our Transit Tips page for more information on riding the subway.
Recommended Resources
The NYC Subway system is operated by the Metropolitan Transportation Authority. You can find more information maps and schedules on the official MTA website.
nycSubway.org features a wealth of information, history, maps and photographs documenting the New York City subway system.
UrbanRail.net features a map, overview and photos of the NYC subway along with many other references.
New York Subway Map
cc 3.0 licensed NYC Subway Map by Jake Bergman
Download a printable New York Subway Map PDF
Interactive Subway Map with streets and attractions
Open an interactive New York City Subway Map overlaid on Google Maps to see the Subway lines in relation to the overall city and attractions.
Next Subway Departing Near Me
Click&Go Map and Route Finder. Enter your destination and click to find the next Train, Bus or Ferry departing near your location. Your complete route, all connections and total time are shown.
Enter Destination
Click Blue Button
Scroll down for route map and details including connections and times
Finding Your Route - Please Wait
More Info for Getting Around New York City on Public Transportation
Photos