New York City High Line Park Walking Tour
This New York walking tour will take you through three of Manhattan's historic neighbourhoods along a unique park created on a decommissioned elevated rail bed.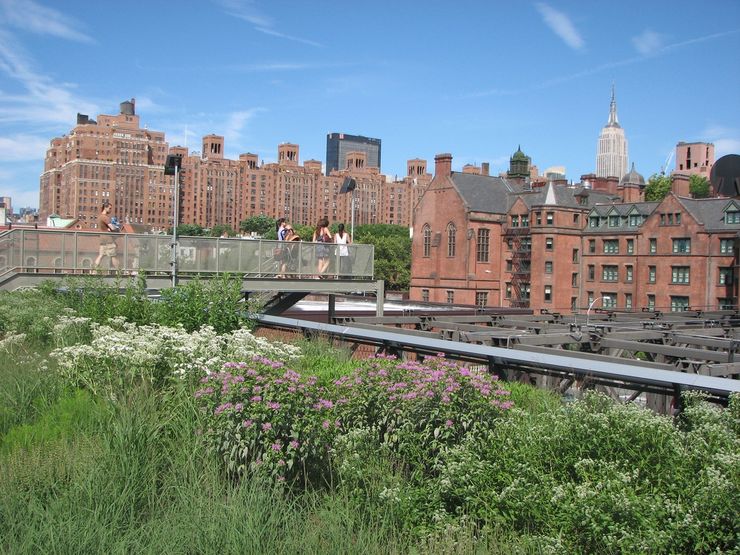 High Line Park is a New York marvel that never would have become a reality if it wasn't for the vision of two men followed by the, hard work, dedication and financial support of many more supporters. This old and crumbling elevated railway line was previously considered an eyesore that had to go, and indeed a portion of the line was demolished years before. Today the High Line is an amazing people space, having been transformed into a beautiful elevated walkway/park with landscaping and vegetation that retains many of the wild plants and flowers that had naturally overtaken the abandoned rail line.
Your walking tour of the High Line will present you with some unique views of the western Manhattan. As you walk along the High Line you will feel a sense of connection to the busy activity in the streets below and at the same time a sense of peaceful separation from the same.
The High Line passes through three Manhattan Neighbourhoods: The Meatpacking District, Chelsea and Hells Kitchen. While these neighbourhoods have an industrial heritage, they gradually transistioned to new uses including residential, restaurants, bars, studios and boutiques. Your walking tour through High Line Park will offer you some great vantage points from which to view and photograph these New York neighbourhoods. It also provides some awesome views of the Hudson River. There are benches for relaxing or enjoying a short break along the way.
Since opening in June of 2009, High Line Park has been an instant success and is very popular with both locals and tourists. We highly recommend it to all of our readers.
Facts For Your Visit
Official Website: High Line Park
Fee:
No
Category: Parks
Address: 515 W 23rd St
New York, NY 10011

Phone: (212) 243-4523
Reviews
Start at Chelsea Market and walk above the highway to Hudson Yards. Grab a coffee or a bottle of water and take a nice scenic walk. 1 1/2 miles of... Read More
Andrea H. Feb-07-2023
This review is for the High Line at and near 23rd Street. If you've walked the complete path of the High Line you know it's a very different view from one... Read More
Marianne W. Dec-08-2020
The Highline has a few major points and Yelp has separate entrees for the 3 major ones. A case in point is this one for the Meat Packing District. It's an... Read More
Tom G. Dec-03-2020
Accommodations near High Line Park:
Directions
| Subway Line | Nearest Station | Walking Time |
| --- | --- | --- |
| A, C, E, 1, 2, or 3 | 14th Street | 9 minutes |
| L | 8th Avenue | 5 minutes |
| A, C, E, 1, 2, or 3 | 34th Street | 10 to 14 minutes |
How to get to High Line Park by Subway
To begin your tour at the south end of High Line Park (Gansevoort Street entrance) Take the A, C, E, 1, 2 or 3 Train to 14th Street or the L Train to 8th Avenue and make your way west to the corner of Washington and Gansevoort Street
To begin your walking tour at the north end of the Park Take the A, C, E, 1, 2 or 3 Train to 34th Street and walk west along 34th Street to the entrance.
The High Line is accessible from Gansevoort Street, 14th Street (elevator access), 16th Street (elevator access), 18th Street, 20th Street, 23rd Street (elevator access coming soon), 26th Street, 28th Street, 30th Street, (elevator access).
Finding Your Route - Please Wait
Photo Gallery
Video