NYC Citi Bike
Citi Bike rentals are a great option for sightseeing in NYC
Updated on August 27, 2021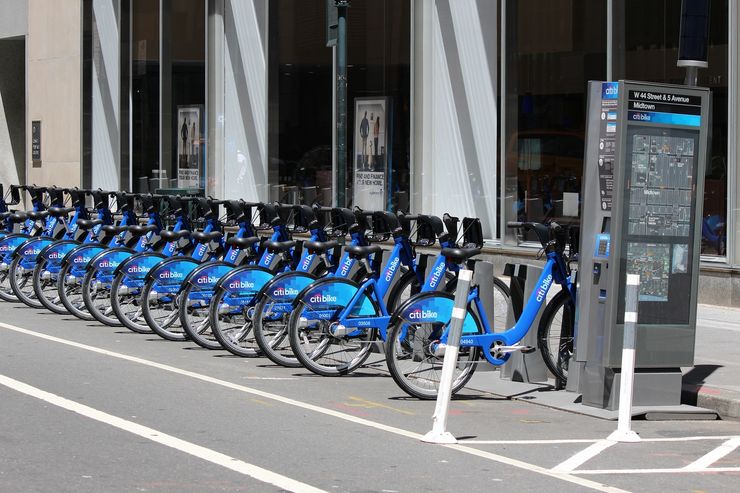 With over 700 miles of bike lanes, green-ways, parks and paths throughout New York City, the Citi Bike program is an innovative and beneficial option for those who wish to enjoy travelling around the city, especially during good weather. While navigating the busiest parts of the city may be intimidating for some, anyone can enjoy cycling through quieter areas such as along Hudson River Park or Battery Park.
With 20,000 bikes and 1,300 stations located throughout Manhattan, Brooklyn, Queens and Jersey City and the Bronx, customers can easily pick-up a bicycle closest to their whereabouts and ride to the terminal nearest their destination.
This is a very ingenious and affordable way to travel throughout the city. There are many perks when using this system, whether you are visiting the city or living and working there. This form of transportation is not only an enjoyable way to ride across the city, it is also good for both you and the environment. It can take the worry out of trying to store and maintain a bicycle of your own as these bikes are accessible to riders 24/7 everyday of the year.
Citi Bike is designed for brief trips. How it works is the rider pays by credit card on line or at the kiosk that is located in the bike depot nearest them. The depots are situated close to rapid transit connections and bustling areas throughout the city making them very attainable. Once he or she unlocks and removes a bike they can commute to any one of a host of stations around the city. Collectively the stations have twice the capacity for storage as there are bikes, helping to ensure they are always available for riders to park their bike. However, should there be an unlikely overflow of bikes at one station, the rider can request another 15 minutes to go to the next depot in the proximity at no extra charge.
Citi Bikes are built to withstand many riders and inclement weather making them heavier and sturdier than bikes designed for long journeys.
They have many safety features and conveniences such as easily adjustable and comfortable seats, front baskets for storage, reflectors, front and rear flashing lights when riding. Responsive brakes that work equally as well in the rain, sturdy frames, tenacious wearing tires, plus chain guards and fenders to protect ones clothing.
Electric Citi Bike
New to the fleet is the electric Citi Bike. These bikes automatically assist you as you start pedaling, helping you go faster and farther with less effort. There is an 18¢ per minute surcharge for the electric Citi Bike, otherwise everything works the same. Due to their popularity.
Pricing
This program is meant for small trips at one time. Perfect for visitors to the city is the 24 hour access pass for just $15.00. Holders of these passes can ride for up to 30 minutes at a time without acquiring overtime fees. If you live in the area and are a frequent visitor to NYC, the $179 annual membership might be worthwhile as it allows you to ride up to 45 minutes at a time without incurring an additional cost. During validity period of your access pass or annual membership you may ride as many times as you want.
You must be 16 years old or older to be able to take advantage of this program. As with any business, rules and restrictions apply. You can learn more from the official website above.
Official Website: https://citibikenyc.com/homepage
More Info for Getting Around New York City on Public Transportation