Best restaurants near Stadtmitte Station
with Ratings, Reviews & Maps
The following Berlin restaurants are located within a 5 minute walk of Stadtmitte Station. We sort them based on a combination of distance from the train station, overall rating, and number of reviews on Yelp. If you're hungry and looking for a good restaurant near Stadtmitte Station, any one of them should be a good bet.
LIU 成都味道 Chuan Chuan Xiang & Nudelhaus
Category: Chinese
Address:
Kronenstr. 72
10117 Berlin
Germany
Phone: +49 178 6684572
As Chinese born Berliner I have had many sichuan noodles in Berlin, China and the US. This one was ok. The noodle were too soft and overcooked. I usually... Read More
Why-Tie Z. Mar-16-2020
I've been here twice. First time I got the tomato and egg noodlle which was very disappointing as it just plain broth with noodles - something i can made at... Read More
Maggie H. Jan-24-2020
This place was incredible. It was the level of delicious and spicy that I wish I could find here in California. We ate here on two different occasions... Read More
Michael S. Dec-30-2019
Maximilians
Price: €€
Category: German Bavarian
Address:
Friedrichstr. 185 - 190
10117 Berlin
Germany
Phone: +49 30 20450559
Short walk from Hilton. Service was fast and everyone was friendly. We had a party of 6 with no reservations and we were lucky enough to get seated within... Read More
Grace F. Jan-01-2020
Ate this entire half duck - I'm a champion. Duck is my favorite meat so pretty pumped when I saw this on the menu. Tasted amazing and liked the crispiness... Read More
Bo T. Jun-07-2019
Ordered the meatloaf, duck, and ox. The restaurant itself was outstsnding... Brightly lit, spacious, service was quick and friendly. The food was meh.... Read More
Katherine C. Sep-14-2019
Augustiner am Gendarmenmarkt
Price: €€
Category: German
Address:
Charlottenstr. 55
10117 Berlin
Germany
Phone: +49 30 20454020
Great food and ambiance. The crispy pork knuckles was delectable and the service was very good. This is not a typical restaurant in Berlin since it is a... Read More
Michael D. Jan-06-2020
3.5 stars. Touristic and stylistically (Bavarian) out of character for Berlin, this busy restaurant features good quality Augustiner beers from Munich. The... Read More
Will V. Jan-16-2020
When I was in Berlin I knew I wanted to eat what the locals would eat. I have a friend who lives in Berlin and they recommended that I eat at Augustiner. I... Read More
Matthew L. Sep-19-2019
Seaside
Price: €€€
Category: Seafood
Address:
Mohrenstr. 17
10117 Berlin
Germany
Phone: +49 30 20917354
Our hotel recommended this place. We were looking to have dinner, outdoor seating, preferably fish. We arrived here. The place was great, the staff super... Read More
Marian M. Mar-13-2020
I was torn between a 4 and 5 rating but the service pushed me straight to 5! Extraordinary restaurant that delivers a quality meal in a classy but not... Read More
Chantee F. Nov-10-2018
3.0 stars This place would have got 4.4 stars if the fish person did not bait and switch on us. We looked the the price of the fish and point to the... Read More
Olee L. Jun-27-2018
Savory Chay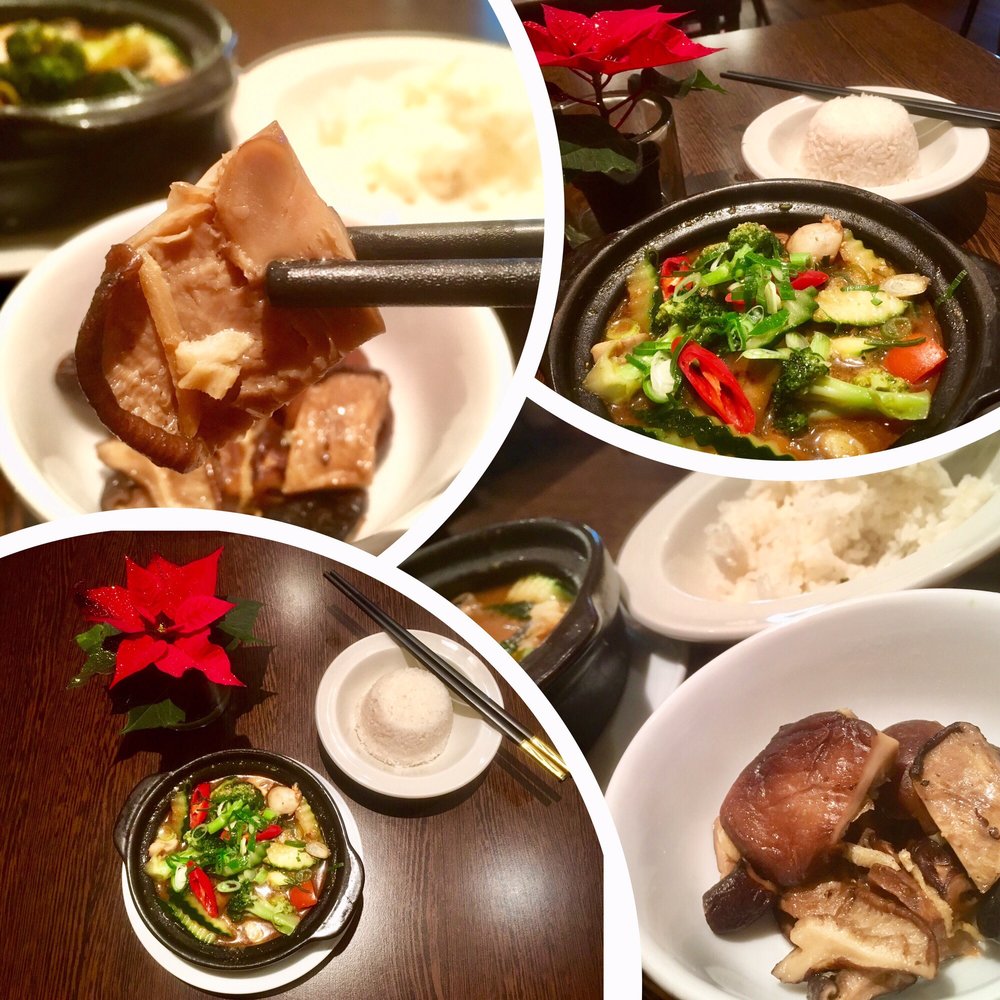 Price: €€
Category: Vegetarian Pan Asian
Address:
Kronenstr. 70
10117 Berlin
Germany
Phone: +49 30 20647692
The food here is amazing and I could not believe the prices! It is very cheap! We had 3 starters, 2 mains and 3 desserts and paid around €50. The food is... Read More
Cristina N. Aug-26-2017
Nice little restaurant we wouldn't have thought about going to if it wasn't for the good reviews on Yelp given that it was empty at the time we arrived... Read More
Robbie K. May-20-2019
I had high hopes given the 4.5 stars from 18 reviews. But I was disappointed. The service was terrible. Took forever to get the attention of the server,... Read More
Philip S. Nov-02-2019
Curry at the Wall
Price: €
Category: Curry Sausage
Address:
Zimmerstr. 97
10117 Berlin
Germany
Phone: +49 176 32445872
This place is awesome right next to the topography of terror. We have the currywurst with fries it was delicious! The owner was so cool, we were short on... Read More
K D. Oct-02-2019
I wanted to try both original AND vegan. I have a sister that's vegan and one that's not. So when I came across this place, I couldn't decide which shoulder... Read More
Moni L. Jul-30-2019
Vegan curry wurst? Ja bitte! I was so thrilled to find this via Google search as I have missed curry wurst since going vegan. Now I can have it again, with... Read More
Ute L. Aug-30-2018
Dolcini
Price: €€
Category: Italian
Address:
Jägerstr. 70
10117 Berlin
Germany
Phone: +49 30 24630456
Lovely restaurant with delicious pasta! The ambience was really nice (candlelight and soft music). I had the gnocchi with pesto sauce which tasted amazing.... Read More
Brittany T. Jan-18-2019
Quiet and convenient for business lunch. I like a place where I don't need to shout to be heard. Nice vegetarian dished, mostly pasta. The service seemed a... Read More
Philip S. Nov-07-2019
In Berlin for a week, we were able to have dinner here twice. Both times we had a great time and very tasty meals. Our waiter quoted everything we'd had... Read More
Sally B. Oct-28-2019
Avan
Price: €
Category: Pan Asian
Address:
Mauerstr. 81 - 82
10117 Berlin
Germany
Phone: +49 30 23578730
Great food and service! The lady who served me was really friendly and smiley. Ordered the Bento Box which was great value for money, the ground beef glass... Read More
Remy G. Jan-01-2020
Love this place. I had the Bun Ga Nuong, a Salad with Peanuts over Noodles with Chicken. I gave them 4 rather than 5 stars, because the second time I had... Read More
Deb C. Sep-07-2019
very nice aesthetic, amazing food, it was great to try new things. it is in a very good location and encaptures a great experience Read More
Eitan R. Dec-18-2019
Otito
Price: €€
Category: Vietnamese Sushi Bars
Address:
Leipziger Str. 30
10117 Berlin
Germany
Phone: +49 30 20605300
I went here my first night in Berlin. I got in late and this was near my hotel. I ordered some sushi and some pho (first time I've had that combo!) but each... Read More
Matt S. Dec-22-2019
Had a hankering for asian food whole in Berlin. This place was close by so we stopped in. We stared with both Spring and Summer rolls which were relatively... Read More
Marc A. Jun-05-2019
We stopped here because we needed something other than German food. On a Friday at 8pm it was not too busy. Service was unremarkable. Beer: Dunkel... Read More
Jordan M. Jul-13-2018
Weingalerie und Café NÖ!
Price: €€
Category: Wine Bars Mediterranean Flatbread
Address:
Glinkastr. 23
10117 Berlin
Germany
Phone: +49 30 2010871
We went here whilst in Berlin for dinner. Surprisingly we got a reservation to sit outside. It was a wonderful warm night in Berlin. We started with the... Read More
Amber L. Jul-26-2019
This was such a cute place it was so delicious the cheese platter was amazing and the two person sampler had everything it was great! Wine amazing and staff... Read More
Lauren F. Nov-01-2019
An amazing wine bar with dinner specials! Weingalerie is very quaint on the inside, so make sure you have reservations before arriving! They offered some... Read More
Bryan B. Nov-17-2018