Berlin-Dahlem Botanical Garden and Museum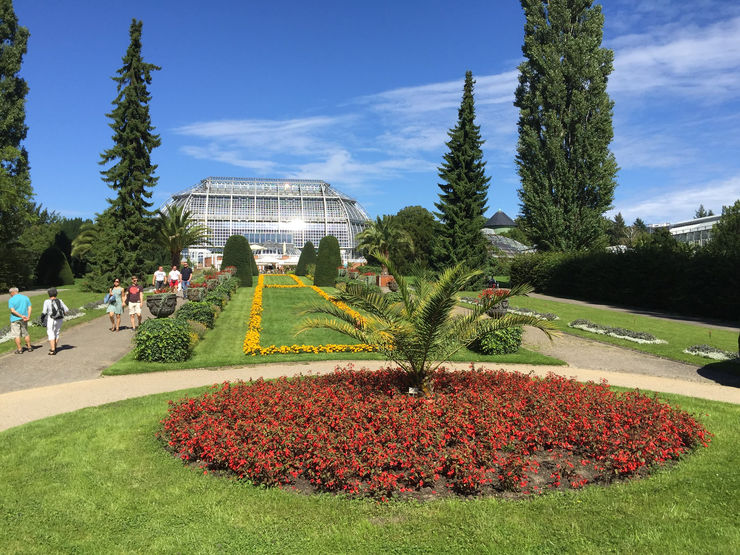 Discover the enchanted world of plants at Berlin's Botanic Garden!
In 1889, Adolf Engler, the original head of the modern Botanic Garden in Berlin, set out to establish "the world in a garden". Today, you can appreciate his wonderful success – a splendid diversification of plants, from herbaceous and medicinal plants to roses, marine and marsh plants, an arboretum including American trees, an Italian garden, an extraordinary art nouveau Tropical Greenhouse. The Botanic Garden in Berlin is a world leading garden, home to a collection of 20,000 plant species flowering on site drawing close to half a million guests annually.
Berlin's Botanic Garden – from Arboretum to Tropical Greenhouse, the Botanic Garden offers 43 hectares for guests to roam and explore. Created between 1897 and 1910 by architect Alfred Koerner, the garden has three areas: the Arboretum (woody plants and rose collection), plant formations from similar geographic areas, and an area devoted to systematic botany comprising around 1500 varieties of plants.
The landmark Tropical Greenhouse offers an outstanding example of late nineteenth-century art nouveau style in glass and steel. Twenty-five metres high and set on the eastern boundary of the garden, it towers over another 14 display greenhouses placed around it.
The Botanic Garden is not merely popular in summer. In winter too, you can walk the Seasonal Trails to view the plants of Africa, Australia, East Asia, the tropics and the Mediterranean basin. It's important to note that they permit no dogs other than registered disability assistance dogs.
The Victoriahaus
One treasure in the Botanical Garden is the over 100-year-old Viktoriahaus greenhouse. I refer to the romantic greenhouse after the giant water lily Victoria, and the glass pavilion is home to tropical marsh and water plants.
Botanical Museum
Berlin's Botanic Garden is also home to a museum devoted only to botany – the sole museum of its kind in central Europe. The Botanical Museum has housed the former royal collection of plants since 1906. This collection has been steadily enlarged and has an impressive assortment of models revealing plant structures imperceptible to the human eye – and an entire forest in a shoe box! You can even find out which plants were presented as funerary goods in the tombs of the Egyptian Pharaohs.
Events in the Botanic Garden – Concerts, Perennials Market and Tropical Nights
When the weather turns freezing in January, the Botanic Garden opens its gates to celebrate its Tropical Nights. On Friday and Saturday evenings, guests can escape winter to experience music and drinks under the palm trees in the Tropical Greenhouse. The Botanic Garden presents many recitals and markets during the year – with summer concerts, the Botanical Nights, the Berlin Perennials Market and the Orchid Show heading the popularity rankings for visitors.
Tours available many days of the year provide the opportunity to gain a deeper awareness of the gardens and their splendid diversity of plants. Highlight or themed tours, by knowledgeable guides, are available in German and English for both the garden and the museum. They are popular so it's advisable to book well in advance (more details at https://www.bgbm.org/en/guided-tours).
Botanic Garden – Accessibility
The Botanic Garden and Botanical Museum provide wheelchair accessible toilets and lifts. The 3000 square metre Fragrance and Touch Garden is designed for visually impaired visitors. It features scents of eucalyptus, rosemary and chives. Visitors are encouraged to touch the plants!
If you haven't seen enough plants already, adjacent to the Botanical Garden on Altensteinstraße is the Königliche Gartenakademie, a gardening school with a pleasant café in the greenhouse. The centre of the district, Dahlem-Dorf, is a pleasant place for a walk. On Königin-Luise-Straße the bustle of the city seems distant. In the Luise beer garden, students from the FU Berlin sit under shade trees discussing recent lectures.
It's busier when the Domäne Dahlem hosts mediaeval festivals or during the annual Christmas market. The manor house is now an agricultural open-air museum with a farm shop. Nearby is the Dahlem museum complex.
Facts For Your Visit
Official Website: Berlin-Dahlem Botanical Garden
Fee:
Yes
Closed Now
Regular Hours:
Hours may be subject to change. Please verify on the official website.
Monday: 9:00 am - 6:00 pm
Tuesday: 9:00 am - 6:00 pm
Wednesday: 9:00 am - 6:00 pm
Thursday: 9:00 am - 6:00 pm
Friday: 9:00 am - 6:00 pm
Saturday: 9:00 am - 6:00 pm
Sunday: 9:00 am - 6:00 pm
Category: Museums Botanical Gardens
Address: Königin-Luise-Str. 6 - 8
14195 Berlin
Germany

Phone: +49 30 83850100
Reviews
I went a little early in the spring so the outside wasn't as fantastic as it could have been, I'll have to go back later. I did see some nice wildlife and... Read More
Allison F. Mar-23-2015
The ticket buying part was confusing but well worth the hassle. This place is absolutely beautiful. I am so happy that we spent the day here! We plan to... Read More
Heather W. Sep-26-2021
Its a beautiful garden that holds Christmas and Halloween events that usually gain quite a bit of attention. The gardens have a bug greenhouse that holds... Read More
Mike B. Apr-17-2022
Accommodations near Berlin-Dahlem Botanical Garden:
Directions
How to get to Berlin-Dahlem Botanical Garden by S-Bahn
Nearest S-Bahn Line(s): S1, U9, U3
Nearest S-Bahn Station(s): S Botanischer Garten, S+U Rathaus Steglitz, U Dahlem Dorf
From S Botanischer Garten Station on S1, exit and walk to your right along EnzianstraBe. Go right again at Unter den Eichen and continue to the entrance. Total walking time is about 10 minutes.
From S+U Rathaus Steglitz Station on U9, take Bus X 83 - Königin-Luise-Str. or M 48 - Zehlendorf.
From U Dahlem Dorf Station on U3, take Bus X 83 - Lichtenrade.
Click&Go Map and Route Finder with public transit, walking, driving or cycling directions. Get up-to-the-minute transit times from your location to Berlin-Dahlem Botanical Garden.
Finding Your Route - Please Wait
Photo Gallery
Video