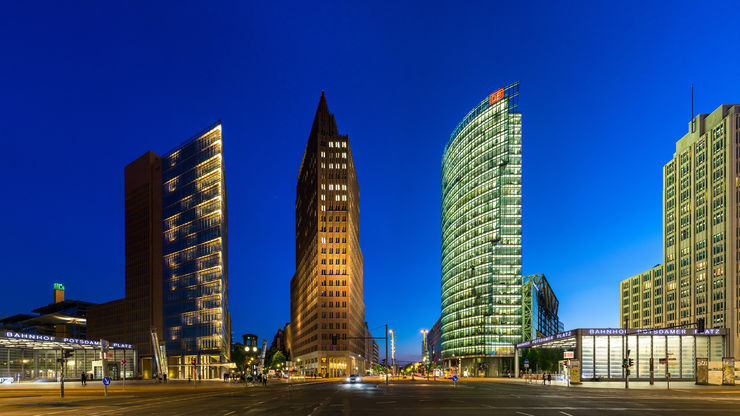 In the heart of Germany's capital, Potsdamer Platz is a bustling square that won't disappoint.  It features significant historic and modern structures sure to interest everyone.  Known worldwide as the geographical city centre.  In 1812 this became home to Germany's first electric street lights.
This lively spot, roaring with excitement during the1920s and 30s became the leading place to be - famous worldwide as a major transport station, featuring entertainment and places to eat.  In the centre of the square is a popular star pattern intersection with five of the busiest streets converging on it.  Europe's first traffic light tower was placed here in 1924, making it a popular landmark.
After the bombing of WWII Potsdamer Platz became a desolate and deadly area.  A no man's land.
Almost overnight in August 13, 1961 Berlin's wall was erected forcing separation between East and West Berlin. (Communist and democratic).  This separation lasted for 28 years, until the wall was torn down November 9, 1989.
A small portion of the Berlin Wall stands on display close to the entrance of the railway hub. Close to this is one of the last guard stations still standing.  This historic relic, once used by border guards 24/7, is now open to the public.
Today, after new life was brought back to Potsdamer Platz it is once more a hub of entertainment with many companies, shops, restaurants, cafes, offices and homes.
In 2000 the Sony Center opened.  It features a courtyard with a glass roof shaped like a tent in the centre of the complex. This building is  popular with many visitors and residents as it holds restaurants, bars, apartments and offices. It also houses the Filmhaus Museum.  This museum conveys the history of the German film industry from 1911.
Located next to the Sony Centre is the Boulevard der Stars (Berlin's version of the Walk of Fame in Hollywood). Walk along the red-coloured asphalt carpet with brass stars embedded with commemorated names of German film stars and producers going back in history over 120 years to the present.  Here fans can have their pictures taken with the ghostly images of their favourite celebrities who rise above their stars; an illusion created using special ghost cameras to capture the images.
Located in the centre of the square you will see a replica of the original 1924 semi-automated traffic light.
If you are looking for a place to relax and enjoy some fine wine, modern art or great food, you should visit the Weinhaus Huth building.  This historic building built in 1912 was constructed with a steel frame.  This was a new and rare process in those days. It was designed to protect and hold the heavy load of wine bottles that would be stored there.  This solid building held up to the WWll bombings and attacks and is still standing today.