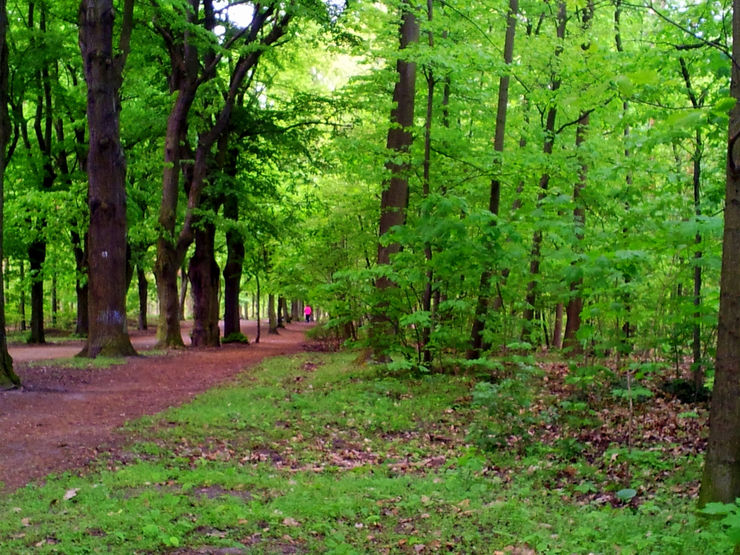 At a massive 7000 acres, Grunewald Forest is one of the largest unspoiled urban forests in Berlin and provides a healthy ecosystem for indigenous plants and animals.
It is a paradise for lovers of the outdoors. Beautiful views and natural landscapes abound and the extensive trail system provides access for everyone to roam and explore.
Several hills afford visitors a memorable view of the surrounding woodlands and landscape.
Hike up Karlsberg hill and enjoy the superb view from the Grunewaldturm viewing platform. The circa 1899 Gothic brick tower reaches another 55 metres above the hilltop. Climbing 204 steps brings you to the 36 metre high viewing platform where you will enjoy views fit for an emporer.
Drachenberg hill at the northern edge of the forest offers an excellent view of Berlin.
Hiking up man-made Teufelsberg hill takes you to an even higher vantage point and another historical landmark. We have another page with complete details for hiking up to Teufelsberg.
Teufelssee is a small scenic lake popular for swimming in the summer months. It is located just southwest from the base of Teufelsberg hill.
The entire west side of Grunewald Forest is bordered by the Havel River providing more opportunity for outdoor recreation. You will find walking/running paths and beaches for swimming or sunbathing during the summer months.
Several other historical sites and buildings within the forest boundary are waiting for you to discover them.
If you wish to enjoy a good dining experience during your visit, ride bus #218 to Lindwerder Island stop. From there, take a 2-minute ferry to the island. (There is a separate fare for this.) On the island, is a yacht club and a restaurant where you can enjoy one of the most beautiful views of the Havel river from a large outdoor terrace.
Keep in mind that this is a huge forested area with many meandering trails throughout. It can be easy to get lost, so we recommend using a gps enabled phone to help navigate as you explore this large wilderness.
Visiting Grunewald Forest makes an ideal day-trip when you desire a reprieve from the hustle and bustle of life in the city.
Facts For Your Visit
Fee:
No
Open Now
Regular Hours:
Hours may be subject to change. Please verify on the official website.
Monday: 12:00 am - 12:00 am
Tuesday: 12:00 am - 12:00 am
Wednesday: 12:00 am - 12:00 am
Thursday: 12:00 am - 12:00 am
Friday: 12:00 am - 12:00 am
Saturday: 12:00 am - 12:00 am
Sunday: 12:00 am - 12:00 am
Category: Hiking
Address: Falterweg 1
14055 Berlin
Germany

Accommodations near Grunewald:
Directions
How to get to Grunewald by S-Bahn
Nearest S-Bahn Line(s): S3, S5, S7, S9, S75
Nearest S-Bahn Station(s): S Berlin-Grunewald, S Heerstraße
From Berlin-Grunewald Station on the S-Bahn exit onto Dauerwaldweg and walk west under the expressway. The road passes through a residential area and ends at a trailhead into the Grunewald Forest. Taking the first trail on your left is a good bet, but there are many trials so we recommend using a gps enabled phone to help find your way through the forest.
Heerstraße Station is a good choice for visiting the north end of the forest including Teufelsberg and Drachenberg hill. Walk southwest on Teufelsseestraße to the first Parking Lot and follow the trail.
Click&Go Map and Route Finder with public transit, walking, driving or cycling directions. Get up-to-the-minute transit times from your location to Grunewald.
Finding Your Route - Please Wait
Photo Gallery
Photo Credit: Yelp

Photo Credit: Yelp

Photo Credit: Yelp

Photo Credit: Andy Hay - cc license via Flickr

Photo Credit: RaeAllen - cc license via Flickr

Photo Credit: RaeAllen - cc license via Flickr

Photo Credit: RaeAllen - cc license via Flickr

Photo Credit: RaeAllen - cc license via Flickr

Photo Credit: _Tasmo - cc license via Flickr

Photo Credit: floffimedia - cc license via Flickr

Photo Credit: floffimedia - cc license via Flickr

Photo Credit: Babewyn - cc license via Flickr
Video