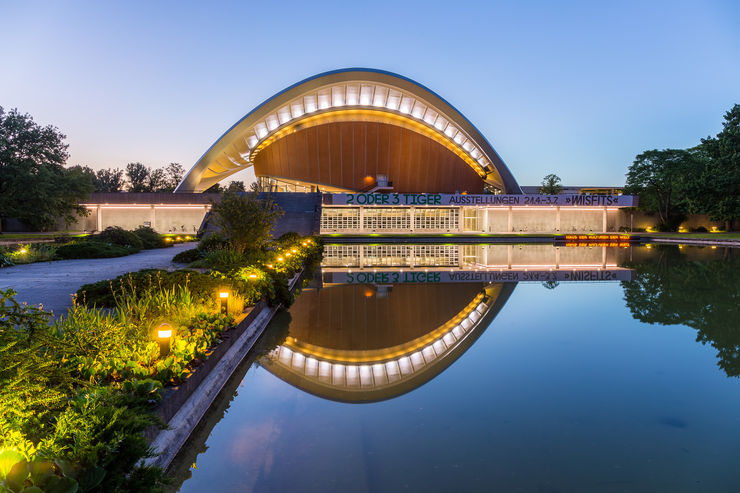 The House of World Cultures (Haus der Kulturen der Welt in German) is a world-class center for arts and culture. Boasting a visionary design appealing to anyone fond of unique architecture, it lies on the bank of the Spree River in Tiergarten Park. It is within walking distance of the Brandenburg Gate
The HKW serves as a venue to various arts from around the world. Events include the performing arts (music, theatre, dance), Literature, Readings, Education, Exhibitions and more.
During summer an open-air show called Wassermusik offers the audience a journey through music from around the world.
On the terrace one can experience unique concerts, films, and documentaries with the Spree River as a backdrop.
Visit the official website linked below to see the program calendar.
History
Designed and erected as a gift to West Berlin by America in 1957, the complex was an emblem of good will and part of an architectural exhibition.
Originally called Kongresshalle (Congress Hall), the HKW is an iconic and prominent Berlin landmark, distinguished for its Oyster shaped roof.
Tragically, the engineering did not live up to the exceptional design concept. In 1980 the roof collapsed resulting in one fatality and multiple injuries.
The roof was rebuilt seven years later in time for Berlin's 750th anniversary. At the same time, they built a bell tower housing 68 bells next to the hall - the largest carillon in the world.
Two years afterward the building began its present-day role as the HDK (Haus der Kulturen der Welt).
Dining
At the HKW, the Auster restaurant serves delicious seafood and traditional fare with an enjoyable view of the Spree.
Parking is almost non-existent, so it's best to arrive by bus or boat. This is the only venue in Berlin with a riverboat station.
Facts For Your Visit
Official Website: Haus der Kulturen der Welt
Fee:
You can view the outside of this iconic building for free. Admission to events varies. See the official website for more information.
Open Now
Regular Hours:
Hours may be subject to change. Please verify on the official website.
Monday: 10:00 am - 7:00 pm
Tuesday: 10:00 am - 7:00 pm
Wednesday: 10:00 am - 7:00 pm
Thursday: 10:00 am - 7:00 pm
Friday: 10:00 am - 7:00 pm
Saturday: 10:00 am - 7:00 pm
Sunday: 10:00 am - 7:00 pm
Category: Music Venues
Address: John-Foster-Dulles-Allee 10
10557 Berlin
Germany

Phone: +49 30 397870
Reviews
I was here for Robert Henke's "Lumiere III" gig. The concert hall was very spacious and just right for the laser show. The building itself is an... Read More
Mohammed G. May-25-2017
It's my favorite building in Berlin. They organize a lot of festivals and other cultural events, many of which are related to Latin America (e.g. the... Read More
Maria G. Jul-23-2014
Accommodations near Haus der Kulturen der Welt:
Directions
How to get to Haus der Kulturen der Welt by U-Bahn, S-Bahn or MetroTram
Nearest U-Bahn, S-Bahn or MetroTram Line(s): U55, S1, S2, S25, S26
Nearest U-Bahn, S-Bahn or MetroTram Station(s): U-Bundestag, S Brandenburger Tor
Click&Go Map and Route Finder with public transit, walking, driving or cycling directions. Get up-to-the-minute transit times from your location to Haus der Kulturen der Welt.
Finding Your Route - Please Wait
Photo Gallery
Photo Credit: Yelp

Photo Credit: Yelp

Photo Credit: Yelp

Photo Credit: Renate R - cc license via Flickr

Photo Credit: Dave Hamster - cc license via Flickr

Photo Credit: Traveller-Reini - cc license via Flickr

Photo Credit: oswaId - cc license via Flickr

Photo Credit: oswaId - cc license via Flickr

Photo Credit: oswaId - cc license via Flickr

Photo Credit: oswaId - cc license via Flickr

Photo Credit: oswaId - cc license via Flickr

Photo Credit: Dave Hamster - cc license via Flickr
Video