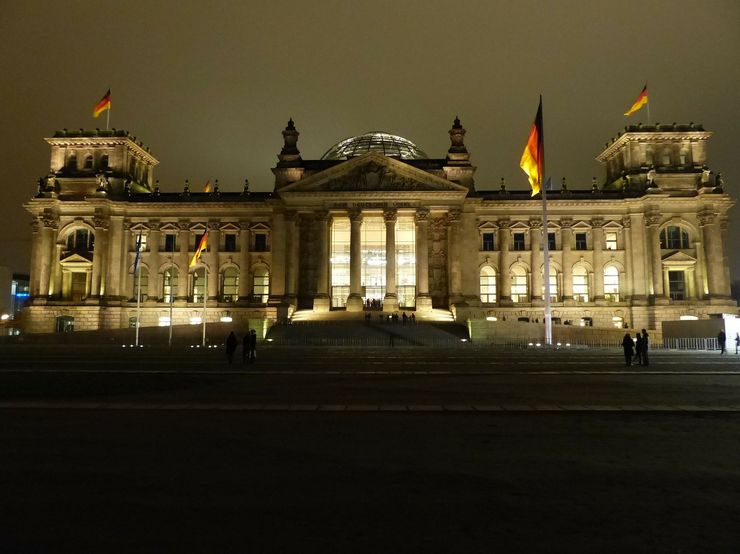 The Reichstag building and its amazing dome are one of Berlin's most famous landmarks, and a must see for anyone visiting the city. Don't let the long lines deter you from going up into the Copula. It really is worth the wait. Not only can you look down into the parliamentary chambers, but you will enjoy superb views of the city which are even more spectacular at night.
Construction started in 1882 on the Reichstag Parliament building. It took twelve years and was completed December 5th 1894. In 1916 "Dem Deutschen Volke" meaning " to the German People" was added to the main frieze. The letters are 60cm tall, formed from melted down French cannons seized during the Napoleonic wars.
The Reichstag was mysteriously set on fire on February 27th, 1933, nearly destroying the building. Marinus Van der Lubbe, a Dutch communist was convicted of the crime and executed in 1934. Not everyone was convinced of his guilt or that he acted alone. In 2008 Marinus Van der Lubbe was pardoned due to the uncertainty.
During the second world war the building was substantially damaged by allied bombing and West Germany's Capital was moved to Bonn meaning the ruined structure had no use. This led to a debate as to whether it should be demolished or restored. The restoration side won the debate and restorations were made between 1961-1964 leaving out the distinct design of the copula. Some after effects of the bombings and fire are still apparent.
From 1964-1990 the Reichstag building was mainly used for exhibitions of Germany's history.
After Germany's reunification in 1990, the Reichstag building was turned back into the Parliament building.
From 1992-1999 more restorations took place, this time honouring the true design which added the Copula to the top of the building. It's a symbol to the people that they are above the government. A direct change from the past of National Socialism.
In the spring of 1999 the Reichstag Parliament Building was reopened.
This unique building blends new and historic architecture. The best city views are seen from top of the Copula. Visitors stroll up and down the spiral ramps in a corkscrew pattern where they may view the chamber working and enjoy 360 views. This walk is 230 metres and takes about 20 minutes. Sunlight entering the glass dome reflects off the mirrored cone shape centre, giving it its light. Created to make use of daylight and decreases carbon emissions, the dome is both environmentally friendly and energy efficient.
A small food stand is located on the ground floor of the dome. You may purchase several beverages, plus chips and other snacks.
The dome and rooftop restaurant on the east side display beautiful city views. These require advance registration. Visitors should register online. When entering, there's security checks similar to those at airports.
If you haven't made reservations and want to visit the dome, you may register at the service centre near the Reichstag Building, south of ScheidemannstraBe. If free spaces are available, you will be issued a booking confirmation.
Easy to use audioguides in ten different languages are available on the roof terrace when visiting. Audioguides for children and people with disabilities are also available.
Facts For Your Visit
Fee:
No, But advanced registration is required to visit the dome
Address: Platz der Republik 1, 11011 Berlin, Germany
Phone: 030 22732152
Official Website: Reichstag Building
Reviews
Rated 4.7 out of 5

Must visit place! I recommend to go here before visiting something else in Berlin, since the audioguide tells you about many different buildings of the city, along with interesting curiosities and things to do. Moreover, the view is stunning especially during sunset and it is completely free. I strongly recommend to book it quite in advance.
Dario Ventura - 8 days ago
A great tour that you can do for free offering and teaching tourists about the history of Berlin and Germany. This is a great activity for tourists and it's also a great way to see the city from above. The tickets can be bought online for no charge and the experience involves seeing inside the building, as well as the roof terrace and the dome above. The dome above offers some great architecture and sights of the city, seeing some incredible views. The tour also offers information in all different languages so you can read and listen to more about the history of the building. Highly recommended if you're in Berlin and it's an experience you don't want to miss out on.
Alex Crisp - 3 months ago
Tickets go live on the first day of the month, so you need to get in early in order to book in advance and secure a ticket! It was great to visit the Reichstag building - tickets are free (but booking absolutely essential). You also need to have your passport in order to enter the building, and go through body & bag scanners. We were taken up in the lift, and then left - so there was no guide, and no one to show us where to go. Worth picking up an audio guide at the top of the lift, they are free (although mine wasn't working unfortunately, and I couldn't be bothered to go and swap it). Beautiful building and great to walk up the glass dome and read/see the photos about the history of the Reichstag building and it's reconstruction after the war.
Connie - 1 month ago
We booked in advance though slots only open a month or two ahead. Easy to book and skipped us through easily, though it was out of season. Free to go in and visit the roof, but well worth it. An enoyable 5 minutes, but you could stay longer plus there are guided tour options. Really slick.
Peter Thompson - 12 days ago
This place has so much history, and the guides are amazing at what they do, you should definitely stop by. I would recommend booking to view both the Parliament and the dome as your there already you might as well explore fully.
Luke Garratt - 10 days ago
Read all Reviews

Accommodations near Reichstag Building:
Directions
How to get to Reichstag Building by S-Bahn or U-Bahn
Nearest S-Bahn or U-Bahn Line(s): S1, S2, S5, S7, S25, S75, U2, U6. U55, U6, M1
Nearest S-Bahn or U-Bahn Station(s): Berlin Friedrichstraße, Bundestag Station, Mohrenstraße
From Berlin Friedrichstraße Station: go south on Friedrichstraße, right on Dorotheenstraße and continue to the Reichstag Building.
From Bundestag Station: The Reichstag Building is just southeast of the station.
From Mohrenstraße Station: walk north on Wilhelmstrasse, and go left on Unter den Linden to Brandenburg Gate, then right on Ebertstraße.
Map & Instant Route Finder
Click&Go Map and Route Finder with public transit, walking, driving or cycling directions. Get up-to-the-minute transit times for your route.
Finding Your Route - Please Wait
Photo Gallery
Video