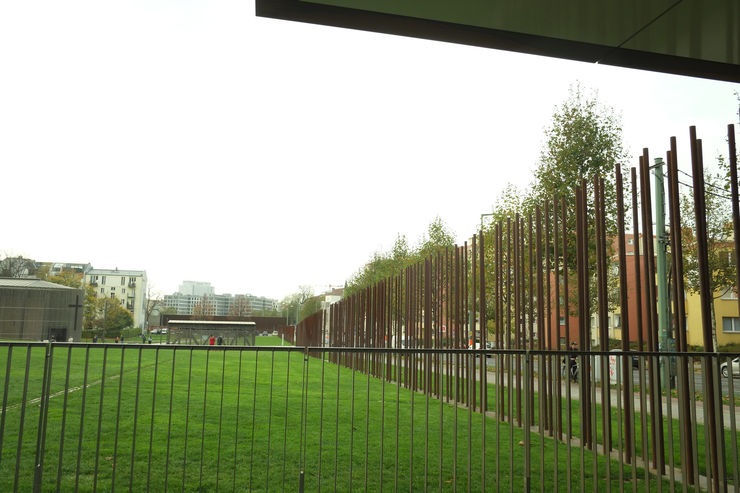 The Berlin Wall Memorial (Gedenkstätte Berliner Mauer), not to be confused with the East Side Gallery, is an open air memorial running alongside Bernauer Straße. This memorial will give you a real sense of what it was like for the people who lived next to the wall as it went up. You'll also learn how a number of them escaped.
Located at the corner of Ackerstraße, it is the only remaining portion of the wall where the border grounds have also been preserved.
Here you'll find not a section of the Berlin Wall, but also the inner wall, signal fence, border control road and guard tower, all used to deter anyone from trying to cross.
Don't miss the Visitor Centre and the Documentation Centre complete with a viewing platform. They are located across the street in the area that belonged to West Berlin when the city was divided. Entry to these is free and the multimedia experience is enlightening and well worth seeing.
On the border grounds you will find the Chapel of Reconciliation and also the foundation of an apartment building whose facade served as a portion of the wall until the early 1980s.
This area is also where the first chunks were broken off the Wall on the historical nights of November 10th and 11th 1989.
Facts For Your Visit
Fee:
No
Open Now
Regular Hours:
Hours may be subject to change. Please verify on the official website, especially where Covid restrictions are in effect.
Tuesday: 9:30 am - 6:00 pm
Wednesday: 9:30 am - 6:00 pm
Thursday: 9:30 am - 6:00 pm
Friday: 9:30 am - 6:00 pm
Saturday: 9:30 am - 6:00 pm
Sunday: 9:30 am - 6:00 pm
Category: Museums
Address: Bernauer Str. 111 - 119
13355 Berlin
Germany

Phone: +49 30 467986666
Reviews
Captivating. Emotional. Gripping. Moving. Humbling. Heartbreaking. Educational. These are my words to describe the Berlin Wall, formerly in the... Read More
Jo Y. Sep-26-2019
The literal crossing between old east and West Berlin. You put note today that they used to be a wall between the two parts of the city. Which of the walls... Read More
Nicole E. Feb-12-2020
This is a free open air museum which is an approximately one-mile stretch along Bernauer Strasse where remnants of the Berlin Wall still remain. There are... Read More
Rob L. Aug-01-2019
Accommodations near Berlin Wall Memorial (Gedenkstätte Berliner Mauer):
Directions
How to get to Berlin Wall Memorial (Gedenkstätte Berliner Mauer) by U-Bahn, S-Bahn or MetroTram
Nearest U-Bahn, S-Bahn or MetroTram Line(s): S1, S2, S25, U6, U8, M10
Nearest U-Bahn, S-Bahn or MetroTram Station(s): U Bernauer Straße, S Berlin Nordbahnhof, U Schwartzkopffstraße
From Berlin Nordbahnhof: Exit to your right and go north through Elisabeth-Schwarzhaupt-Platz (plaza), right on Julie-Wolfthorn-Straße and continue on Bernauer Straße.
From U BernauerStraße Station: on U8 exit and go left onto Bernauer Straße where you can walk for about 8 minutes or wait for the M10 Tram and ride for about 1 minute followed by an additional brief walk.
From Schwartzkopffstraße Station: on U6 exit and head southeast on Chausseestraße, left on Schwartzkopffstraße, continue on the path into the park, go right on the next path in the park and follow it to Bernauer Straße and go left.
Click&Go Map and Route Finder with public transit, walking, driving or cycling directions. Get up-to-the-minute transit times from your location to Berlin Wall Memorial (Gedenkstätte Berliner Mauer).
Finding Your Route - Please Wait
Photo Gallery
Video