Berlin U-Bahn Map and Travel Guide
Getting around Berlin on the U-Bahn (Underground)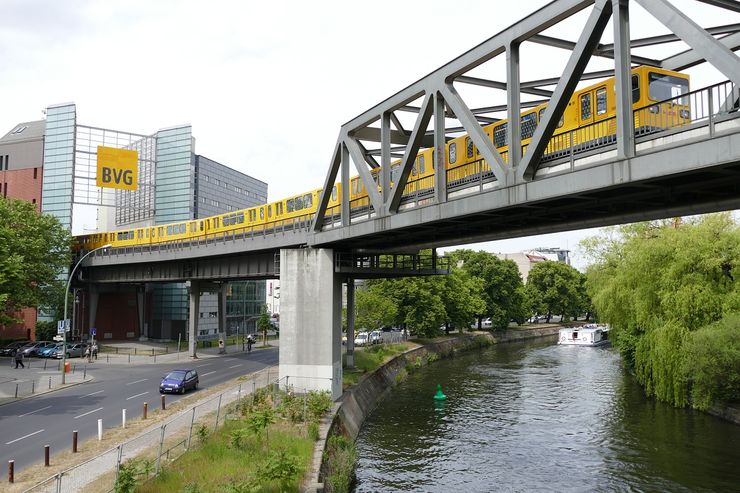 The Berlin U-Bahnpolitan Railway, commonly referred to as the U-Bahn, is an extensive metro system which, along with the S-Bahn is the heart of Berlin's public transportation system. You can get around the city of Berlin very quickly on the U-Bahn as the trains are frequent and connections are easy. Read on for more information about using the U-Bahn.
Lines and Stations
The U-Bahn is a network consisting of 10 metro lines serving 170 stations along 150 kilometres of track. The lines run mostly underground, but occassionally along the surface and over bridges. Stations are easy to identify, even from a distance, with large signs consisting of the letter U in blue. Once inside a station you will find electronic signs that show you the arrival time and direction of the next train. You will also find large maps in most stations and maps are also displayed inside the trains.
Since U-Bahn lines are not as interconnected as metro lines in other European cities, it is sometimes helpful to take a bus or tram across to another line when completing a journey.
In most cases employees at the stations speak English (albiet with a strong German accent) as well as German and in some cases French.
Service Frequency and Hours
On the weekends (Friday, Saturday and Sunday) the U-Bahn operate throughout the day and night with the exception of line U4. On weekdays service ends by 1am, but night buses that run along the same routes operate every 30 minutes from 12:30am to 4:30am.
Like most metro systems, service is frequent so you'll never have to wait long for a train barring any breakdowns or extenuating circumstances. Trains run as frequently as every 2 to 5 minutes during peak hours winding down to every 10 minutes in the evening.
Proceedures for Fares and Tickets
Tickets are available from a variety of locations including online, over 300 shops and kiosks throughout the city and vending machines and or ticket counters inside train stations. You can even use your smart phone as a ticket via the free on of the BVG Ticketing Apps available for Android or Iphone.
There are no barriers to entering the stations or trains, the honour system is in place, although fare violations are subject to a fine of €60 if caught during a fare inspection, so be sure to validate your ticket at one of the validating machines before riding. You can use the same fare on all modes of public transport so transfering to a bus, tram or the S-Bahn is straightforward.
For more detailed information about fares and tickets please see our page on Berlin Transit Fares.
Recommended Resources
Download a printable PDF U-Bahn Network Map
Download a printable PDF U-Bahn City Centre Map
The Berlin U-Bahn is operated BVG (Berliner Verkehrsbetriebe). You can also find more information, maps and schedules for the Berlin U-Bahn on the official BVG website.
Berlin Metro Map
Map designed by: Pasha Omelekhin
Download a printable PDF Berlin Metro Map (6.4MB)
Interactive U-Bahn Map with streets and attractions
Open an interactive Berlin U-Bahn Map overlaid on Google Maps to see the U-Bahn lines in relation to the overall city and attractions.
Next U-Bahn Departing Near Me
Click&Go Map and Route Finder. Enter your destination and click to find the next Train, Bus or Ferry departing near your location. Your complete route, all connections and total time are shown.
Enter Destination
Click Blue Button
Scroll down for route map and details including connections and times
Finding Your Route - Please Wait
More Info for Getting Around Berlin on Public Transportation
Photos
U-Bahn Station Sign

U-Bahn Train inside station