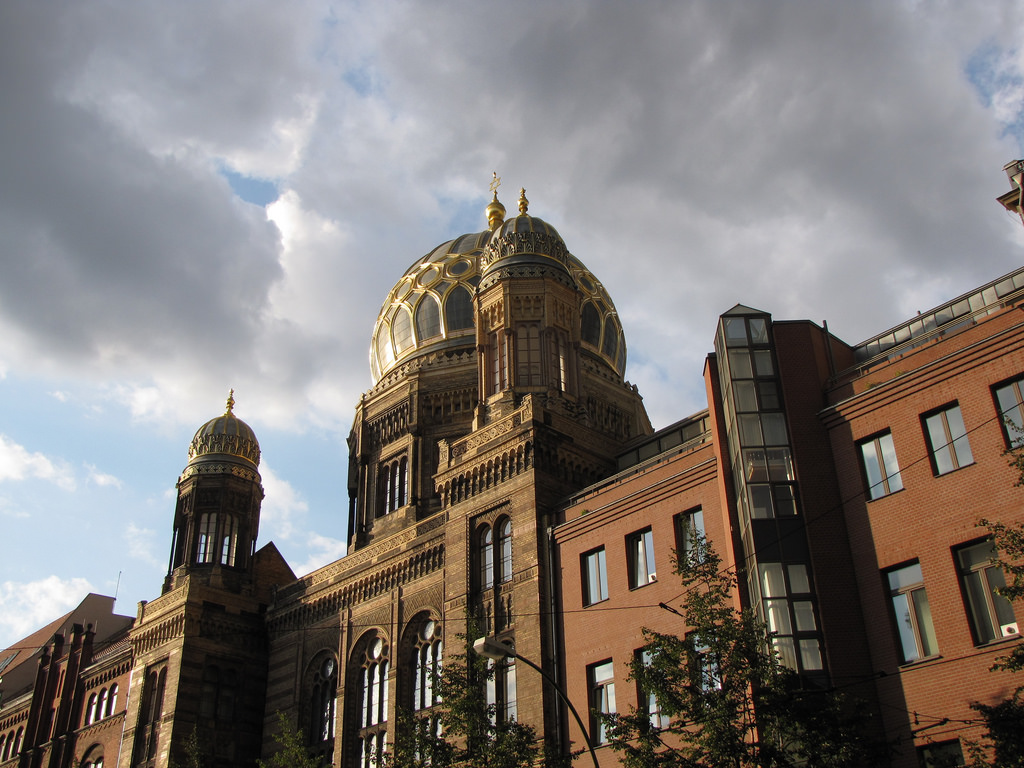 Construction of the Neue Synagogue took place between 1859 and 1866. The design was by Eduard Knoblauch designed the synagogue, but he took ill before it was complete. One of Berlin's prominent architects, Friedrich August Stuler took over and saw the project to its completion.
Today the gleaming golden dome atop the Neue Synagogue is a prominent Berlin landmark.
The Neue Synagogue Berlin was such a beautiful historic building, that even when it was set on fire on the night of November 9th, 1938, a night when synagoges throughout Germany were being torched, the head of the police precinct, Wilhelm Krützfeld, was not about to stand by and let this historical building be destroyed. He withdrew his side arm and ordered the mob to disperse so the fire brigade could put the fire out.
Unfortunately the bombing that followed later in World War II all but destroyed the Neue Synagogue. Because it was a safety hazard, City officials had the main hall leveled in 1958. This left just the front facade standing as a memorial and reminder against fascism and war.
In 1988 a foundation was established to restore the facade and the dome. Restoration began in 1991 and it reopened to the public as "Centrum Judaicum" ("Jewish Center") complete with a museum in 1995. The larger main hall located behind the restored building was not restored, but stones were set in the ground outlining its immense size and providing a reference to the destruction that too place.
The permanent exhibition called "Open ye the Gates" documents the history of the building and the lives of those associated with it.
Facts For Your Visit
Fee:
There is a small fee to attend the museum and go inside the dome.
Accommodations near New Synagogue Berlin:
Directions
How to get to New Synagogue Berlin by U-Bahn, S-Bahn or Tram
Nearest U-Bahn, S-Bahn or Tram Line(s): S1, S2, S25, M1, M5, U6
Nearest U-Bahn, S-Bahn or Tram Station(s): Berlin Oranienburger Straße, Oranienburger Tor
From Oranienburger Tor on the U-Bahn, exit to the north and go walk right (toward the Fernsehturm TV Tower) along Oranienburger Straße the New Synagogue Berlin is about a 6 minute walk.
From Berlin Oranienburger Straße on the S-Bahn or Tram, the New Synagogue Berlin is just to your east on Oranienburger Straße.
Click&Go Map and Route Finder with public transit, walking, driving or cycling directions. Get up-to-the-minute transit times from your location to New Synagogue Berlin.
Finding Your Route - Please Wait
Photo Gallery
Video