Where is the Best Shopping in Berlin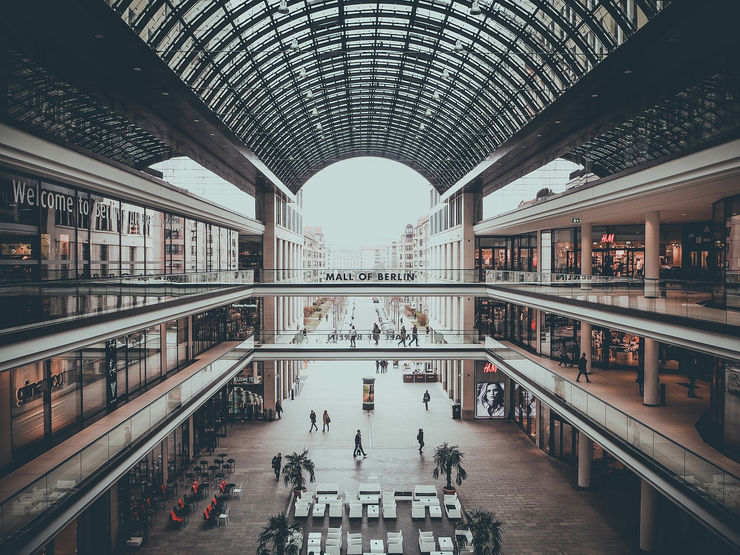 An introduction to the best shopping centres and districts in Berlin that are easy to access from the S-Bahn or U-Bahn. Continue reading and discover which shopping experiences are right for you.
1. Kurfürstendamm
Most large cities have at least one high profile street renowned for upscale shopping. In London, it's Oxford Street and in Paris, it's the Champs Élysées. In Berlin it's Kurfürstendamm. With over 100 stores and 200,000 square metres of shopping and dining, it's one of the most prominent shopping district in the city.
Located on the west side of the city near many popular attractions, Kurfürstendamm offers an upscale shopping experience.
No shopping expedition to this part of the city is complete without a visit to the 6 level, 60,000 square metre KaDeWe department store. This historic building was built over 100 years ago. Like the district it resides in, it offers a wide variety of high-end merchandise. On the top floor, you will find delicacies from around the world.
Address: Kurfürstendamm & Tauentzienstraße
Normal Hours: Most shops between 11am – 7pm
Public Transport: U-Bahn Wittenbergplatz or S+U-Bahn Zoologischer Garten.
Shops and Restaurants: +/- 100
2. Bikini Berlin
Bikini Berlin is a modern shopping mall with a twist. Shops and products in the mall are constantly evolving thanks to the short-term rental concept. Retail space is rented out for as little as 3 months at a time. The result is unique pop-up stores, trendy boutiques, seasonal shops and more.
There are a few of the familiar chain stores here too, but overall the experience is much less cookie-cutter than most malls.
There are also plenty of dining options. If you have a meal on the upper terrace you can look out over the monkey run of the Berlin Zoo.
Address: Budapester Str. 38-50
Normal Hours: Most shops between 10am – 8pm
Public Transport: U-Bahn Wittenbergplatz or S+U-Bahn Zoologischer Garten.
Shops and Restaurants: +/- 60
3. Mall of Berlin
Malls offer a familiar shopping experience wherever they happen to be. All the familiar chains are usually present and, while the shopping experience may not be unique, there's a huge variety and you can move from one store to another without worrying about inclement weather.
The Mall of Berlin is large with over 270 shops and services spread over 200,000 square metres. This relatively new mall opened in September 2014 provides a clean modern shopping experience. Located beside Potsdamer Platz, it is easy to get to on public transportation.
You will also find a wide variety of dining options to choose from.
Address: Leipziger Pl. 12
Normal Hours: 10am to 9pm
Public Transport: Potsdamer Platz or Mohrenstraße
Shops and Restaurants: 270
4. Alexa Centre
The Alexa Centre is a large modern shopping center conveniently located at Alexanderplatz. Although not as big as the Mall of Berlin, it still boasts 180 stores and services spread over 56,000 square metres on three levels.
You will most of the usual shopping mall suspects here as well, both regional and international chains with a focus on fashion and specialty foods. Alexa Centre has good-sized food court and even a bowling alley on the top floor.
Address: Grunerstraße 20
Normal Hours: 10am – 9pm
Public Transport: Alexanderplatz or Jannowitzbrücke
Shops and Restaurants: 180
5. Hackescher Markt
Hackescher Markt is a lively place to shop and dine. You will discover a wide range of market stalls with food, merchandise and drinks located below the Hackescher Markt S-Bahn Station. Come during the weekly Thursday and Saturday markets when even more vendors set up in the square in front of the station.
This area can be busy as it is popular with tourists. You can find interesting and unique items while enjoying the fun vibe which extends into the surrounding neighbourhood.
Address: Rosenthaler Straße
Normal Hours: Most shops from 11am – 8pm
Public Transport: S-Bahn Hackescher Markt or Tram
Shops and Restaurants: 50-60
6. Friedrichstraße
Friedrichstraße runs through a busy tourism area with a rich history tied to the Second World War and the subsequent dividing of Germany. It is also the heart of Berlin's entertainment district.
You will find plenty of upscale shops along the street, many focusing on fashion and cosmetics. Two large department stores - Galaries Lafayette and Dussmann are also located here.
Be sure to check out Dussmann das KulturKaufhaus, a large bookstore immediately south of Friedrichstrasse train station. They sell both English and German books.
Address: Friedrichstraße
Normal Hours: Most shops from 10am – 8pm
Public Transport: Station
Shops and Restaurants: 60-70
7. Schloßstraße
Schloßstraße is a popular shopping area located well outside the city centre. It is easy to get to on the U-Bahn, but the distance from the city centre means less crowding than shops and malls that are closer.
This pleasant tree-lined boulevard is also lined with a wide variety of shops and services.
Besides the individual shops along Schloßstraße, four separate indoor malls magnify your shopping options.
Das Schloss is a smaller mall next to U-Bhf Rathaus Steglitz Station at the southern end of the shopping district.
Boulevard Berlin is a large mall with a wide variety of chain and boutique stores and a food court is located just north of Schlossstrasse U-Bhf Station.
Continuing north are Forum Steglitz and Schloss-Strassen-Center Berlin.
After, shopping you can enjoy a movie at one of the theatre complexes.
Address: Schloßstraße 10-15
Normal Hours: 10am – 8pm
Public Transport: Schlossstrasse
Shops and Restaurants: +/- 90
8. East Side Mall
East Side Mall is Berlin's newest shopping mall. It opened across from Warschauer Straße Station in October of 2018.
There are enough stores to satisfy the most discriminating shopaholic. There is the usual food court, some restaurants, a movie theatre, a fitness centre, and even a bowling alley.
Address: Tamara-Danz-Straße 11
Normal Hours: 10am – 9pm
Public Transport: Warschauer Straße
Shops and Restaurants: 180
9. Berlin Flea markets
Your shopping experience in Berlin isn't complete without checking out one of the Sunday flea markets. They are a great place to find unique items and souvenirs at affordable prices.
The Mauerpark flea market is the largest and most renowned. You will find a wide range of independent vendors selling everything from fashion to antiques to arts and crafts and delicious food from around the globe.
Another major flea market is open every Sunday throughout the year in Arkonaplatz. It is popular with locals, but less known to tourists than nearby Mauerpark. This means fewer crowds and sometimes better prices. It is located in Arkonaplatz Park and within easy walking distance of the Mauerpark flea market, making it easy to shop both markets on the same day.
There are other Sunday flea markets in Berlin, but the above two are the largest.
Address: Arkonaplatz 1
Normal Hours: Arkonaplatz 10am – 4pm / Mauerpark 9am - 6pm
Public Transport: Bernauer Straße U8 / U Eberswalder Straße U2
Exterior of the famous KaDeWe Shopping Center building in Kurfürstendamm Berlin