Berlin Buses and Trams
Guide to sightseeing and getting around in Berlin by bus and tram during your vacation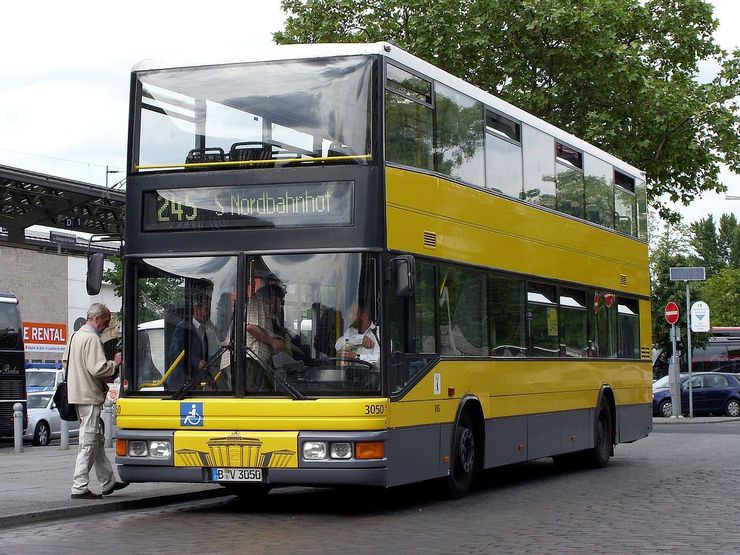 While Berlin U-Bahn (subway) and S-Bahn (trains) will get you within walking distance of nearly all of the popular attractions and districts in Berlin, you will find it useful to use buses or trams from time to time in order to travel between lines or for sightseeing. Trams are most common in the former East Berlin while buses are common throughout.
Overview
Buses and trams in Berlin round out the transit system by filling in the gaps not covered by trains, as well as connecting people from one train line to another more quickly than taking a more circuitous route.
Buses and trams in Berlin fall into 3 main categories which are reflected in their route designations. MetroBus and MetroTram routes begin with the letter "M" before the number. They provide frequent service — usually every 10 minutes or better. Regular buses and trams are less frequent with service intervals ranging between 10 and 20 minutes. There are also some express buses which providing quicker running times from point A to B in return for serving less stops along their route. The express buses include the letter "X" in their route numbers.
There are 9 MetroTram routes: M1, M2, M4, M5, M6, M8, M10, M13 and M17. Regular trams (Straßenbahn) run on 13 routes: 12, 16, 18, 21, 27, 37, 50, 60, 61, 62, 63, 67 and 68. All routes except 37 and 61 are wheelchair accessible.
Destination signs on the front of the buses and trams display the final stop of the route. Inside the bus stops are announced far enough ahead for you to press the red stop button indicating your desire to exit.
Buses are boarded through the front doors and you simply show your validated ticket or pass to the driver as you board.
Sightseeing in Berlin by Double Decker City Bus
In addition to helping you get to Berlin's attractions and landmarks, the yellow buses plying the city streets provide very inexpensive sightseeing. Two routes in particular are ideal for seeing some of the city's top sights without the high cost of a guided tour. Route 100 runs between Zoo Station ("Berlin Zoologischer Garten") and Alexanderplatz. Route 200 also starts at Zoologischer Garten and continues all the way to Prenzlauer Berg. You'll see many historic sites and landmarks riding either of these bus routes which are usually served by double decker buses. Try to get a seat on the upper deck for the best views. Keep in mind that these buses do not operate in a loop, so you'll need to purchase or have a return ticket for the trip back unless you have a day pass or multiday pass.
Sightseeing in Berlin by Tram
Tram routes also offer some good sightseeing in Berlin. In fact, National Geographic designated Tram Route 68 as one of top ten tram routes in the world. We suggest boarding the Tram at Köpenick Station which you can reach by the S3 or S5 line on the S-Bahn. After winding its way through the old town of Köpenick and passing Grünau, Tram 68 takes you along the scenic shoreline of Langer See (Long Lake). During the summer months you will pass by numerous swimming spots. The route ends in the village of Schmöckwitz where you can get off and explore on foot. Walk across the Bridge on Werndofer Str. for an excellent view of the lakes. Get some ice-cream at Winkels Eiscafé or some pizza or pasta at Villa Toscana – Ristorante Pizzeria.
Recommended Resources
Buses and the MetroTrams are operated BVG (Berliner Verkehrsbetriebe). You can find more information on the official BVG website.
Berlin Tram Map
U-Bahn and S-Bahn lines are shown in gray so you can see where the trams connect with them.
Interactive Bus or Tram Map with streets and attractions
Open an interactive Berlin Bus or Tram Map overlaid on Google Maps to see the Bus or Tram lines in relation to the overall city and attractions.
Next Bus or Tram Departing Near Me
Click&Go Map and Route Finder. Enter your destination and click to find the next Train, Bus or Ferry departing near your location. Your complete route, all connections and total time are shown.
Enter Destination
Click Blue Button
Scroll down for route map and details including connections and times
Finding Your Route - Please Wait
More Info for Getting Around Berlin on Public Transportation
Photos
A MetroTram makes its way through the streets of Berlin