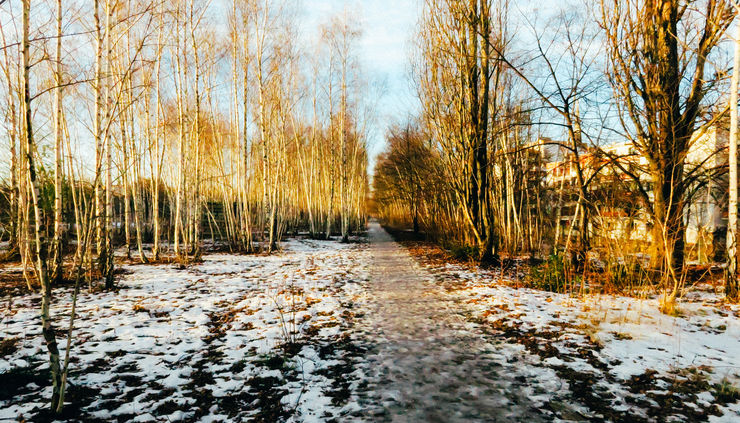 Nordbahnhof Park is another hidden gem we are featuring for visitors looking to get off of the beaten path. 
Even many locals are not familiar with this concealed, yet conveniently located, urban park that is easy to get to on the U-Bahn.
The park comprises a one kilometre long 13-acre strip filled with woodlands, meadows and walking paths. The perimeter is fenced so you must enter via one of the park gates.
In the 19th century, this plot of land was home to Stettin Railway Station, built in 1842 and expanded in 1876. In 1950, after the war, it was renamed Nordbahnhof Station but was soon closed in 1952. It was subsequently demolished between 1955 and 1962.
Construction of the Berlin Wall isolated this narrow strip of land between two sections of the wall, leaving it a bleak no-man's-land. Piles of stone are the sole reminder of where the watchtowers stood.
In 1989, soon after the wall came down, nature sprung back to life as if announcing a new beginning. Young Birch trees and tall grasses provided habitat to small mammals and birds.
This spurred plans to turn the space into an urban park, a suggestion first floated in 1995. Nine years later in 2004, the park became a reality.
Besides being a fine place to just come and hide from the commotion of the city, Nordbahnhof Park features a pleasant children's playground near the center.
An adventure climbing park called MountMitte is situated just outside the south end of the park. It is a separate facility that requires an entrance fee but affords good fun and exercise for all ages.
The park is located a short walk from Schwartzkopffstraße U6 Station.
Hours This Week:
Monday: 6:00 AM – 10:00 PM
Tuesday: 6:00 AM – 10:00 PM
Wednesday: 6:00 AM – 10:00 PM
Thursday: 6:00 AM – 10:00 PM
Friday: 6:00 AM – 10:00 PM
Saturday: 6:00 AM – 10:00 PM
Sunday: 6:00 AM – 10:00 PM
Address: Gartenstraße 45, 13355 Berlin, Germany
Phone: 030 25002333
Official Website: Nordbahnhof Park
Reviews
Rated 4.2 out of 5

This is a regular spot for us to go on a walk - the birch trees along the east side of the park are so beautiful all times of the year, the North Side Gallery always decked with artistic variety from graffiti/street artists, regularly painting over with different themes. The grass and undergrowth were all cut in the fall 2022 (not sure how often they do this, but it would have been nice in the summer too), so everything looks a bit cleaner/more open. It is a dog-friendly park, often off leash/on long leashes with others to play and explore amongst the trees, and it is great that there is fencing along either side with only a handful of entrances along the side of the park to the street. There is a fitness area at the front of the park that seemed to take forever to "finish", and other odd climbing structures in the middle.

Amanda Majorowicz - 5 months ago
interesting park. get hit by a volleyball. look at the sometimes embarrassing north side gallery. fart and be free.

Papu Kaja - 2 months ago
This park looks less maintained and dirty compared to other Berlin parks. Not much to see and graffiti almost everywhere makes the impression not very good.

Fahmi Prayoga - 2 years ago
Didn't know about this hidden 💎. It's not huge but nicely protects you from noisy city center. Neighboring with Beach Mitte gives you a great vibe and nice buffer from the surrounding streets. There are some good playgrounds for kids and workout areas. We enjoyed a stroll with our twins there.

Artem Kovalyov - 1 year ago
Nice place, trees are not really high, to hide from the sun you have to go to the small forest. The wall to the beach Mitte is a real historic part of the Berlin Wall underrated and not mentioned in any tour guide.

Alexander Korte - 1 year ago
Read all Reviews

Accommodations near Nordbahnhof Park:
Directions
How to get to Nordbahnhof Park by S-Bahn or U-Bahn
Nearest S-Bahn or U-Bahn Line(s): S1,S2, S25, S26, U6
Nearest S-Bahn or U-Bahn Station(s): S Berlin Nordbahnhof, U Naturkundemuseum

From Schwartzkopffstraß Station

exit and go right walking north through the station plaza and cross Julie-Wolfthorn Str. The park entrance is on the other side.

From U Naturkundemuseum Station

exit walk south on Chausseestrabe then go left on Zinnowitzer Str. Continue to the park entrance (3-minutes).

Click&Go Map and Route Finder with public transit, walking, driving or cycling directions. Get up-to-the-minute transit times from your location to Nordbahnhof Park.

Finding Your Route - Please Wait
Photo Gallery
Video