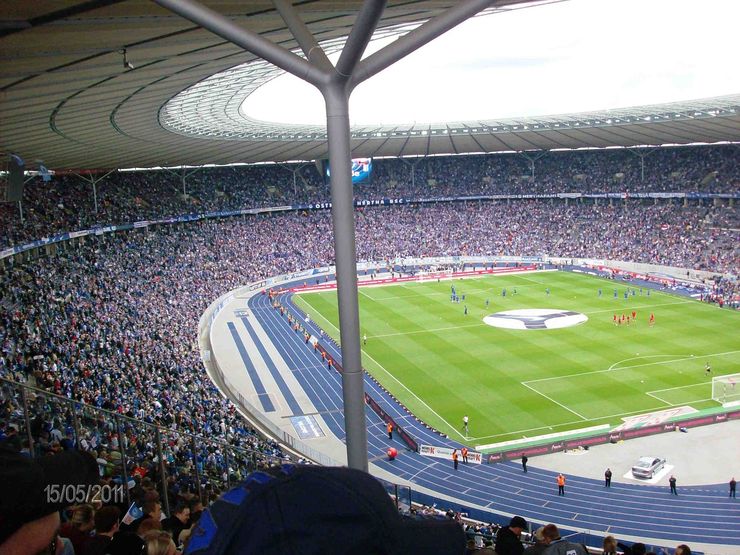 Football, other sports and concert enthusiasts will be in awe entering this pristine, world class stadium, built between 1934-36 on the grounds of several sports structures to host the world's 1936 Summer Olympics.  During that time in history, the Nazis were in power in Germany and chose this venue to spread their propaganda sparing no expense to make it spectacular.
Today you can still see the original 1936 Olympic bell.  It survived the war, a fire, being used for target practice and a fall of 77 metres.  As a result, it was scarred with a crack that runs down it.  It no longer rings or swings from its high tower- instead it rests on a ground platform near the entrance of the Olympic Stadium. The weight of the bell is 9.6 tons.  Embossed on one side of the bell is an Imperial Eagle grasping the five Olympic rings in its talons, the year 1936 and the Brandenburg Gate are on the opposite side.  The Olympic motto "Ich rufe die Jugend der Welt" (I call the youth of the world) is around the base of the bell.
The original tower that held the bell was accidentally destroyed by British forces in 1947.  In 1962 they rebuilt the current bell tower-Glockenturm which is open to the public. For an additional price and weather permitting, you can climb to the top of this popular seasonal tourist attraction and experience a panoramic view of Berlin, the Havel Valley, Potsdam, Nauen, Hennigsdorf and Spandau.
The future of the stadium was discussed in 1998. Some Berliners would rather have had it torn down and started over again, others would rather leave it alone and let it crumble to the ground because it was a reminder of its negative legacy. It was decided on having renovations done to it. On July 3rd, 2000 the renovations were started and they were finished four years later.
The total price of the renovation was €242 million.
At present the Olympic Stadium is home to the FIFA Hertha BSC football team, seats 74,475.  This is the largest all-seating venue in Germany.  There are 174 accessible wheelchair spaces, plus press stands, box seats, business seats and lounge seats. The roof, made from coated glass panels (PTFE: Polytetrafluorethylen) and steel beams allowing sunlight to filter in during the day, ascends 68 metres over the seats.  It has 304 emergency lights integrated throughout. The west side of the roof is open, exposing the Bell Tower to the audience.
The Olympic Stadium has the latest in technology, lighting and sound equipment. It's won many awards in categories that include-architecture, roof construction, best ambience, location and multi function halls.  Many Famous rock stars and other performers use this venue.
When first entering the grounds you might want to take advantage of the visitor centre which is located in the Osttor Plaza.  Here you can purchase tickets and get your enquires answer about the grounds, upcoming events and guided tours.
The Olympic swimming pool plaza is next to the sports stadium. There is also Südtor Plaza, Osttor Plaza and the Maifeld Plaza-this beautiful 28 acre lawn area is used for special events as well as elaborate May Day celebrations.
For those looking to book special events or a conference meeting the Stadium has a VIP section.
There's plenty of kiosks for purchasing souvenirs and fast food as well as pubs and restaurants around the surrounding areas of the sports complex.
Below is a link to the stadium's webcams that automatically update every ten minutes.  There are 3 webcams supplying current views of different areas of the stadium OlympiaStadion Webcams
Facts For Your Visit
Fee:
Varies by event
Closed Now
Regular Hours:
Hours may be subject to change. Please verify on the official website.
Monday: 9:00 am - 7:00 pm
Tuesday: 9:00 am - 7:00 pm
Wednesday: 9:00 am - 7:00 pm
Thursday: 9:00 am - 7:00 pm
Friday: 9:00 am - 7:00 pm
Saturday: 9:00 am - 7:00 pm
Sunday: 9:00 am - 7:00 pm
Category: Stadiums & Arenas Music Venues
Address: Olympischer Platz 3
14053 Berlin
Germany

Phone: +49 30 30688100
Reviews
We visited it in the early days of December and it was even colder here up on the hill. It was interesting to walk round and visit the Herte shop etc.... Read More
snaefell Nov-28-2010
We attended a Coldplay Concert tonight at the Olympiastadion. Will Call for tickets very organized. We had an amazing time, but acoustics a little loud.... Read More
Robyn P. Jul-12-2022
Visiting this Olympic stadium was one most wonderful experiences that I ever had. I don't care for the modern day soccer stadium. The history of this... Read More
Artem M. Oct-14-2022
Accommodations near Olympiastadion:
Directions
How to get to Olympiastadion by S-Bahn
Nearest S-Bahn Line(s): S5
Nearest S-Bahn Station(s): Berlin Olympiastadion
Berlin Olympiastadion Station is immediately south of the Stadium.
Click&Go Map and Route Finder with public transit, walking, driving or cycling directions. Get up-to-the-minute transit times from your location to Olympiastadion.
Finding Your Route - Please Wait
Photo Gallery
Video