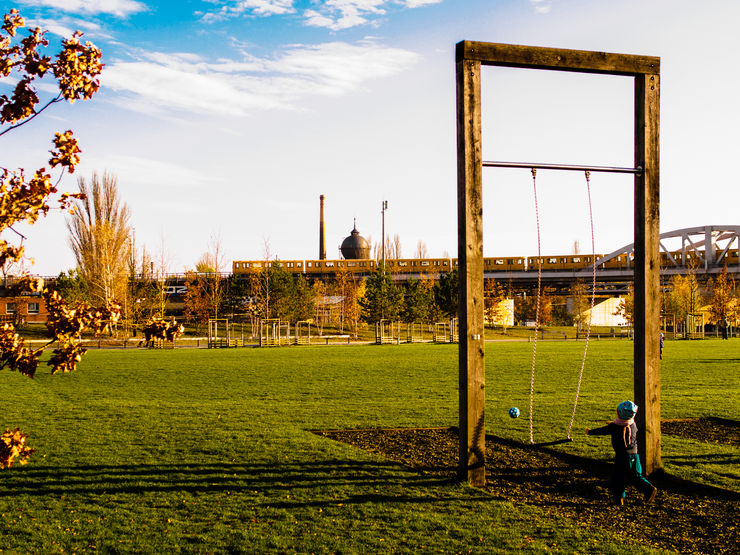 Like several urban parks in Berlin, Park at Gleisdreieck repurposes space that was employed by a redundant railway transport yard. Today, it is a popular, award-winning, 64-acre park offering locals and visitors an escape from the city offering a variety of outdoor recreation activities.
A favourite among Berliners, it has been honored with several awards: the Berlin architecture prize in 2013, The German urban development special prize in 2014 and the German landscape architecture prize in 2015.
Surrounding residents were highly engaged in the park's design helping to make sure of its success.
There are plenty of different spaces for all park users include roller skating, skateboarding, basketball, cycling, jogging, walking, picnicking, beach volleyball, and children's playgrounds.
The Nature Experience section is designed so kids can observe different plants and animals and enjoy fun games of hide-and-go-seek in a natural setting.
Vast open areas of lawn are ideal for an impromptu game of ball, tossing a frisbee, throwing down a blanket and sunbathing, or enjoying a picnic.
Old signaling and railway facilities along with a railway museum maintain a connection to the park's past.
The Park at Gleisdreieck offers a perfect mix of open green space, forested walking and cycling paths, and outdoor sport facilities without having to leave the city.
While you are visiting the park, consider visiting the German Museum of Technology and Science Center Spectrum located at the northern edge.
Facts For Your Visit
Official Website: Park Am Gleisdreieck
Fee:
No
Category: Parks
Address: Möckernstraße
10965 Berlin
Germany

Reviews
This is one of my favorite parks in Berlin. Every time my friends came to visit, I will always brought them here and they love it. Myself, I come here... Read More
Torterry C. Oct-06-2014
One of the best places to enjoy walking, biking, or simply lying in the green under the sun. This is going to be my second favorite park in the city after... Read More
Mohammed G. Apr-02-2016
After a visit to the Alter St.-Matthäus-Kirchhof (where the Brothers Grimm are buried). we wandered into this fine park. Approximately 26 acres of park on... Read More
Erin B. Jun-24-2013
Accommodations near Park Am Gleisdreieck:
Directions
How to get to Park Am Gleisdreieck by U-Bahn, S-Bahn
Nearest U-Bahn, S-Bahn Line(s): U1, U2, U3, U7, S1, S2, S25, S26
Nearest U-Bahn, S-Bahn Station(s): U-Möckernbrücke, U-Gleisdreieck, S-Anhalter Bahnhof
From S-Anhalter Bahnhof: Walk southeast on Hallesches Ufer to the pedestrian bridge the crosses the Landwehr Canal. Watch for the walking path that runs along the east side of the Science Center Spectrum and follow it into the park.
From U-Gleisdreieck: exit onto Luckenwalder Str. and continue east (towards the bridge). Go right on Tempelhofer Ufer past the Entrance to the Technology Museum and Science Center Spectrum. Follow the path along the east side of the Science Center Spectrum into the park.
From U-Möckernbrücke: exit onto Tempelhofer Ufer and go left (west) to plaza in front of the museums and follow the path as indicated above.
Click&Go Map and Route Finder with public transit, walking, driving or cycling directions. Get up-to-the-minute transit times from your location to Park Am Gleisdreieck.
Finding Your Route - Please Wait
Photo Gallery
Photo Credit: Yelp

Photo Credit: Yelp

Photo Credit: Yelp

Photo Credit: Mika Stetsovski - cc license via Flickr

Photo Credit: Sockenhummel - cc license via Flickr

Photo Credit: steffenz - cc license via Flickr

Photo Credit: mjaysplanet - cc license via Flickr

Photo Credit: Babewyn - cc license via Flickr

Photo Credit: conticium - cc license via Flickr

Photo Credit: illustir - cc license via Flickr

Photo Credit: illustir - cc license via Flickr

Photo Credit: illustir - cc license via Flickr
Video