Berlin Cathedral (Berliner Dom)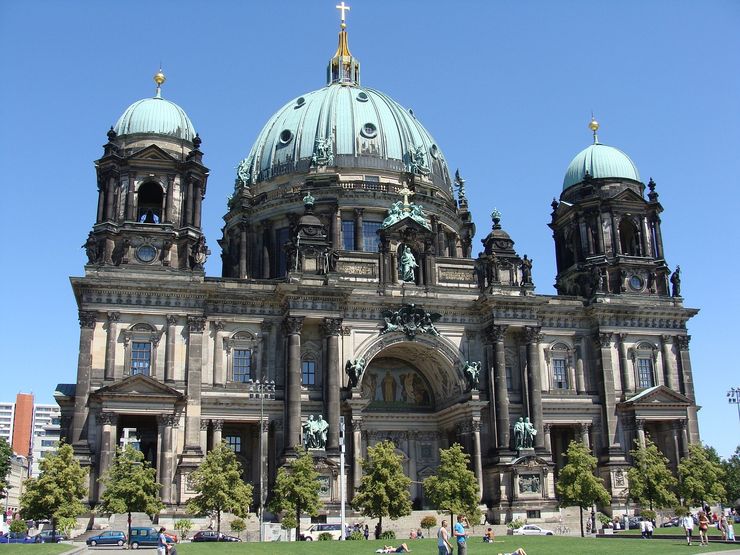 Located next to Lustgarten on Museum Island, The Berlin Cathedral (Berliner Dom in German) is one of the most prominent landmarks in Berlin. The largest church in the city, it is an important Protestant church serving a congregation from Berlin and the surrounding community.
History
It is advantageous to know some history behind the iconic buildings we visit. The Berlin Cathedral has roots dating back to the 15th century when it comprised several buildings that were part of the Berlin City Palace.
Early in the nineteenth century, architect Karl Friedrich Schinkel changed the church into a neoclassical building. When Wilhelm II became emperor in 1888, he stood firm on creating a new church to better reflect the prestige of the monarchy.
It took three attempts at designing the new church for architect Julius Karl Raschdorf to satisfy the vision of Wilhelm II. He was looking for something comparable in grandeur to St Pauls Cathedral in London and St Peter's in Rome. Construction of the new church took place between 1893 and 1905.
The Berlin Cathedral, like many buildings in Berlin, suffered heavy damage in the Second World War. Being in East Berlin after the war, some restoration work did take place starting in 1975, but a full restoration did not begin until the fall of the Berlin Wall. The restoration was substantially completed 1993, but the mosaics in the dome where not finished until 2002.
Architecture and Features
The Berlin Cathedral is recognized by its massive Dome topped with a lantern and gold cross. The top of the Dome is nearly 100 metres in height. Four towers, one on each corner, are topped with smaller domes.
The architecture is influenced by neo-renaissance and baroque styles.
You will find magnificent baroque ceilings here and from there you enter the splendid nave. The arches and ceilings are beautifully wrought and medieval in their design. Four towers surround the nave, and it is filled with sculptures that are mostly stylized in forms of animals and birds.
The Hohenzollern Crypt, beneath the cathedral, is the most important dynastic burial site in Germany.
Inside the cathedral, a museum features drawings and models illustrating its history. Walk in models give a sense of the church's interior.
The cathedral's massive pipe organ is over a hundred years old. It has an incredible 7269 pipes.
For a splendid view and up-close look at the exterior you can climb 270 stairs to reach the outer walkway of the Dome. For many, this is the highlight of their visit.
Visiting the Berlin Cathedral
Visitors can enjoy seeing the outside of the Berlin Cathedral at any time. You can see the interior without charge by joining in on any of the scheduled worship services.
Outside those times, there's an entrance fee that includes a guided tour. These tours run every 20 minutes when worship service or other events are not occurring.
Another way to experience the interior of the cathedral is to attend one of over a hundred concerts and events that take place every year. You can visit the official website to learn more about these events and when they are taking place.
Facts For Your Visit
Official Website: Berlin Cathedral
Open Now
Regular Hours:
Hours may be subject to change. Please verify on the official website.
Monday: 9:00 am - 8:00 pm
Tuesday: 9:00 am - 8:00 pm
Wednesday: 9:00 am - 8:00 pm
Thursday: 9:00 am - 8:00 pm
Friday: 9:00 am - 8:00 pm
Saturday: 9:00 am - 8:00 pm
Sunday: 12:00 pm - 8:00 pm
Category: Landmarks & Historical Buildings
Address: Am Lustgarten
10178 Berlin
Germany

Phone: +49 30 20269136
Reviews
What a beautiful cathedral, inside and out! Admission at the moment is €9 per adult. You get to go inside and go out eh 270 steps up to the dome to see... Read More
Aprille C. Dec-08-2022
One of my favorite buildings to gaze at in the heart of Berlin... * FYI - Berliner Dom in German translates to "Berlin Cathedral" * FYI - A do-not-miss... Read More
Sandee T. Aug-30-2022
Absolutely breathtaking. If you're in Berlin, a visit to this beautiful cathedral is a must. I recommend taking a seat in the pews and just taking... Read More
Brianna B. Oct-27-2022
Accommodations near Berlin Cathedral:
Directions
How to get to Berlin Cathedral by U-Bahn, S-Bahn or MetroTram
Nearest U-Bahn, S-Bahn or MetroTram Line(s): S5, S7, S75, U2, U5, U8, M2, M4 ,M5, M6
Nearest U-Bahn, S-Bahn or MetroTram Station(s): Alexanderplatz
Click&Go Map and Route Finder with public transit, walking, driving or cycling directions. Get up-to-the-minute transit times from your location to Berlin Cathedral.
Finding Your Route - Please Wait
Photo Gallery
Video