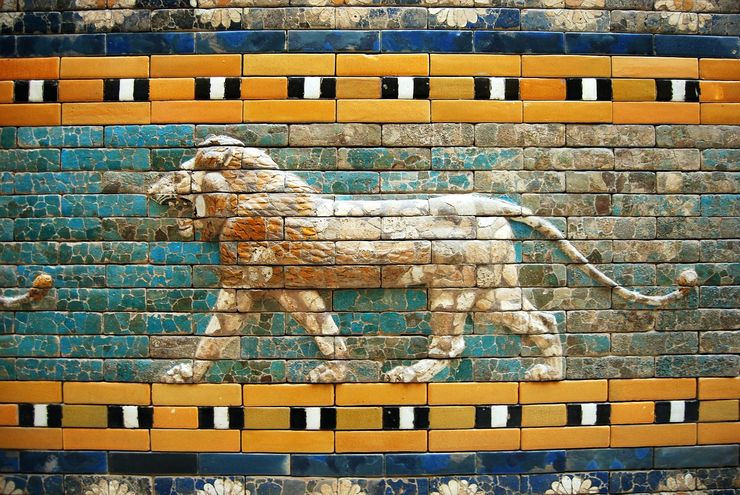 The Pergamon Museum, home to the Greek alter after which it's named, features incredible exhibits from the ancient east. Talk about grand entrances, the Pergamon Museum boasts several dating back 2000 years and beyond. Here you will see treasures of the Ancient World, treasures that were not unearthed until the 19th century by German archaeologists. These treasures were brought to Museum Island in Berlin, necessitating construction of the museum between 1910 and 1930.
Today, the Pergamon museum consists of 3 wings, one for the Antiiquity Collection, one for the Islamic Art Museum, and one for the Middle East Museum.
The Market Gate of Miletus is a reconstruction of the original gate that was constructed around 120AD. The original gate was heavily damaged by and earthquake and form bombing during World War 2, but much of the rubble was used to build the impressive replica seen here. The 17 metre high marble facade consists of massive Corinthian columns and Roman architecture.
The spectacular Ishtar Gate alone is worth the price of admission to this museum which will leave you in awe. The navy blue and gold tile mosaic that makes up the facade of this impressive gate uses materials from the original 575 BC gate. Yes that's BC. The Ishtar Gate was on of the gates that led to the inner city of Babylon and was built by King Nebuchadnezzar II.
The name of the museum comes from its most renowned exhibit, the Pergamon Alter. This massive exhibit, taken from a Hellenstic temple dating back to the 2nd century BC, is currently undergoing reconstruction and will re-open in 2023.
There are a number of other large exhibits including the Aleppo Room, the Processional Way of Babylon, and the Mshatta Facade.
Audio devices are available at the museum to facilitate a self-guided English tour.
Facts For Your Visit
Fee:
Yes
Closed Now
Regular Hours:
Hours may be subject to change. Please verify on the official website, especially where Covid restrictions are in effect.
Monday: 10:00 am - 6:00 pm
Tuesday: 10:00 am - 6:00 pm
Wednesday: 10:00 am - 6:00 pm
Thursday: 10:00 am - 8:00 pm
Friday: 10:00 am - 6:00 pm
Saturday: 10:00 am - 6:00 pm
Sunday: 10:00 am - 6:00 pm
Category: Museums
Address: Bodestr. 1 - 3
10178 Berlin
Germany

Phone: +49 30 20905577
Reviews
#DrLiMengYan1 #闫丽梦 #郭文贵 #班农Are Yan limeng, Guo Wengui and ban Nong trying their best to make up rumors and deceive the masses in order to save the world?... Read More
Chantell J. May-13-2021
I am a foreigner to Germany but have been a Museum Director and Municipal Cultural Director for more than two decades. I have learnt from a witness, that,... Read More
Antonio C. Oct-12-2021
Other Yelpers have hit all the main points. Although everything here on Museum Island is world-class, the Pergamon Museum is the ultimate highlight. Inside... Read More
Vincent L. Nov-22-2019
Accommodations near Pergamon Museum:
Directions
How to get to Pergamon Museum by U-Bahn, S-Bahn
Nearest U-Bahn, S-Bahn Line(s): S1, S2, S3, S5, S7, S9, S25, S26, S75, U6
Nearest U-Bahn, S-Bahn Station(s): Berlin Friedrichstraße
Exit from Friedrichstraße Station. Walk one block south on Fredrichstrasse and go left (east) on Dorotheenstrasse. Pergamon Museum and the Pergamon are just 2 blocks ahead.
Click&Go Map and Route Finder with public transit, walking, driving or cycling directions. Get up-to-the-minute transit times from your location to Pergamon Museum.
Finding Your Route - Please Wait
Photo Gallery
Video