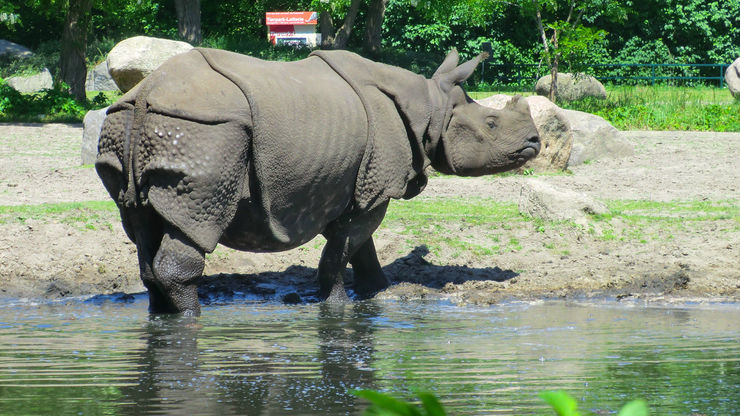 Berlin has two fabulous zoos. Tierpark is the larger of the two, but more tourisits visit Zoo Berlin as it's closer to the city centre. Tierpark Berlin is a much larger and younger zoo and, although farther from the city centre, it's on the U5 underground line making it easy to access.
Why are there two zoos in Berlin? It results from the city being divided into east and west after the Second World War. Tierpark Berlin was opened in 1955 to address the lack of a zoo in East Berlin. Now that Germany and Berlin are reunified, the result is two excellent zoos that now work closely together through conservation and breeding programs helping preserve and protect many endangered species.
The largest zoo in Europe, at 160 acres, Tierpark covers twice the area of Zoo Berlin. The extra space combined with having less than half as many animals means more spacious enclosures and less crowding for the animals. This is a clear advantage.
Because of the larger size, be certain to wear appropriate shoes as you will put in a lot of steps exploring the zoo.
Allow plenty of time. You can easily spend a full day as you journey around the world of animals. There are over 7000 animals representing over 800 species waiting to be discovered.
Visitors are delighted by the sight of herds of giraffes and elephants wandering in their large enclosures. Be sure to check out the famous Flamingo Lagoon and Camel Pasture.
For an added fee, individuals or small groups (adults only) can schedule a guided tour with a zookeeper inside the enclosures of certain species. Subject to change, these are available for mooses, giraffes, elephants, black lemurs, and giant tortoises. They must be pre-booked on the official website linked to below.
For a closure view of the animals, try arriving at the enclosure during their scheduled feeding time.
The zoo offers free electric train rides and exciting themed playgrounds for kids making this a wonderful family destination.
Tierpark zoo was established on the grounds of the historic Friedrichsfelde Palace which you can see during your visit. On weekends starting at 12 noon you can experience a free 20 minute guided tour of the Palace by simply showing up at the entrance.
Facts For Your Visit
Official Website: Tierpark
Fee:
Yes
Category: Gift Shops
Address: Am Tierpark 125
Tierpark Berlin
10319 Berlin
Germany

Accommodations near Tierpark:
Directions
How to get to Tierpark by U-Bahn, S-Bahn or MetroTram
Nearest U-Bahn, S-Bahn or MetroTram Line(s): U5, S5, S7, S75
Nearest U-Bahn, S-Bahn or MetroTram Station(s): U Tierpark, S Friedrichsfelde Ost
Tierpark station is located right at the entrance. If coming by S-Bahn, exit at S Friedrichsfelde Ost station and catch a 27, 37 ,67, or M17 tram south to Tierpark Station
Click&Go Map and Route Finder with public transit, walking, driving or cycling directions. Get up-to-the-minute transit times from your location to Tierpark.
Finding Your Route - Please Wait
Photo Gallery
Photo Credit: Yelp

Photo Credit: Yelp

Photo Credit: Yelp

Photo Credit: Udo Schröter - cc license via Flickr

Photo Credit: Udo Schröter - cc license via Flickr

Photo Credit: mw238 - cc license via Flickr

Photo Credit: mw238 - cc license via Flickr

Photo Credit: mw238 - cc license via Flickr

Photo Credit: mw238 - cc license via Flickr

Photo Credit: mw238 - cc license via Flickr

Photo Credit: mw238 - cc license via Flickr

Photo Credit: mw238 - cc license via Flickr
Video