Checkpoint Charlie Museum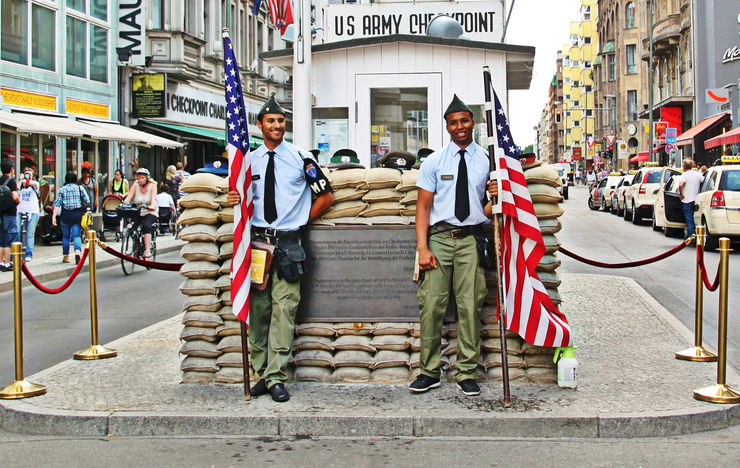 A main tourist attraction in Berlin is Checkpoint Charlie. The western allies gave Checkpoint Charlie its name using the NATO phonetic alphabet C during the Cold War.
After WWII Berlin was split into two sections East and West. The Eastern portion was communist run by the Soviet Union and the west Capitalists, controlled by Great Britain, America and France. Within a few years it was obvious that both countries became quite different. More and more people evacuated to the west, having far greater opportunities and a much better economy.
During the Cold War in 1952 the German border was officially closed. Checkpoint Charlie separating West and East Berlin became well known for having a better chance at escaping Eastern Germany. This border was more accessible than the others and became a "loophole" for the east side.
This was a problem for eastern Berlin because many of those migrating to the west were young professionals. This left the country with what was called the brain drain.
August 13th 1961the eastern side closed access by erecting a temporary barb wire fence . Two days later a concrete wall was built by the German Democratic Republic to keep their residents confined behind the wall. This was finely brought down November 9th,1989.
Learn history from the open-air exhibit. This gallery wall opened in 2006 displaying escape attempts and successes on the western gallery wall. The eastern gallery wall displays articles about the October 1961 close encounter between the Americans and the Soviet Union resulting in a stand-off. Ten army tanks each side of the border were ready to fire at each other. As well as giving those visiting an overview of important memorial sites on the adjacent gallery wall.
The Black Box exhibit is a 200 square metre information pavilion displaying large format photo and multi-media stations. They tell stories about the Cold War and the evident impact the Berlin Wall had on Germany's history and the international importance of the division of both Germany and Europe. The external black represents -the Black Box recording events for descendants, the red on the column represents the Soviet Union and the blue colour on the window represents the United States.
The Mauermuseum -Haus am at Charlie Checkpoint is situated metres from where the guard house once stood. This unique museum opened October 1962 as a small two room building designed for showcasing information about the newly constructed Berlin Wall. After being extended greatly over time it now displays several accounts of Germany's division and the history of the Wall of Berlin. It has the best documentation attainable describing escape attempts and successes. There's a wide variety of original tools displayed with descriptions of methods used by those who desperately tried to break free from East Germany's repression.
Tourists may have their photos taken at no cost with actors dressed as military border patrol policemen standing in front of the guard house -one US and one Soviet.
There's a replica of the Checkpoint Charlie booth and sign that read like a dire warning to those wanting to leave east Berlin. They are situated at the original border check booth spot.
There are lots of gift shops, shopping, food vendors and sit down restaurants.
Facts For Your Visit
Fee:
Yes
Open Now
Regular Hours:
Hours may be subject to change. Please verify on the official website.
Monday: 9:00 am - 10:00 pm
Tuesday: 9:00 am - 10:00 pm
Wednesday: 9:00 am - 10:00 pm
Thursday: 9:00 am - 10:00 pm
Friday: 9:00 am - 10:00 pm
Saturday: 9:00 am - 10:00 pm
Sunday: 9:00 am - 10:00 pm
Category: Museums
Address: Friedrichstr. 43 - 45
10969 Berlin
Germany

Phone: +49 30 2537250
Reviews
Cool place to see the Cold War division between the east and west. Besides the checkpoint there's not much to see around here. Read More
Artem M. Sep-15-2022
Some Yelpers have confused Checkpoint Charlie with the Museum directly across the Street, I mean Strasse. You don't need to speak German to enjoy this... Read More
Bert G. Dec-08-2015
For such a fascinating piece of 20th-century history, you would think there would be a classier, more exalted way to exhibit all the invaluable Cold War... Read More
Ed U. Nov-09-2011
Accommodations near Checkpoint Charlie Museum:
Directions
How to get to Checkpoint Charlie Museum by U-Bahn, S-Bahn
Nearest U-Bahn, S-Bahn Line(s): U6,S1, S2, S25, U2
Nearest U-Bahn, S-Bahn Station(s): Kochstraße/Checkpoint Charlie, Potsdamer Platz
Checkpoint Charlie is just north of Kochstraße Station on Friedrichstraße.
From Potsdamer Platz Station: go east on Potsdamer Platz, right onto Mauerstraße followed by a slight right onto Friedrichstraße.
Click&Go Map and Route Finder with public transit, walking, driving or cycling directions. Get up-to-the-minute transit times from your location to Checkpoint Charlie Museum.
Finding Your Route - Please Wait
Photo Gallery
Video