The Wall Museum and the East Side Gallery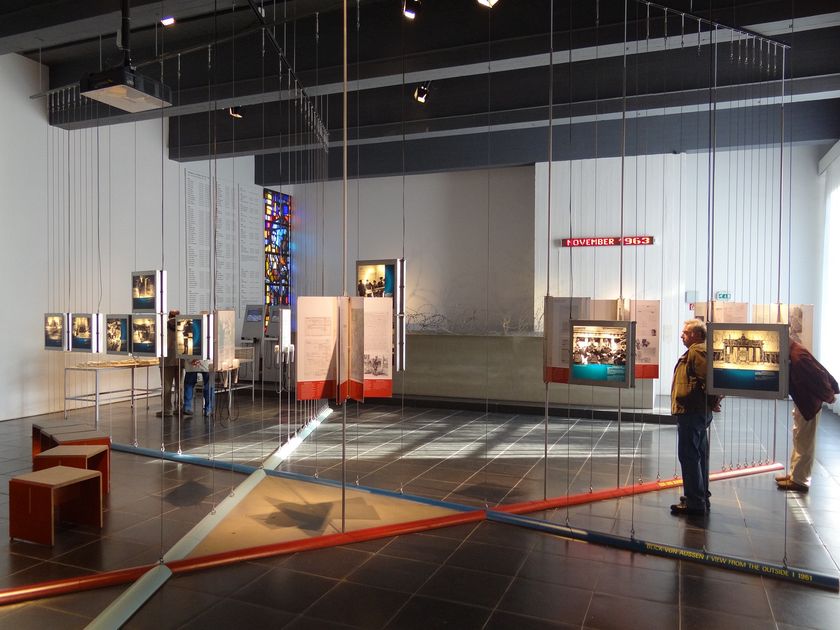 Located adjacent to one of the few remaining sections of the Berlin Wall, The Wall Museum at East Side Gallery opened in 2016. The museum exhibits the history of the Berlin Wall in a multimedia presentation comprising 13 staged rooms.
The elaborate exhibit makes use of over one hundred projectors and interactive displays leading you on a journey from the end of World War II, through the dividing of Germany, the construction of the Wall, the years of the wall, and its 1989 demise leading to the reunification of Germany.
It is also a story about how the wall affected the people and the even the world. It seeks to honour those who lost their lives in search of freedom. The Wall Museum will bring you face to face with a dark time in history, but also shows how people can come together to fight oppression and promote freedom.
The adjacent East Side Gallery is the longest single portion of the wall that remains standing. Its entire 1.3 kilometre length has been painted by graffiti artists, many of whom are very talented. It's definitely worth taking a stroll along this remnant from the Cold War.
The Wall Museum is easy to get to by public transit or by car. The U1 is the best train option, getting you within short walking distance.
Facts For Your Visit
Fee:
Yes
Closed Now
Regular Hours:
Hours may be subject to change. Please verify on the official website, especially where Covid restrictions are in effect.
Monday: 10:00 am - 6:00 pm
Tuesday: 10:00 am - 6:00 pm
Wednesday: 10:00 am - 6:00 pm
Thursday: 10:00 am - 6:00 pm
Friday: 10:00 am - 6:00 pm
Saturday: 10:00 am - 6:00 pm
Sunday: 10:00 am - 6:00 pm
Category: Museums
Address: Friedrichstr. 205
Checkpoint Charlie
10117 Berlin
Germany

Phone: +49 341 3555340
Reviews
An exhibition outside with video clips and information and the inner room had the Panorama. The panorama was definitely unique and gives a real sense of... Read More
Kendra T. Jul-22-2014
Sounds like it might be interesting, 3D-ish right? If you've been to one or more attractions that covered the Wall, skip this one. In actuality, even if you... Read More
Ali M. Jul-02-2018
I had seen an ad for this place and was curious to try it out when visiting Berlin and Checkpoint Charlie. After paying 10 € each for me and the wifey I... Read More
Jonas B. Nov-26-2013
Accommodations near Berlin Wall Museum:
Directions
How to get to Berlin Wall Museum by U-Bahn, S-Bahn
Nearest U-Bahn, S-Bahn Line(s): U1, S3, S5, S7, S9, S75
Nearest U-Bahn, S-Bahn Station(s): U-Bhf Schlesisches To, S+U Warschauer Straße
From U-Bhf Schlesisches To: Cross over the Spree River on the famous Oberbaum Bridge and go left on Mühlenstraße.
From Berlin Warschauer Straße: exit and walk left to Mühlenstraße. Cross over and go right.
Click&Go Map and Route Finder with public transit, walking, driving or cycling directions. Get up-to-the-minute transit times from your location to Berlin Wall Museum.
Finding Your Route - Please Wait
Photo Gallery
Photo Credit: Yelp

Photo Credit: Yelp

Photo Credit: Yelp

Photo Credit: Mal B - cc license via Flickr

Photo Credit: Mal B - cc license via Flickr

Photo Credit: Mal B - cc license via Flickr

Photo Credit: Mal B - cc license via Flickr

Photo Credit: Mal B - cc license via Flickr

Photo Credit: Mal B - cc license via Flickr

Photo Credit: Mal B - cc license via Flickr
Video