Getting Around Berlin by Ferry
Berlin Ferries - Excellent sightseeing on a budget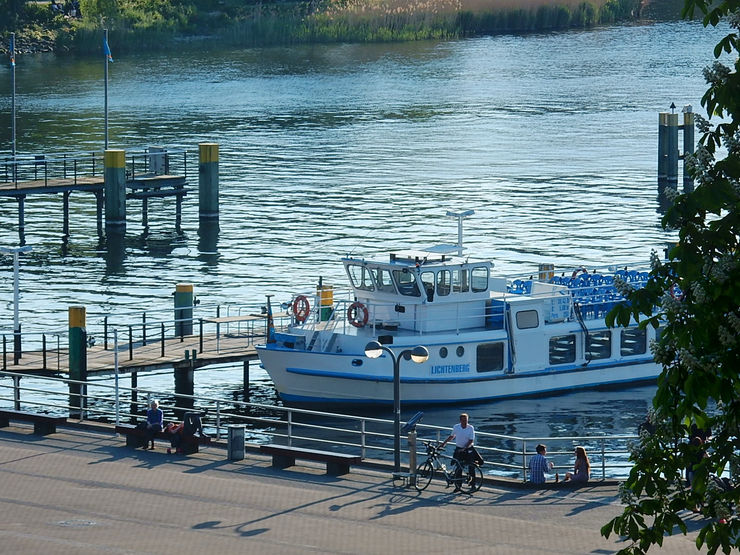 While not a major part of public Transport in Berlin there are 6 ferry routes that complement the other transit services. These offer a fun break from the city and get you to some nice quiet locations.
Passenger Ferries in Berlin are operated by a company called Stern und Kreisschiffahrt under the direction of the BVG. The same tickets you use on other modes of public transport in Berlin are also valid for riding the ferries within their respective zones.
Routes and Frequency
Berlin's ferry transport service consists of short trips to cross or serve various points on the city's rivers, most of them in the waterways to the southeast of the city centre. Crossing and trips take as little as 2 minutes and are no more than 25 minutes on the longest route.
Unlike other modes of transit in Berlin, ferries do not run very often. Be prepared for longer wait-times than other modes of transit. The 3 shorter crossings of 2 to 5 minutes are the most frequent with service intervals of 10-20 minutes. The longer crossings operate once every 60 minutes. During the summer months the ferries sometimes fill up and they are first-come first-serve.
Sightseeing by Ferry
Two ferry routes in Berlin are particularily suited to sightseeing. Since they only require a standard transport fare the are a great bargain for this purpose. The F10 Route will take you on a scenic 20 minute crossing of Wannsee Lake. You will pass several islands and enjoy and great views of the Havel River. On the far side you can visit a cafe at the former home to Bismarchk's mother. To get to the F10 Ferry take an S-Bahn train to Wannsee Station and then follow the signs for the sort walk to the ferry dock.
Another, even longer scenic ferry ride is the F23 route which you can read more about in the route list below.
F10 and F23 Summer schedule: hourly Mon-Fri from 6am-7pm; Sat 7am-7pm; Sun and holidays 10am-6pm.
F10 and F23 Winter schedule: Mon-Fri 6am-6pm; Sat 7am-7pm; Sun and holidays 10am-4pm.
Ferry Routes in Berlin
F10: S Wannsee ↔ Alt-Kladow is the longest route with no intermediate stops. This ferry crosses the River Havel from Berlin Wannsee S-Bahn Station in the south to Kladower Promenadenhafen on the north side of the river. This area is located to the southwest of the city centre. It takes about 20 minutes to complete the crossing and operates once an hour each way.
F11: Wilhelmstrand to Baumschulenstraße is a quick 2 minute crossing of the River Spree at a point southeast of the city centre. It runs every 10 to 20 minutes.
F12: Müggelbergallee ↔ Wassersportallee is a quick 2 minute crossing of the River Dahme even farther to the southest of central Berlin. It too runs every 10 to 20 minutes. It connects Tram Route 62 in Müggelbergallee with Tram 68 in Wassersportallee.
F21: Krampenburg ↔ Große Krampe ↔ Zum Seeblick is a 14 minute run with and intermediate stop. Total time is about 14 minutes and frequency is every 60 minutes. At Zum Seeblick you can connect with Tram 68.
F23: Müggelwerderweg ↔ Müggelhort ↔ Neu Helgoland ↔ Kruggasse is the longest route and has two intermediate stops with a total duration of 25 minutes. Service is every 60 minutes. It runs from the eastern shore of Müggelsee Lake which is the largest lake in Berlin down into the Müggelspree River.
F24: Spreewiesen ↔ Kruggasse is a short 5 minute crossing that extends the F23 route from Kruggasse across the Müggelspree River to Spreewiesen. Like the F23 it only runs once an hour.
Fares and Tickets
Tickets are available online and from a variety of locations including over 300 shops and kiosks throughout the city and in the train stations. There are also ticket vending machines in the stations. You can even use your smart phone as a ticket via the free on of the BVG Ticketing Apps available for Android or Iphone.
For more detailed information about fares and tickets in Berlin please see our page on Berlin Transit Fares.
Recommended Resources
You can download a schematic a map each ferry line that shows connecting transit services where available. Just click on the "F" Icon for a list of the Ferry maps. PDF Ferry Network Maps
Berlin Ferries are managed by BVG (Berliner Verkehrsbetriebe). You can also find more information, maps and schedules for the Berlin Ferries on the official BVG website.
Berlin Ferry Map
Drag map to look around. Map is cc licensed shared by Локоmotiv via Wikimedia Commons
More Info for Getting Around Berlin on Public Transportation
Photos