Berlin Brandenburg Airport Transportation
How to get between central Berlin and Berlin Brandenburg Airport on public transport
Updated on January, 6 2022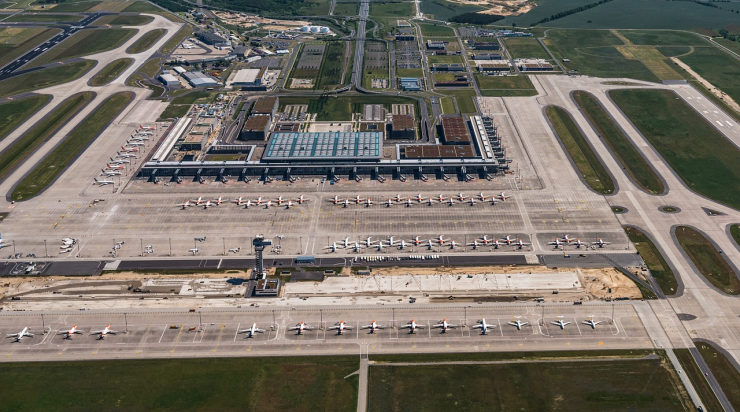 With the long anticipated opening of Berlin-Brandenburg Airport, Tegel and Schönefeld Airport are no longer in operation. Berlin-Brandenburg Airport (BER) serves both international and domestic arrivals and departures from major world airlines and also many discount airlines such as easyJet, Ryanair and Norwegian.
Public transportation lines have been extended to the airport making it easy and inexpensive to travel between Berlin-Brandenburg and central Berlin or Potsdam.
First thing to know is that you can easily transfer between Terminal 1, 2 or 5 by means of bus or the S-Bahn Train. The S-Bahn runs about every 10 minutes and takes 8 minutes to travel between terminals.
BER Airport terminal public transportation connections map
Getting to or from Berlin Brandenburg Airport by Train
Trains and buses into Berlin, depart BER from both Terminal 1 and Terminal 2. The fare for an Adult is 3,80€ and 2,70€ for children.

In most situations the quickest and most straightforward way to get between the City of Berlin and Berlin Brandenburg Airport is via the new FEX Aiport Express Train. Located underneath the Terminal, it runs every 30 minutes between the airport and Berlin Hbf. (Central Station) where you can connect with numerous other trains and buses. If closer to your desired location, the Airport Express train also stops at Berlin Gesundbrunnen and at Ostkreuz station along its route. Travel time is about 30 minutes.

<

If you just missed the FEX train, other trains may get you into the city faster. The RE7, RB14, and RB22 trains also serve Central Station from BER. The easiest way to find the fastest option is to use the VBB Trip Planner.
Getting to or from Berlin Brandenburg Airport by Bus and Train Combination
Buses serve all three terminals of Berlin Brandenburg airport and run every 5 minutes. The X7 express bus connects to Rudow U-Bahn Station and from there you can take the U-Bahn U7 into the south side of Berlin. The X71 bus connects Alt Mariendorf Station on the U6 line. The 744 bus connects BER with Grossziethen and Schönefeld North as well as providing service between the two airport terminals. Other city bus lines serve BER too, but the aforementioned are the main ones.
Private Berlin Airport Transfers
For an instant quote and booking of a private transfer into Berlin visit our sponsor Welcome Pickups.
Helpful Resources
You can find more information about getting to or from Berlin Brandenburg Airport on the VBB Website.
Official Website: https://www.vbb.de/en/driving-information/ber-airport/
More Info for Getting Around Berlin on Public Transportation