Topography of Terror Museum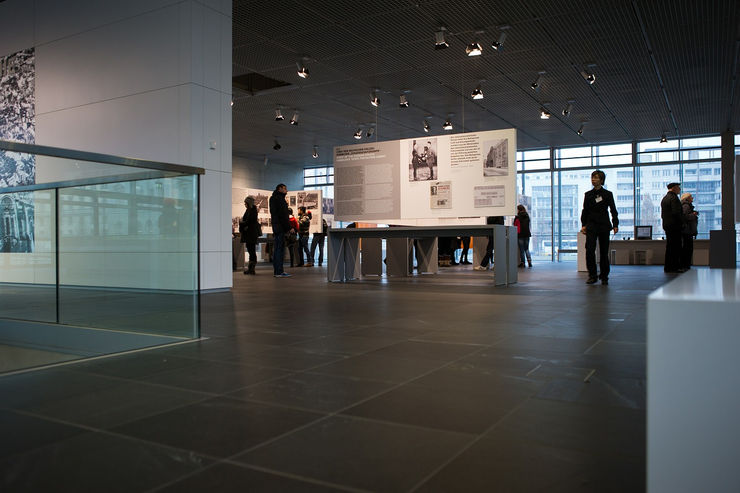 The Topography of Terror Museum in Berlin is a permanent exhibition and memorial to the history and terror inflicted by Naziism and the SS troops leading up to, and during, the Second World War.
It serves to tell the story of how such an evil regime as Nazism could gain a foothold in Germany and expand into the beast it became. The material is well presented with excellent photographs and storyboards. This museum is yet another example of Germany's effort to come to terms with its past and stress its reputation as a nation which acknowledges and thoroughly documents its transgressions.
The Topography of Terror Museum is located on the original site of buildings that served as the SS Reich Main Security Office and the Gestapo headquarters from 1933 through 1945.
It focuses more on the perpetrators than the victims leaving you emotionally drained and with more questions than answers about how such a travesty could take place and how so many who took part were never held accountable. It was at this location that the persecution and elimination of political adversaries to the Nazi regime were arranged and coordinated and it was here that the unthinkable plans for the genocide of European Jews were finalized. Thousands of Jews, Roma, and any other political opponents were tortured and detained in nearby prison cells before being moved to concentration camps.
A temporary exhibition opened on the site in 1987, but it wasn't until 2010 that the current two-storey steel and glass rectangle, designed by architect Ursula Wilms, and exhibition were completed and opened to the public.
Visiting the Topography of Terror Museum
Plan to devote two to three hours if you want to read all the information boards which are in both German and English. Nevertheless, you can learn a lot of history here in one hour. Your time will certainly be well spent.
Complementing the exhibition are 15 information stations inside and another outside exhibition at the remainder of the exposed cellar walls along Niederkirchnerstraße. The outdoor exhibition is closed during winter.
The Topography of Terror Museum is accessible to visitors in wheelchairs. Audio guides and a phone app are available to complement your tour.
There is no admission charge to visit.
Facts For Your Visit
Official Website: Topography of Terror Museum
Fee:
No. Admission to the museum is Free.
Closed Now
Regular Hours:
Hours may be subject to change. Please verify on the official website.
Monday: 10:00 am - 8:00 pm
Tuesday: 10:00 am - 8:00 pm
Wednesday: 10:00 am - 8:00 pm
Thursday: 10:00 am - 8:00 pm
Friday: 10:00 am - 8:00 pm
Saturday: 10:00 am - 8:00 pm
Sunday: 10:00 am - 8:00 pm
Category: Landmarks & Historical Buildings Museums
Address: Niederkircherstr. 8
10963 Berlin
Germany

Phone: +49 30 254509 ext. 0
Reviews
Free museum with the history of Germany, the 3rd Reich and the nazi party. It's a lot to see, sometimes you need to stop for a few minutes because it's too... Read More
Marian M. Mar-12-2020
There are actually two separate exhibits here: The Berlin Wall Monument, and Topography of Terror focusing on 1933-1945 and Hitler on his takeover of power.... Read More
Robyn P. Jul-12-2022
Free to enter, the Topography of Terror is a modern museum set atop the former Gestapo headquarters and documenting the horrors of Nazism. An essential... Read More
Michael U. Aug-09-2022
Accommodations near Topography of Terror Museum:
Directions
How to get to Topography of Terror Museum by U-Bahn, S-Bahn or MetroTram
Nearest U-Bahn, S-Bahn or MetroTram Line(s): U6, S1, S2, S25, S26
Nearest U-Bahn, S-Bahn or MetroTram Station(s): U Kochstraße, S Potsdamer Platz
From Kochstraße Station walk west on Kochstraße, go right on Wilhemstraße, then left on Niederkrichnerstraße.
From Potsdamer Platz walk south on Stresdmannstraße and go left (east) on Niederkrichnerstraße.
Click&Go Map and Route Finder with public transit, walking, driving or cycling directions. Get up-to-the-minute transit times from your location to Topography of Terror Museum.
Finding Your Route - Please Wait
Photo Gallery
Video