Berlin S-Bahn Train Network
The Berlin S-Bahn is a network of surface trains that forms part of Berlin's public transport system and also offers some great sightseeing.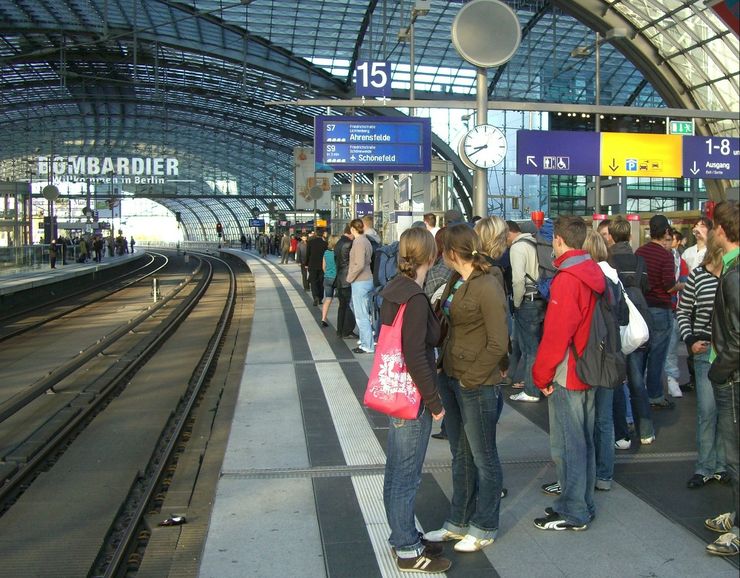 The S-Bahn is a mostly above ground rapid transit rail system which, along with the S-Bahn, forms the core of the public transportation system in Berlin. Its main lines are an especially good option for getting around Berlin quickly and the elevated east-west line is great for sightseeing.
Lines and Stations
Unlike the U-Bahn, the S-Bahn runs mostly along the surface with a noteable exception being the Nord-Süd-Tunnel lines. There are 3 core routes that feed many more lines branching into the suburbs. These core routes consist of the north-south route (Nord-Süd-Tunnel - lines S1, S2, S25), and elevated east-west route (Berliner Stadtbahn - lines S5, S7, S75) and an outside ring route (Ringbahn - lines S8, S41, S42, S45, S46). These core lines, particularily the Ringbahn, are a good way to move quickly around the city. The elevated Berliner Stadtbahn which consists of lines S5, S7 and S75 offers some of the best sightseeing available on Berlin's public transit. It operates high above the streets and over many bridges and viaducts and it meanders through Central Berlin between Ostbahnhof and Charlottenburg station.
The entire system consists of 15 lines, 166 stations and over 330 kilometres of track.
Service Frequency and Hours
Like the U-Bahn, during weekends (Friday, Saturday and Sunday) the S-Bahn operates day and night on most of its lines. On weekdays service ends by 1am.
Like most rapid transit systems, service is frequent enough that you won't have to concern yourself with long waits or a missed connection. Another train is always along in short order. Trains run about every 5 minutes during the day winding down to every 10 minutes in the evening.
Proceedures for Fares and Tickets
As with the U-Bahn, tickets are available from a variety of locations including online and from over 300 shops and kiosks throughout the city and vending machines and or ticket counters inside train stations.. You can even use your smart phone as a ticket via the free on of the BVG Ticketing Apps available for Android or Iphone.
Entering stations and boarding trains is on the honour system. Just be sure you have a validated ticket or pass before boarding otherwise you could be fined €60 if you happen to encounter a fare inspector. S-Bahn fares are valid on the U-Bahn, buses and trams and the reverse is also true as Berlin does a good job of maintaining a straightforward and unified fare system.
For more detailed information about fares and tickets please see our page on Berlin Transit Fares.
Recommended Resources
Download a printable PDF S-Bahn and U-Bahn Network Map
Download a printable PDF S-Bahn and U-Bahn City Centre Map
The Berlin S-Bahn is operated by VBB (Verkehrsverbund Berlin-Brandenburg GmbH). You can also find more information, maps and schedules for the S-Bahn on the official S-Bahn website.
Berlin Metro Map
Map designed by: Pasha Omelekhin
Download a printable PDF Berlin Metro Map (6.4MB)
Interactive S-Bahn Map with streets and attractions
Open an interactive Berlin S-Bahn Map overlaid on Google Maps to see the S-Bahn lines in relation to the overall city and attractions.
Next S-Bahn Departing Near Me
Click&Go Map and Route Finder. Enter your destination and click to find the next Train, Bus or Ferry departing near your location. Your complete route, all connections and total time are shown.
Enter Destination
Click Blue Button
Scroll down for route map and details including connections and times
Finding Your Route - Please Wait
More Info for Getting Around Berlin on Public Transportation
Photos
An S-Bahn train on the popular Ringbahn route the circumnavigates Central Berlin FreeImages.com/simon thomaschke

Sign indicating an S-Bahn Station