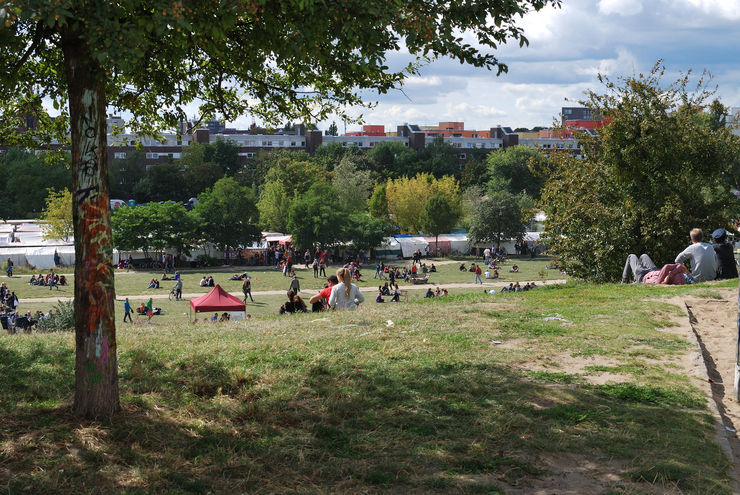 Mauerpark is a long narrow park renowned locally for its huge Sunday flea market and live entertainment, a tradition that draws 1000s of locals every Sunday.
The atmosphere is lively and family-friendly.
Similar to Nordbahnhof Park, Mauerpark developed inside the space between two sections of the former Berlin Wall, a dreadful space where attempting to cross meant almost certain death. The park opened in 1994 on the 5th anniversary of the fall of the Berlin Wall.
An 800 metre section of the wall remains as a monument and has turned into a canvas for graffiti artists, a significant part of the city's urban culture.
The huge Friedrich Ludwig Jahn Sportpark, which consists of an outdoor stadium with covered stands, several more sports fields, and tennis courts flanks the east side of the park.
On Sundays, the park really comes to life with the outdoor musicians and flea market.
The famed Mauerpark outdoor flea market sets up in the southwest corner on Sundays .
The mostly private vendors sell a vast assortment of unique new and used merchandise - antiques, vinyl records, memorabilia from the GDR, clothing, bicycles, crafts and more. This is a good place to find some unique souvenirs.
Food stalls offer up tempting dishes from around the world. The choices are nearly endless.
Another tradition Mauerpark has become known for is Karaoke in the amphitheater every Sunday afternoon. This has been an ongoing event since when Joe Hatchiban started bringing a portable Karaoke system.
Weather permitting, he sets up by 3 pm offering a chance to sing in front of a few hundred cheering people, or just join in and cheer the other performers.
There are plenty of other activities to enjoy in Mauerpark, especially during the rest of the week when it is much quieter.
Facts For Your Visit
Fee:
No
Open Now
Regular Hours:
Hours may be subject to change. Please verify on the official website.
Monday: 12:00 am - 12:00 am
Tuesday: 12:00 am - 12:00 am
Wednesday: 12:00 am - 12:00 am
Thursday: 12:00 am - 12:00 am
Friday: 12:00 am - 12:00 am
Saturday: 12:00 am - 12:00 am
Sunday: 12:00 am - 12:00 am
Category: Parks Landmarks & Historical Buildings
Address: Gleimstr. 55
10437 Berlin
Germany

Phone: +49 30 60980018
Reviews
Famous park for its graffitis. Teenagers get together here and have their beers, and artists have big walls were they get to be free and create with their... Read More
Marian M. Mar-13-2020
Mauerpark translates to "Wall Park." The location of the park was a former part of the Berlin Wall and its Death Strip. A strip of the wall still stands in... Read More
Helen H. Aug-22-2022
They ruined it, it used to be so cool and cheap. Now its cleaned up and boring vendors. Don't waste your time here Read More
Peder B. Jun-12-2022
Accommodations near Mauerpark:
Directions
How to get to Mauerpark by U-Bahn, S-Bahn or MetroTram
Nearest U-Bahn, S-Bahn or MetroTram Line(s): U2, U8, S8, S42
Nearest U-Bahn, S-Bahn or MetroTram Station(s): U Bernauer Straße, U Eberswalder Straße, U Voltastraße, S+U Schönhauser Allee
For the south end of Mauerpark, walk west from Bernauer Straße or east from Eberswalder Straße.
For the north end of Mauerpark, walk east from U Voltastraße or west from Schönhauser Allee.
Click&Go Map and Route Finder with public transit, walking, driving or cycling directions. Get up-to-the-minute transit times from your location to Mauerpark.
Finding Your Route - Please Wait
Photo Gallery
Video