Day Trip from Berlin to Leipzig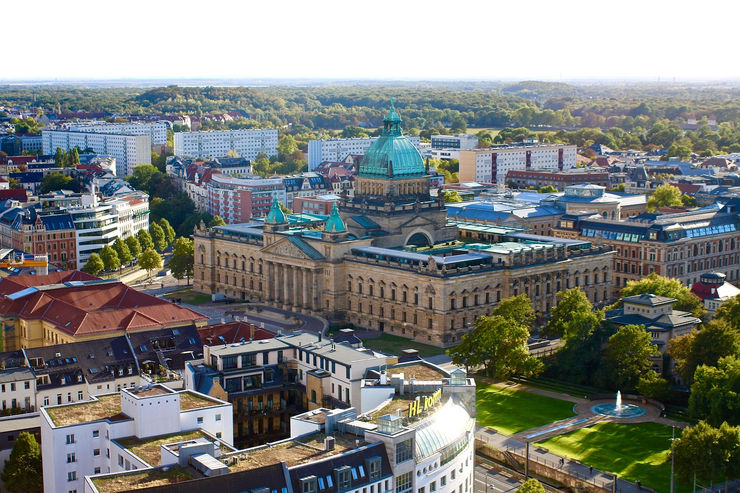 Leipzig, sometimes called the New Berlin, is a city steeped in culture. It was a major trading hub during the Roman Empire and home to famous music composers Johan Sebastian Bach and Felix Mendelssohn.
About an hour and a half southwest by combination high-speed ICE (InterCity Express) Train Leipzig is an ideal destination for a day trip.
Following the Second World War, the population of Leipzig declined from about 720,000 down to a low of about 440,0000 by the end of the last century. The declining population led to lower real estate prices and many empty buildings but, since the year 2000, that trand has reversed with the population quickly climbing to about 600,000.
As a result of the population decrease, hotels are also less expensive than in Berlin, so if you have time more that a day trip, you may want to take advantage of that.
The are free city centre surrounds the main square where you can watch street performers and shop and dine in the numerous restaurants and bars and street vendors.
Popular landmarks include Markt Square and the adjacent Old Town Hall, Augustusplatz, Saint Thomas Church (where Johan Sebastian Bach once worked), St. Nicholas Church, Battle of the Nations Memorial (Völkerschlachtdenkmal), Zoo Leipzig, and the Leipzig Botanical Garden. Numerous large parks beckon as well.
Panorama Tower, the tallest building in Leipzig offers, as its name suggests, spectacular panoramic views of the city from the 31st floor observation deck. There is a small charge, but the views are well worth it.
Check out the former industrial area called Leipziger Baumwollspinnerei located west of the city center. They have converted it to a collection of art galleries and studios. There are also beer gardens and restaurants for you to enjoy.
If you are visiting in December, you will find the Leipzig Christmas Market is second to none.
If the weather is nice you can take Tram #14 to the City Harbour and rent a kayak to explore the city from the unique perspective of the city's canals.
While the city center of Leipzig is very walkable, there is and extensive network of Trains, Trams and Buses that will get you to any of the outlying areas.
Accommodations near Leipzig:
Directions
How to get to Leipzig by ICE + S2
Nearest ICE + S2 Line(s): ICE + S2
Nearest ICE + S2 Station(s): Belin Central Station
From Berlin Central Station: Take a direct InterCity Express (ICE) train to Leipzig Main Station. There are numerous other options to get their, but a direct ICE Train is the quickest and will give you more time to explore Leipzig. Buses are an option, but the trip will take at least one more hour in each direction.
The old city center is directly southwest of the station. We recommend you simply start exploring on foot from there, following the streets south and west to the Markt Square which is the main square.
To get from Markt Square to the popular Battle of the Nations Monument you can take an S-Bahn Train 4 Stops to Leipzig Völkerschlachtdenkmal.
Click&Go Map and Route Finder with public transit, walking, driving or cycling directions. Get up-to-the-minute transit times from your location to Leipzig.
Finding Your Route - Please Wait
Photo Gallery
Video