North Babelsberg Walking Tour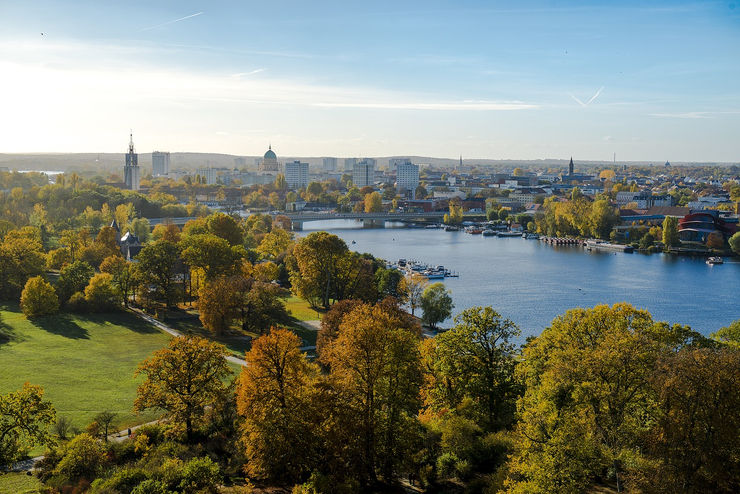 Our 7 kilometre self-guided walking tour of North Babelsberg will take you to some historic monuments in Babelsberg Park including Babelsberg Castle (Schloss Babelsburg). Walking time is about 1.5 hours without stops. Allow at least 2 to 3 hours for a leisurely experience and time to enjoy the monuments and views. The tour starts and ends at Babelsberg S-Bahn station.
The following steps will take you through the walk. There are multiple routes you can take through Babelsberg Park, so don't feel confined to the one we've mapped. You may prefer to add a few steps to walk closer to the water as you make your way north through the park.
If you love walking and have enough time, you can extend this walking tour by crossing over the bridge at the north end of the park, continuing to Glienicke Palace and walking across the famous Glienicke Bridge before doubling back. This adds about 3 kilometres or about 40 minutes of walking time to the tour. It is straightforward, so we highly recommend it if you have enough time.
Directions
How to get to North Babelsberg Walking Tour by S-Bahn
Nearest S-Bahn Line(s): S7
Nearest S-Bahn Station(s): Babelsberg
This North Babelsberg walking tour takes you through one of the most beautiful locations in the region. The self-guided walking tour begins and ends at Babelsberg S-Bahn station.
Directions for the North Babelsberg Walking Tour
Head west from Babelsberg Station on Rudolf-Breitscheid-Straße
Turn right onto Alt Nowawes
Turn left onto Neue Str.
Continue onto Park Babelsberg
Turn right to stay on Park Babelsberg
Head north as desired through Park Babelsberg to Flatow Tower
Continue north to Gerichtslaube im Park Babelsberg
Continue north as desired to Schlosss Babelsberg
Follow the water east to Parkbrücke
Continue east toward Allee nach Glienicke
Turn right onto Allee nach Glienicke and watch for Pförtnerhaus on your right.
Turn left onto Karl-Marx-Straße
Turn right onto Spitzweggasse and Take the stairs
Watch for Riehl House (Ludwig Mies van der Rohe) on your left.
Turn right onto Rosa-Luxemburg-Straße
Continue onto An der Sternwarte
Turn Left onto Allee nach Glienicke
Slight left onto Karl-Liebknecht-Straße
Check some of the shops and get something to eat at one of the cafes on Karl-Liebknecht-Straße.
Turn left onto Rudolf-Breitscheid-Straße to the Bebelsberg Station.
Finding Your Route - Please Wait
Photo Gallery